Pass the Mic
Pass the Mic:
With the help of his wife and daughter, Secret Agent 23 Skidoo is infiltrating the world of kid-hop.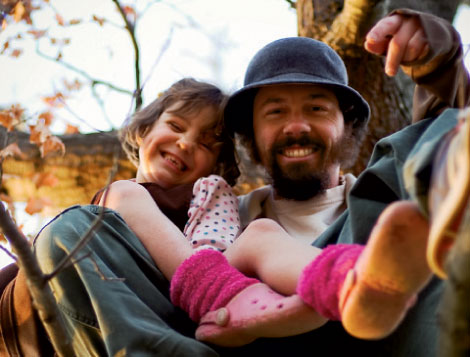 The speakers are thumping out funky beats, the MC is on the mic revving up the crowd, and the audience is singing along in unison. It's a typically energetic hip-hop show in many ways, except it's the middle of the day and Secret Agent 23 Skidoo is on stage rapping about robots, fruit, mermaids, and dragons to an audience of children and their parents.
A vocalist for about 13 years with Asheville-based hip-hop group GFE, Secret Agent 23 Skidoo (who prefers to go by his stage name) is growing a national audience as the creator of fun, catchy, and upbeat "kid-hop."
Skidoo's 2007 debut album, Easy—which includes vocals by his wife, Brooke, and daughter, Saki, 7—has been picked up by Los Angeles-based label Happiness Records and is set to be rereleased nationally this summer with reworked tunes and bonus tracks. The song "Luck" reached number-one last year on XM Satellite Radio's children's channel, and upcoming top-tier gigs include Austin Kiddie Limits in Texas and Kidzapalooza, the family friendly section of the Lollapalooza festival, in Chicago.
The project started about two years ago. After creating a children's book titled What It's Like in the Stars, authored under the name Cactus, Skidoo, 33, decided to try his hand at songwriting for kids. Creating hip-hop tunes for children seemed like a rewarding venture to connect his daughter to something that he loved—music. Once he completed "I Gotta Be Me," his first song for the CD, "It was like a dam broke," he says, and the album came together quickly.
"It's an awesome, creative world," Skidoo says about the process of capturing wide-eyed wonder through rhyme. "It's not an adult speaking to kids, but an adult translating the world children live in." He draws on some of his favorite characters from childhood, such as the Muppets and Fat Albert, plus the varied works of author Shel Silverstein who wrote such iconic children's books as The Giving Tree and The Missing Piece.
Musicians are kids by nature, he notes, and numerous local players (including Caroline Pond, members of Mad Tea Party, GFE, and Strut) lent a hand on the album. "The music is made to remind all the grown-ups out there that you don't have to leave behind the magic of childhood," Skidoo says. "It helps in life if you bring that stuff with you."
An All-ages Show
That attitude, coupled with his music and smooth delivery—a slower style reminiscent of KRS-One—has endeared Skidoo's act to adults as well. "The parents are always dancing as much as the kids," says fan Christen Ward of Marshall, who's seen multiple shows with her family. "They all like it—it appeals to all ages."
His gigs at Asheville's Grey Eagle draw hundreds of fans, far more than a typical children's show at the venue. "Kids just connect with it," says Brian Landrum, the Eagle's co-owner and a dad himself. "They know when they're really having a good time and not when someone's just telling them that."
In addition to Skidoo on the mic and a DJ handling beats, live shows often include backup singers, dancers, and guest musicians. And Saki hops onstage and grabs a mic when she's game. "You can't try to force what you love on your kids, or they may end up hating it," he says. "We've given her the freedom to do it or not, and she's more into it than ever."
He still performs with GFE, which tours nationally and recently released its fifth album. But his children's entertainment business is expanding rapidly, with a second album underway, an upcoming children's book, and a TV show in development.
"Lots of times, success as a musician takes you away from your family," says Skidoo. "This success brings my family along with me."
Listen Up!
Don't miss Secret Agent 23 Skidoo and Mad Tea Party at 2 p.m. on Saturday, August 22, at The Grey Eagle in Asheville. Check out Skidoo's music at secretagent23skidoo.com.