Now Hear These
Now Hear These:
Three new song collections with something for every ear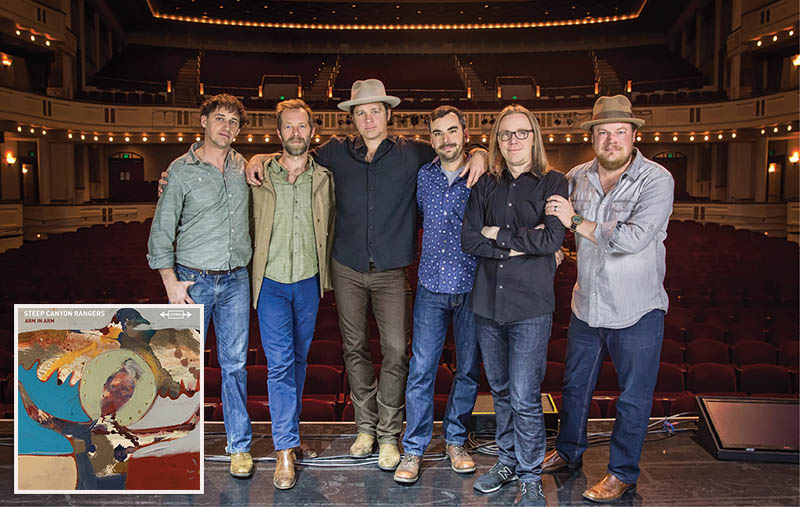 Steep Canyon Rangers — Arm in Arm
In an insanely ambitious year, the Steep Canyon Rangers have released their third record of 2020. After kicking the year off with Be Still Moses—their collaboration with the Asheville Symphony, featuring appearances by R&B icons Boys II Men—the Grammy-winning bluegrass act dropped North Carolina Songbook, a sprawling collection of live renditions of songs by legendary musicians recorded at Merlefest in 2019.
Now, Arm in Arm, their 14th release, shows the band returning to its roots—or, at least, as much as a band known as one of the most progressive groups in folk music can. The record swings between downtempo ballads, country sing-alongs, and upbeat rockers like "One Step Ahead of the Storm," wherein the energy culminates with a tip of the hat to the Who in a full-on "Baba O'Riley" breakdown. Arm in Arm finds the Steep Canyon Rangers right where they need to be, still pushing the boundaries of roots music.
The Maggie Valley Band — Something New Vol. 1
The fourth record from sisters Whitney and Caroline Miller, who form the Waynesville duo The Maggie Valley Band, is one of their most adventurous efforts to date. While past recordings have plumbed the depths and tested the lengths of Americana as a genre—drawing comparisons to everything from the Drive By Truckers to the Avett Brothers—this EP is a genre-bending sprint through five songs that seem to have a different style in every verse and chorus, displaying influences from musical styles far and wide.
The opener, "Silence," goes from Lucinda Williams-like country to indie-pop stylings bound to draw comparisons to acts like Soccer Mommy, while "Won't Stop the Fire" cranks up the amps to 11 to drive through grungy verses and punk breakdowns. No bones about it, Something New Vol. 1 is just that, something very new for this ever-evolving duo.
Michael Flynn — Survive With Me
Michael Flynn might have delivered Western North Carolina's best record of the year. Survive With Me, his third solo effort, is a cohesive, thoughtful, deep dive into growing older, struggling to raise kids, and settling into his new home of Saluda after migrating from Charleston. Flynn's Jon Brion-like songs are as sweet and poignant as they are heavy. Indie pop tracks like "Easy to Love" dole out Paul Simon-esque arpeggiated horns and thumbed kalimba rhythms that bend with self-deprecating digs ("I'm easy to love, after the check clears") over joyful, infectious hooks. In the ballad "Too Many Dreams," twinkling piano lines descend through banjo-laced rhythms while Flynn ponders how "We die with plans still in our pockets, with tattered pictures in our wallets."
Flynn conjures post-apocalyptic, existential hymns sung with the most melodic, uplifting, hopeful lilt. Survive With Me is a lyrical masterpiece that works the way a great photograph does—with the sharpest contrasts between light and dark exposing all the complicated emotions in between.