News Flash - September/October 2019
News Flash - September/October 2019:
The latest from throughout Western North Carolina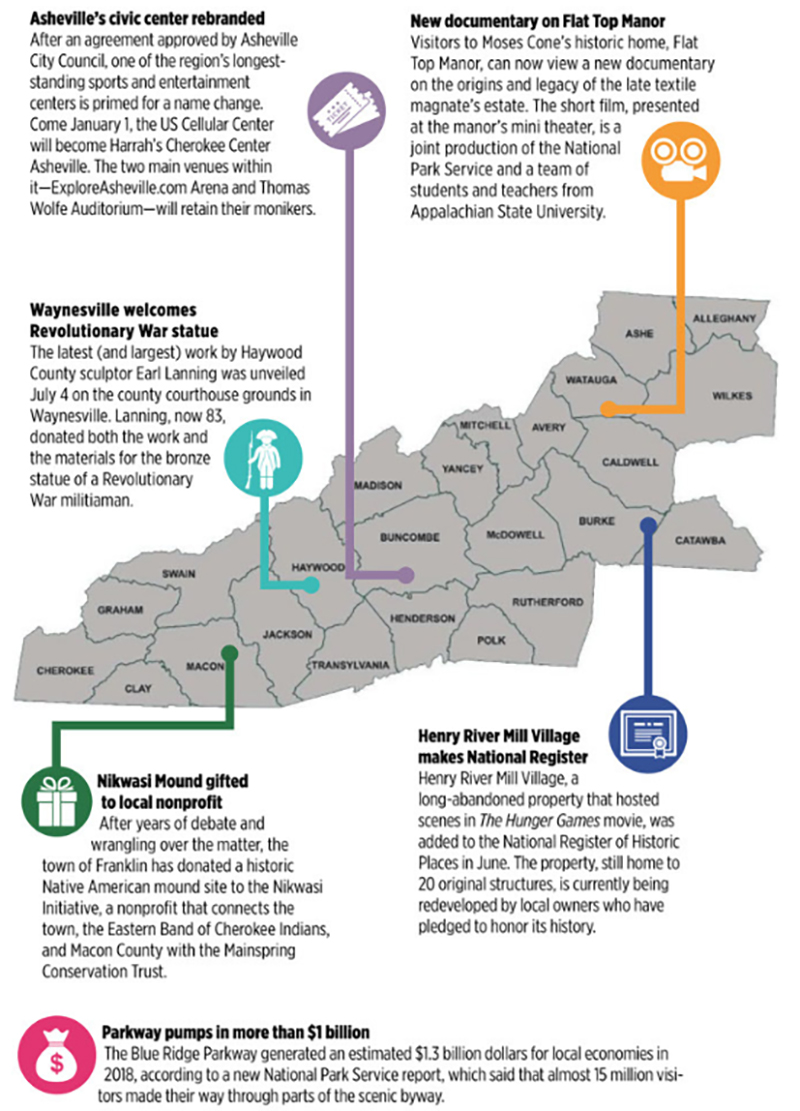 Asheville's civic center rebranded - After an agreement approved by Asheville City Council, one of the region's longest-standing sports and entertainment centers is primed for a name change. Come January 1, the US Cellular Center will become Harrah's Cherokee Center Asheville. The two main venues within it—ExploreAsheville.com Arena and Thomas Wolfe Auditorium—will retain their monikers.
New documentary on Flat Top Manor - Visitors to Moses Cone's historic home, Flat Top Manor, can now view a new documentary on the origins and legacy of the late textile magnate's estate. The short film, presented at the manor's mini theater, is a joint production of the National Park Service and a team of students and teachers from Appalachian State University.
Waynesville welcomes Revolutionary War statue - The latest (and largest) work by Haywood County sculptor Earl Lanning was unveiled July 4 on the county courthouse grounds in Waynesville. Lanning, now 83, donated both the work and the materials for the bronze statue of a Revolutionary War militiaman.
Nikwasi Mound gifted to local nonprofit - After years of debate and wrangling over the matter, the town of Franklin has donated a historic Native American mound site to the Nikwasi Initiative, a nonprofit that connects the town, the Eastern Band of Cherokee Indians, and Macon County with the Mainspring Conservation Trust.
Henry River Mill Village makes National Register - Henry River Mill Village, a long-abandoned property that hosted scenes in The Hunger Games movie, was added to the National Register of Historic Places in June. The property, still home to 20 original structures, is currently being redeveloped by local owners who have pledged to honor its history.
Parkway pumps in more than $1 billion - The Blue Ridge Parkway generated an estimated $1.3 billion dollars for local economies in 2018, according to a new National Park Service report, which said that almost 15 million visitors made their way through parts of the scenic byway.