News Flash January/February 2018
News Flash January/February 2018:
The latest from throughout Western North Carolina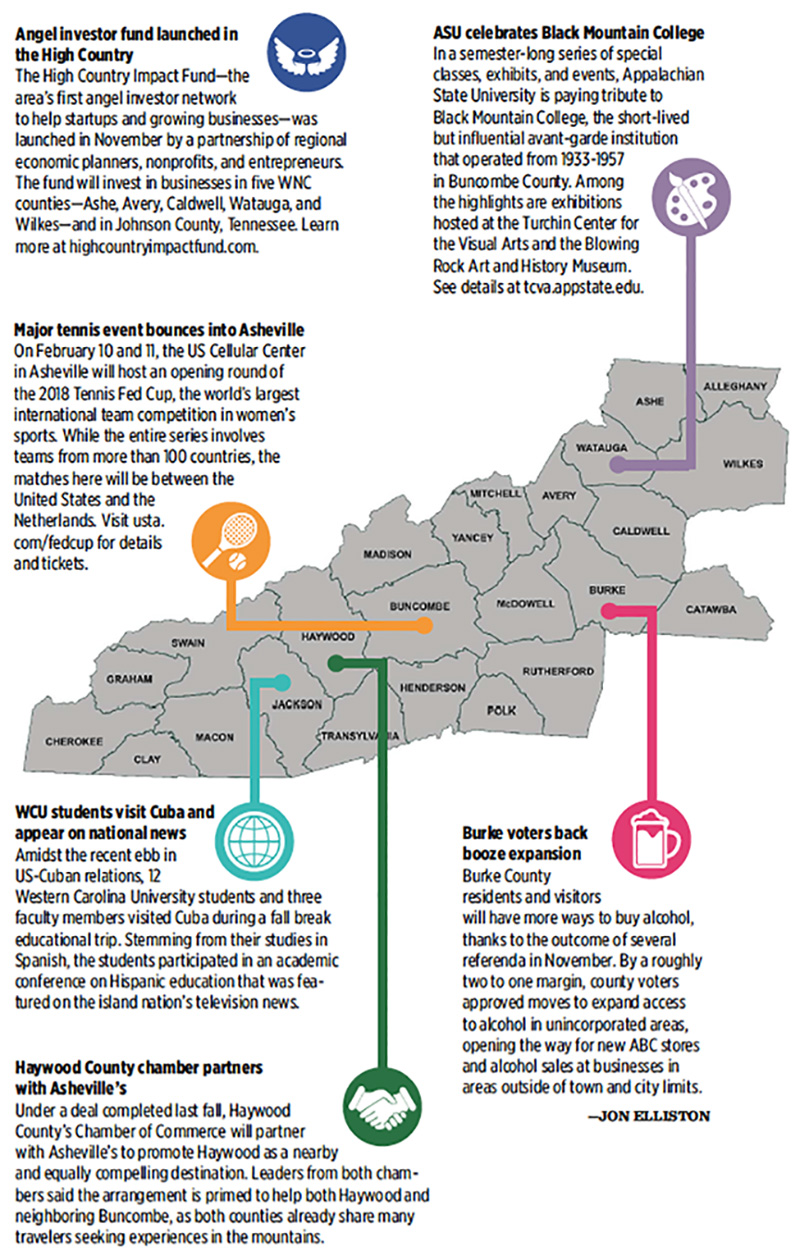 Angel investor fund launched in the High Country
The High Country Impact Fund—the area's first angel investor network to help startups and growing businesses—was launched in November by a partnership of regional economic planners, nonprofits, and entrepreneurs. The fund will invest in businesses in five WNC counties—Ashe, Avery, Caldwell, Watauga, and Wilkes—and in Johnson County, Tennessee. Learn more at www.highcountryimpactfund.com.
Major tennis event bounces into Asheville
On February 10 and 11, the US Cellular Center in Asheville will host an opening round of the 2018 Tennis Fed Cup, the world's largest international team competition in women's sports. While the entire series involves teams from more than 100 countries, the matches here will be between the United States and the Netherlands. Visit www.usta.com/fedcup for details and tickets.
WCU students visit Cuba and appear on national news
Amidst the recent ebb in US-Cuban relations, 12 Western Carolina University students and three faculty members visited Cuba during a fall break educational trip. Stemming from their studies in Spanish, the students participated in an academic conference on Hispanic education that was featured on the island nation's television news.
Haywood County chamber partners with Asheville's
Under a deal completed last fall, Haywood County's Chamber of Commerce will partner with Asheville's to promote Haywood as a nearby and equally compelling destination. Leaders from both chambers said the arrangement is primed to help both Haywood and neighboring Buncombe, as both counties already share many travelers seeking experiences in the mountains.
ASU celebrates Black Mountain College
In a semester-long series of special classes, exhibits, and events, Appalachian State University is paying tribute to Black Mountain College, the short-lived but influential avant-garde institution that operated from 1933-1957 in Buncombe County. Among the highlights are exhibitions hosted at the Turchin Center for the Visual Arts and the Blowing Rock Art and History Museum. See details at www.tcva.appstate.edu.
Burke voters back booze expansion
Burke County residents and visitors will have more ways to buy alcohol, thanks to the outcome of several referenda in November. By a roughly two to one margin, county voters approved moves to expand access to alcohol in unincorporated areas, opening the way for new ABC stores and alcohol sales at businesses in areas outside of town and city limits.