New Kid on the Beat
New Kid on the Beat:
Summit Jaffe juggles middle school and a budding music career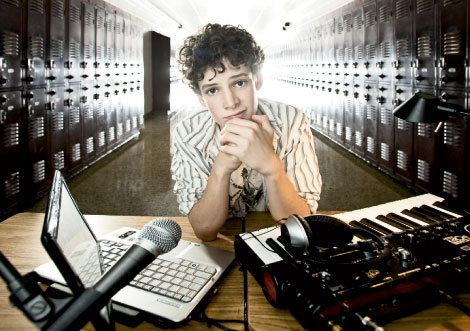 Standing in his bedroom-music studio in Fairview, 13-year-old Summit Jaffe works his hands in delicate gestures around two metal antennae protruding from opposite sides of a thin wooden box. As his hands move closer and farther away from the theremin, an eerie, undulating tone reverberates around the room. Jaffe looks up from his motioning. "Pretty cool, huh?"
At an age when most children were playing in the sandbox, Jaffe was learning to create electronic music. He began experimenting with computer-generated sounds at the age of six, and built a theremin a couple of years later. The precocious eighth-grader uses his theremin and a computer rig (complete with twin monitors, musical keyboards, MIDI-controller, and several amps) to create funky dance beats, which he performs at venues across the region.
Jaffe joined Asheville's thriving electronic music scene when he was eight years old, playing shows with his theremin teacher, Dave Hamilton, as The Electromagnetic Duo. After building contacts with Hamilton's contemporaries, Jaffe started performing solo as a DJ and built a name for himself, appearing at area festivals including the Lake Eden Arts Festival in Black Mountain. He performs solo gigs at Asheville-area venues like The Orange Peel under the stage name Numatik.
"Asheville's been so accepting," says Jaffe. "The fact that people support me as a 13-year-old is great. There are all kinds of musicians I collab with."
And while the young DJ spends a lot of time on his art, he still manages the demands of middle school. "Luckily, my school and teachers are really supportive," Jaffe says. "When I go to play a gig they're like, 'OK.' But I have to finish my schoolwork the day before."