The Must List
The Must List:
Celebrate a joyous season with performances galore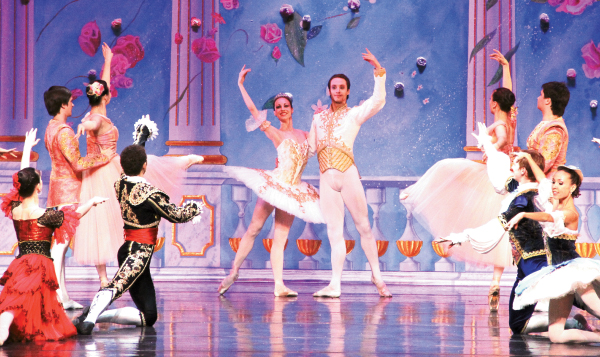 Theater
Miracle on 34th Street (The Musical)
November 21-23, 28-30
& December 5-7 | Newton
In this classic Christmas story, a man claiming to be the real Santa spreads holiday cheer to a cynical single mother, her daughter, and the entire state of New York by proving he's no myth. The Green Room, 10 S. Main Ave.; (828) 464-6583; www.thegreenroomtheatre.org
A Charlie Brown Christmas
December 5-21 | Asheville
Based on the television special that features the Peanuts gang singing songs including "Christmas Time is Here" and "Skating," this WNC premier is one for all ages. Asheville Community Theatre, 35 E. Walnut St.; (828) 254-1320; www.ashevilletheatre.org
The Littlest Angel
December 11-14 | Hayesville
In this adorable tale, the littlest angel in heaven doesn't know how to behave in a very angelic manner, though through an ultimate act of innocence and generosity, he is declared the best angel of all. Creekside Plaza, 34 Creekside Cir.; (828) 389-8632; www.licklogplayers.org
Cinnamon Grits: Christmas in the South
December 12 | Cullowhee
If you like Sweet Potato Queens, Ya-Ya Sisters, Steel Magnolias, and Southern belles, this musical is for you. A companion piece to Girls Raised in the South, the show offers a Southern, and comical, view of all things Christmas. John W. Bardo Fine & Performing Arts Center, Western Carolina University; (828) 227-2479; www.wcu.edu/bardoartscenter
It's a Wonderful Life
December 12-14 | Burnsville
In this live radio play set in the 1940s, a few dozen characters take the stage to tell the story of George Bailey's fateful Christmas Eve, when an angel helps him see his worth through all his selfless acts and the lives he's impacted. Parkway Playhouse, 202 Green Mountain Dr.; (828) 682-4285; www.parkwayplayhouse.org
 
Dance
The quintessential Christmas ballet, featuring Clara and her prince, a sugar plum fairy, and the evil Mouse King, comes to two stages in Asheville this season. Catch the Asheville Ballet's rendition of The Nutcracker December 12-14 at Diana Wortham Theatre. The Moscow Ballet's Great Russian Nutcracker (December 10 at Thomas Wolfe Auditorium) brings a dazzling display of costumes, including 10-foot silk puppets and life-size matryoshka dolls. uscellularcenterasheville.com; www.dwtheatre.com
 
Music
Hickory Choral
Society Holiday Concert
December 5-7 | Hickory
Conductor J. Don Coleman will ignite the spirit of Christmas in the Catawba Valley with four free performances, plus a free Cookies & Carols children's concert on Saturday. Corinth Reformed Church, 150 16th Ave.; (828) 322-2210; www.hickorychoralsociety.com
Music on the Rock: A Motown Christmas
December 11-14 & 18-21 | Hendersonville
With it's original release in 1973, A Motown Christmas album featured holiday songs by the Jackson 5, Diana Ross, The Supremes, and Stevie Wonder. For this showcase, a cast of singers brings the album to life and puts a little Motown spirit in the holidays. Playhouse Downtown, 125 S. Main St.; (828) 693-0731; www.flatrockplayhouse.org
Hendersonville Symphony Carolina Christmas
December 13 | Brevard
The Hendersonville Symphony and the Greenville Chorale join forces for this concert of holiday classics. Blue Ridge Community College, 45 Oak Park Dr.; (828) 697-5884; www.hendersonvillesymphony.org
A Classical Christmas
December 14 | Asheville
For the Asheville Symphony's annual holiday concert, 100 singers and a full orchestra will perform works from Bach's Christmas Oratorio. Thomas Wolfe Auditorium, 87 Haywood St.; (828) 254-7046;
www.ashevillesymphony.org
A Christmas Carol
Charles Dickens' classic holiday tale of greed and redemption plays out on many stages.
Flat Rock Playhouse
November 20-December 21 | Hendersonville
www.flatrockplayhouse.org
Diana Wortham Theatre
November 28 & 29 | Asheville
www.dwtheatre.com
Montford Park Players
December 6-23 | Asheville
www.montfordparkplayers.org
Haywood Arts Regional Theatre
December 11-14 | Waynesville
www.harttheatre.org
NC Stage Company
December 16-28 | Asheville
www.ncstage.org
 
RESOURCES:
Photograph courtesy of the Moscow Ballet