Mountain High
Mountain High :
Two new vineyards elevate the WNC wine experience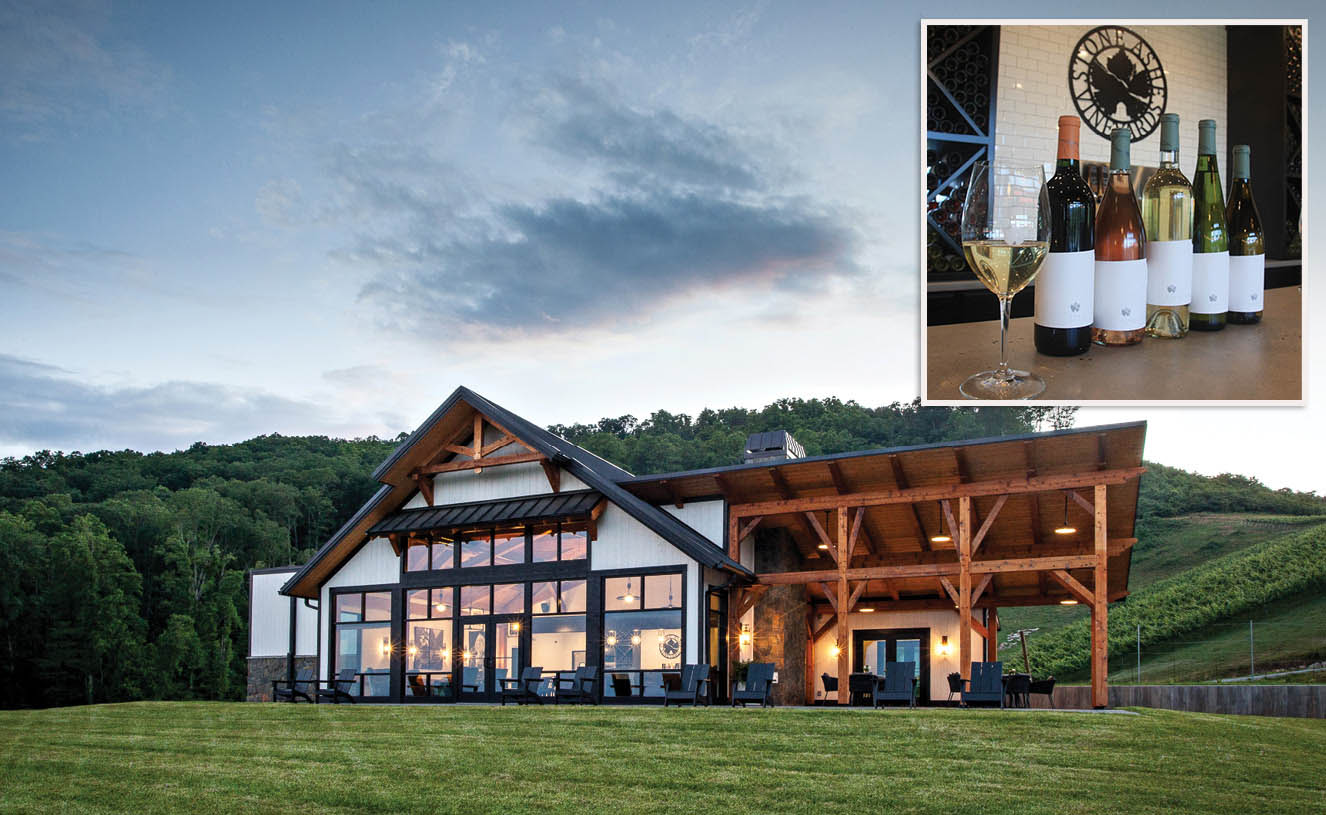 Stone Ashe Vineyards
As the North Carolina wine scene continues to boom, with nearly 200 wineries in the state, two recent additions have substantially elevated the game. Borrowing winemaking and viticulture techniques from Europe's oldest and most revered regions—and aesthetics that recall modern Sonoma or Santa Barbara—newcomers Marked Tree and Stone Ashe vineyards have established that they are serious contenders.
Marked Tree Vineyard, named for the trained crooked trees used by Native Americans to mark hunting trails, is a noticeably different experience along the North Carolina wine trail. From the chic, modern architecture of the open-air tasting room, to the sleek minimalism of the label designs, to the equally simple and pristine estate-grown wines, each element stands to enhance the vineyard-goer's experience. 
Lance Hiatt, an architect by trade, designed the building himself. He and husband Tim Parks purchased the 46 acres at the crest of the continental divide in Flat Rock in 2015, and began bottling their first vintages in 2018. Hiatt studied viticulture at nearby Surry Community College, where his nephew also studies to help further the family business. 
Marked Tree Vineyard
With a focus on German- and Austrian-style cool-weather varietals, the wine list features crisp whites including a Grüner 
Veltliner (white pepper and citrus), a selection of rosés (one elegant and dry, the other ripe and fruit forward), and the state's only estate-grown and bottled Lemberger, also called Blaufränkisch, a rich, light-bodied red with refined tannins. 
From the front door of Stone Ashe Vineyards, you can look straight uphill at the trellised vines that scale the mountainside. Designed to emulate the vineyards of Bordeaux (the vines were actually cloned from legacy vines in France), the steepness of the hillsides helps shade and light the vines to their desired ripeness, while simultaneously providing a stunning vista to take in.
The vineyard is the brainchild of Craig and Tina Little, who bought 70 acres in Tina's native Henderson County and began growing grapes in 2016. Crisp, dry Riesling; Chablis-style Chardonnay; and a citrusy Sauvignon Blanc deliver classic Bordeaux flavors. There's a deep red Meritage blend (a collaboration with the Yadkin Valley's Childress Vineyards). Stone Ashe's own reds (Merlot, Cabernet Franc, Cabernet Sauvignon, and Petit Verdot) are aging in French oak until 2022.
The high, angled roof of the tasting room boasts floor-to-ceiling windows overlooking the vineyard and rolling mountains beyond, and visitors even can bring a picnic.
Ultimately, what makes both Stone Ashe and Marked Tree so special isn't just the views or even the wines themselves. It's the modern, new-world feel that the vineyards bring to their tasting rooms, all while making stunning old-world wine. 
Marked Tree's wines
Marked Tree Vineyard
623 Deep Gap Rd., Flat Rock
(828) 513-3773
markedtreevineyard.com
Stone Ashe Vineyards
736 Green Mountain Rd., Hendersonville
(843) 637-7038
stoneashevineyards.com