Mom Bakes Best
Mom Bakes Best:
Laurie Lamb cooks up a homegrown potpie business in Marshall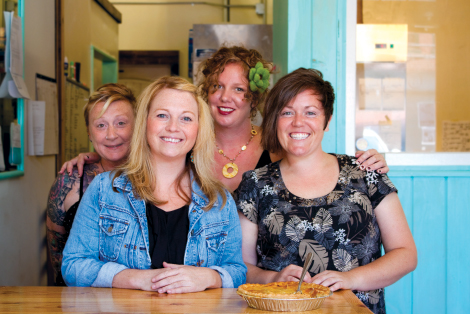 For Laurie Lamb, sending her son off to kindergarten provided a great opportunity to rekindle her love of baking, spending hours perfecting potpie recipes and then giving the goods to neighbors. In 2012, her home-cooked acts of kindness blossomed into the shop Pot Pie in Marshall.

"I thought I'd be selling 100 pies a month, but now I'm selling 350 a week," Lamb says. "I wasn't expecting my business to take off like this." Every weekday, Lamb and her staff of three bake a rotating menu of made-from-scratch savory pies, each with a hand-rolled, buttery crust and locally sourced meats and veggies.

Though pies can be purchased fresh from the oven, the shop is primarily a take-and-bake operation, offering frozen nine- and six-inch meals. For Lamb, the beauty of the potpie is its inherent convenience. "If you don't know what to cook or don't have time, potpies are an easy, homemade solution," Lamb says.  

The shop offers up to 15 varieties, ranging from the classic chicken to a shepherd's with ground lamb. Her son Joseph's love for pizza inspired the Upside Down Pizza Pie with pepperoni, sausage, marinara, and mozzarella. A customer favorite is the steak and ale, a traditional British pub creation stuffed with mushrooms and onions, and flavored with Highland Gaelic Ale. The shop also offers vegan and gluten-free options and has diversified to include soups and casseroles.

From sourcing the community for new recipe ideas to gathering ingredients from farmer's markets, Lamb credits the community in Marshall for helping her business boom. She shows her gratitude through the Pie It Forward program, giving pies to those in need or designating special days when a portion of the shop's sales go to local nonprofits. It's just another way of following through on those initial neighborly gifts of homemade goodness.
 
---
Pot Pie
133 S. Main St., Marshall
Monday-Friday, 10 a.m.-5:30 p.m.
(828) 545-0664
www.potpieshop.wordpress.com
Lamb's potpies are also sold at Livi's Pantry in Asheville, Trout Lily Market in Fairview, Whistlestop Market in Brevard, City Market in Hendersonville, and Sunburst Market in Waynesville. $16 for nine-inch & $8.50 for six-inch