The Mighty Reds
The Mighty Reds:
Complement a cool evening with a robust wine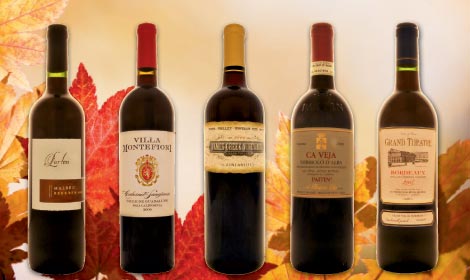 As the cool of autumn wraps around our shoulders, we welcome the season for hearty reds. It's time for stews and baked root vegetables, time to set a bread dough out to rise, and then open a bottle to enjoy while you wait for the yeast to do its magic.
The rich hues of these wines match the turning of the leaves, and the last brilliant showing of the vines before they fade into hibernation.  
Lurton Malbec Riserva  2009 »  $16.50
With lingering scents of grass, black fruit, and pavement, this full-bodied Argentinian wine evokes saddles, leather, and the Wild West. It's an excellent complement to juicy steaks, Cherokee purple tomatoes, and chocolate mousse.
Villa Montefiori 2008 »  $25.50
This youthful, gunflinty cabernet sauvignon from a small vineyard in the Valle de Guadalupe in Baja, California, has hints of straw and soap, with a rustic edge that would pair well with grilled shrimp or baked
butternut squash.
James Creek Vineyards 2006  »  $26
Tannic, oaky, and woody, with a touch of iron and leather, this is a beautifully aged zinfandel from Napa that would marry well with a flank or skirt steak accented with sautéed shallots. Just 300 cases of this variety are produced each year and are only distributed in Tahoe and Asheville.
Ca Veja Nebbiolo d'Alba 2008  »  $20
Redolent of ripe grapes, blackberries, pepper, and spice notes (especially cloves), this Italian Nebbiolo is a good excuse to cook roasted rack of lamb or velvety beef bourguignonne.
Grand Theatre Bordeaux 2008  » $10
Supple, classic, yet still somewhat youthful, this 50/50 blend of merlot and cabernet has hints of autumn straw and city air. Try it with a cured sausage such as saucisson, baked potatoes with bay leaves and  bacon, or
Spanish paella.