Main Attraction
Main Attraction:
Banner Elk's LP on Main rebrands and expands its enduring reputation in a new location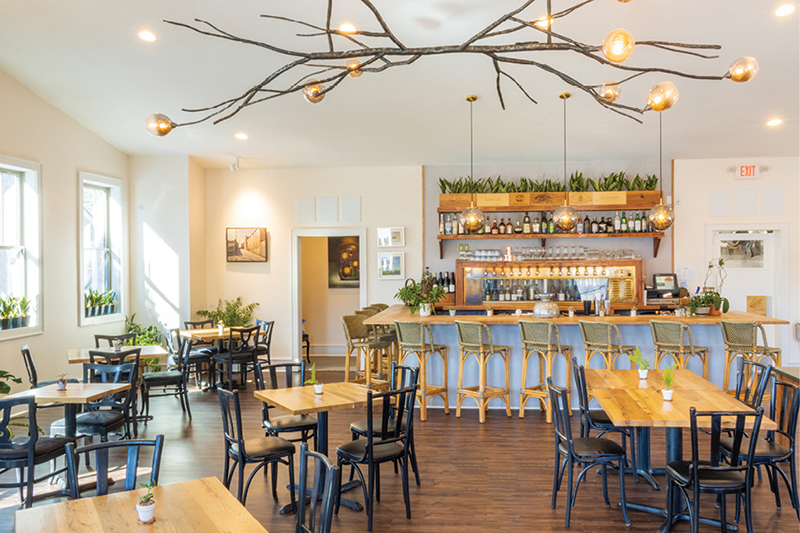 When a restaurant long associated with a particular place makes a move, it's big news. Luckily for Patrick and Laurie Bagbey, chef-owners of Banner Elk landmark Louisiana Purchase, their new building on Main Street is only a few blocks from the restaurant's home of almost four decades.
However, the pandemic turned what was supposed to be a smooth transition into a traumatic six-month closure before the couple could debut their restaurant's next incarnation, LP on Main. A move intended to earn stability and savings suddenly became "a frightening and stressful time for ourselves, our employees, and our families," Laurie says. But then, their dream seemed to be vaccinated against the virus by "tremendous support from our community," she adds.
When the new location opened in late 2020, loyal customers bought gift cards and showed up for take-out. "It's been heartwarming," says Laurie, "and essential in getting us to this goal." Firsts for the space include a single-floor design and outdoor seating on a spacious roofed porch. Lunch is also new, and like dinner is served daily (the restaurant is closed Sundays and Mondays).
Despite all the new innovations, the Bagbeys are keenly mindful of the restaurant's rich local dining heritage. "The Purchase" was launched in 1982 by Argentine immigrant Fabian Botta, whom local foodies still credit with some of the High Country's earliest great eateries. Botta handed off Louisiana Purchase to chef-owner Mark Rosse in 1985, and Patrick Bagbey joined Rosse's kitchen in 1998. In 2004, he and Laurie purchased the restaurant, and they've operated it ever since.
The new digs and new name: LP on Main
The menu's one-time devotion to Cajun dishes has waned, but the Louisiana Purchase palate endures. "The emphasis is still on the integrity and quality of our food, and strict standards of freshness and made in-house authenticity," Laurie says. That includes daily arrivals of the freshest seafood—never-frozen North Carolina shrimp and Gulf oysters. "Don't miss the BBQ Shrimp, it's our version of shrimp and grits," she says. "It's spicy and creamy, and savory, with a hint of salty all at the same time."
The Bagbeys, left, have run the restaurant since 2004.
The Stuffed South Carolina Quail reflects Patrick's affinity for LowCountry cooking. A whole quail is filled with dirty rice made with local Goodnight Brothers country ham, then topped with oyster gravy. "It has all those savory flavors people are looking for," Laurie says. If you feel Nawlins calling at lunchtime, try a po'boy packed with shrimp or oysters (or short rib or surf and turf versions). And some of diners' longtime favorites might reappear on the ever-changing menu, with new twists. "The new restaurant isn't the same old place they remember," Laurie notes. "Louisiana Purchase is still here, but we're also evolving."
LP on MAIN
171 Main St. E., Banner Elk
(828) 898-5656
louisianapurchasefoodandspirits.com