Luxe Respite in Highlands
Luxe Respite in Highlands :
Get cozy in the charming hamlet of Highlands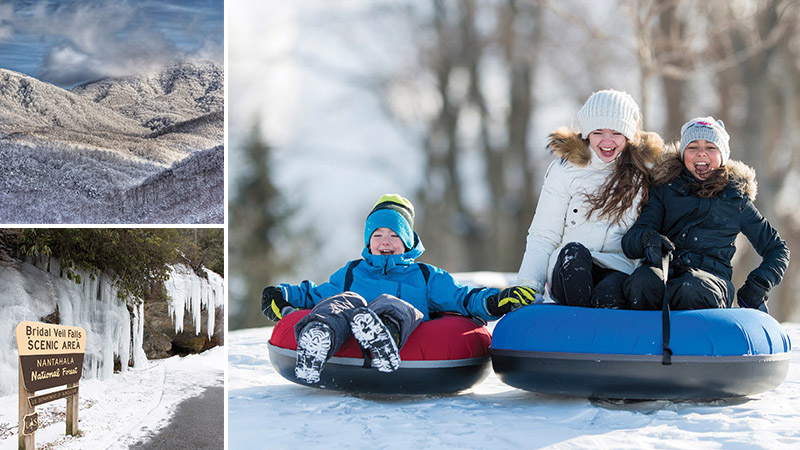 No matter from which direction you travel to Highlands, you'll face twisting roads as you motor through one of North America's few temperate rain forests to reach the 4,118-foot plateau atop which this picturesque town sits. Packed into a few easily walkable blocks is a smorgasbord of remarkable dining and shopping options, with ample outdoor endeavors nearby. 
To say Highlands is a popular vacation destination is an understatement. The town's population of 3,200 swells to almost six times that number during the warmer months. Which is why in these wild times, when there's safety in smaller numbers, the cold season is a perfect time to plan a retreat here. The area often sees snow in the winter, since Highlands is considered the wettest place in the state (averaging 84.5 inches of rainfall a year), making it all the more magical for a wintertime escape.
To make the most of a getaway, start by settling in. Stock up on gourmet bites and wine at Mountain Fresh Grocery for impromptu snacking later. For those wishing to be in town, the luxurious Old Edwards Inn & Spa is hard to beat. The Relais & Châteaux property presents a pampering experience in every sense, from its award-winning spa, which is now offering touchless therapies, to a private concierge service that can help make your stay all the more private. Or for a more remote retreat, Old Edward's Half-Mile Farm is a refined farmhouse inn a short 2.5 miles from town, where a rustic log-cabin aesthetic meets lavish amenities like heated bathroom floors and cozy stone fireplaces. "It's idyllic, especially if there happens to be snow," says OEI spokesperson Ginger Moseley.
When it comes to adventure, there's no shortage of options. Find info on hiking trails and waterfalls in the lichen-laden Cullasaja Gorge at Highland Hiker outfitter, which also sells maps, outdoor gear, and all-weather apparel. For a novel guided adventure, Highland Excursion gives private and small-group temperate rainforest tours in its all-terrain Pinzgauer. And families with busy kids can head 20 minutes southwest for snow tubing at Scaly Mountain Outdoor Center or experience high-flying thrills at Highlands Aerial Park, which has eight mountaintop zip lines. There's also an ice skating rink in town.
It wouldn't be an escape without the leisure element, including a little retail therapy. Shoppers can pick up home décor, jewelry and fashionable duds, art, and more from dozens of boutiques and galleries, including The Bascom visual arts center, which sells works from over 100 regional artists. The center also hosts exhibits in its three galleries as well as art classes.  
To refuel, the options are abundant and exemplary for a town this size, with many restaurants boasting Wine Spectator's Best Of Award of Excellence for their wine lists. Madison's at OEI is a guaranteed good choice for breakfast, lunch, or dinner. Local favorites include American-Asian fusion restaurant Wild Thyme Gourmet; Wolfgang's, serving German, American, and Cajun cuisine; and The Log Cabin, for its mix of Italian dishes alongside seafood and steaks. And there are plenty more worthy options should you decide to linger in Highlands just a little longer. 
Plan Ahead
Find travel info and COVID-19 updates at highlandschamber.org.