Lovin' the Lockup
Lovin' the Lockup:
At the Old Marshall Jail Hotel, no one does hard time anymore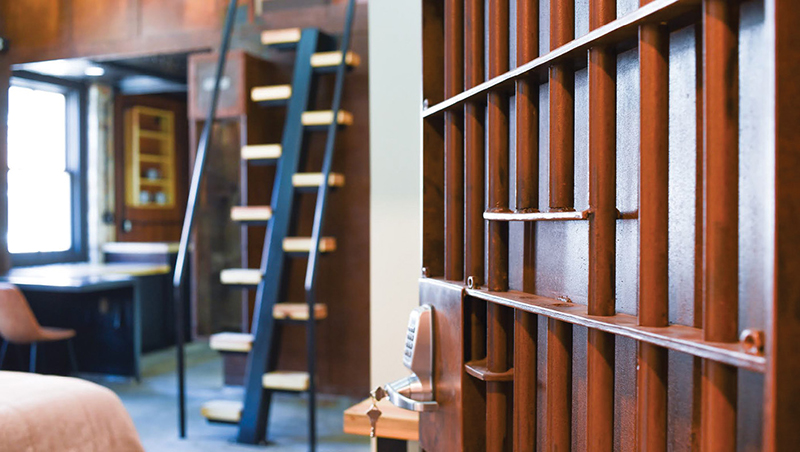 Go directly to jail. And have a nice stay! Such would be a fitting welcome at the newly opened Old Marshall Jail Hotel, where proprietors Emily and Josh Copus have realized their dream of creating a unique, historical, intriguing, and relaxing getaway. The hotel lives up to its name, offering boutique accommodations inside the very 1905 brick building that long housed the Madison County clink.
The seemingly audacious concept has proven viable at the hotel, which sits in downtown Marshall next to a scenic stretch of the French Broad River, by blending the building's authentic history with smart and stylish modern-day reuse. Original jail artifacts—cell doors, inmates' wall etchings, the phone used by visitors to talk to inmates—remain in place, with high-end kitchen, bedding, and bathroom fixtures providing contemporary comforts. The aesthetic is fittingly accented in many places with works by Josh Copus, who's also a noted potter. "We wanted the building to be a living museum, one that people could access and interact with," he says. "We didn't want to make it overly 'jail theme park.'"
Make no mistake: this isn't about fetishizing penitentiary life, but rather honoring and reinterpreting a local landmark and the myriad roles it has played, Emily says. "Marshall, the history and community here, they've really shaped what this building has become; they're literally embedded in the walls."
Those walls encompass four sizable suites and two bunk rooms. The downstairs bar, featuring a selection of local beers and wines, opens onto a riverside patio that's a prime locale for bird watching, sunset bathing, and tapping toes to live music. And hunger not: adjoining the hotel is Zadie's Market, a specialty grocery stocked with local goods, and Zadie's restaurant, an eagerly anticipated collaboration between Emily Copus and Asheville chef John Fleer that features Appalachian regional cuisine.
All of these elements add up to welcoming vibe that belies the hard reality of the jail's past without disregarding it. "It's not exactly Mayberry," Josh summarizes, "but it's also not The Shawshank Redemption."
The Old Marshall Jail Hotel
33 Bailey's Branch Road, Marshall
(828) 649-5158
oldmarshalljail.com