Live from Asheville
Live from Asheville:
20 Ways to Explore the City's Exploding Music Scene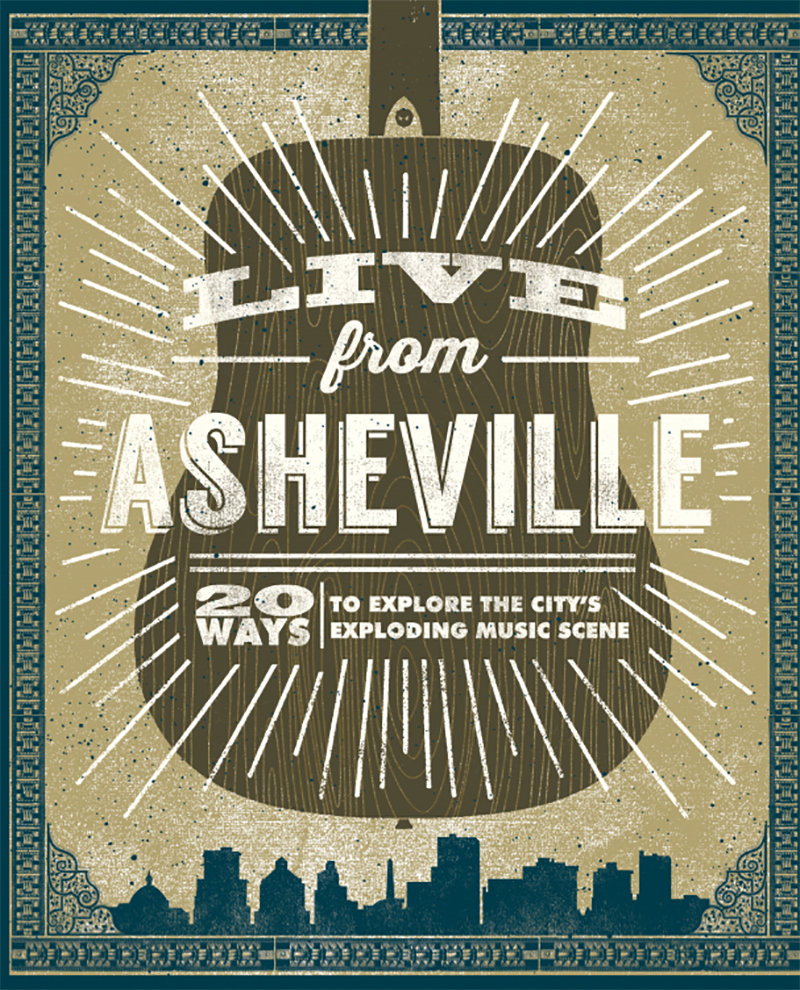 Asheville's siren song lures locals and visitors alike into underground clubs and booming music halls, and the hills of downtown echo with street performers who create an urban sound track as unique as the city itself. A hub for eclectic and diverse music ranging from electronic to jazz, indie rock to soul, Asheville's still home to traditional old-time and bluegrass music, of course, but it's the city's newer sounds that have attracted major attention this year.
The acclaimed NPR music program World Cafe, which airs on more than 200 radio stations across the country, featured Asheville in its "Sense of Place" series this spring. Host David Dye recorded performances and interviews with a dozen local performers and music pioneers, while a studio session featuring The Get Right Band showed off what Dye called the city's "healthy funk presence." Guitarist Tyler Ramsey (of Band Of Horses fame) acted as World Cafe's guide to the city, and local innovators Echo Mountain Recording and Moog Music added their take on Asheville's growing musical landscape.
Amidst all the hype, the Asheville Convention and Visitors Bureau recently launched a major music-promotion initiative highlighting local musicians, festivals, recording studios, and venues. Live-streaming concert footage and curated playlists are now featured on exploreasheville.com/music, and the campaign is bound to beckon even more music lovers to this city of sound. There's never been a better time to experience Asheville's music scene—here are 20 quintessential ways to take it all in. 
1. See a Rising Act at The Mothlight
Constantly upping Asheville's street cred, The Mothlight brings slightly under-the-radar acts to the stage. The venue showcases cutting-edge music and makes it accessible with affordable shows and a fun atmosphere. It's hosted artists on the cusp of fame, like Sylvan Esso and Small Black, and up-and-coming acts like Raleigh-based Oak City Slums. (828) 252-5433; themothlight.com. —Ali McGhee
2. Get on the Bus
If you like music, alcohol, and parties on wheels, hop on the Band & Beer Bus Tour. Conducted via one of LaZoom's can't-miss purple buses, each tour features a smoking hot, live, local band—the type that can play on as the bus traverses curves and hills—and makes pit stops at three standout Asheville breweries (such as Altamont, Highland, and Wedge). With its improbably low $29 tab, this three-hour tour is one of the best and most musical ways to get to know a fun side of Beer City. LaZoom's roving showcase of local beer and bands sometimes features The Resonant Rogues and horn players from Empire Strikes Brass. (828) 225-6932; lazoomtours.com —Jon Elliston
3. Tour the MOOG Factory
When the late, great Bob Moog designed and built one of the first synthesizers in the 1960s, it was a musical game-changer. Today, instruments inspired by his designs are still built by hand at the Moog Music factory, located in downtown Asheville since 2011, and you can go see the process in action. While you're waiting for the tour, you can play with samples of the gear, including Minimoogs, effect pedals, theremins, and more. The tours are free and take place at 10:30 a.m. and 3:30 p.m., Monday-Friday; reservations recommended. (828) 239-0123; moogmusic.com —A.M.
4. Get Old-timey at Jack of the Wood
One of Asheville's most beloved longtime pubs, Jack of the Wood hosts several jam sessions throughout the week. Check out the Old Time Mountain Music Jam, which happens every Wednesday starting at 6 p.m. and features pros and learners alike. Come and watch while you have your pint(s)—or get in there and pick a tune yourself. (828) 252-5445; jackofthewood.com —A.M.
5. Swing Your Partner
Cloggers twirl and fiddlers' fingers fly at Shindig on the Green. The outdoor summer concert series, at Pack Square Park in downtown, starts at 7 p.m. every Saturday July 2 through September 3 (except for July 30 and August 6).  This summer marks the 50th anniversary of this Appalachian tradition. Folklorist Bascom Lamar Lunsford led a movement to bring mountain music out of the hills and hollers and into contemporary culture. Through his efforts and with help from the Folk Heritage Committee, in 1967 Shindig on the Green was born.  Today, old-time customs meld with Asheville's modern sensibilities. Conversations linger as longtime locals mingle with visitors, and passersby pause for epic banjo duels. Bring a lawn chair and don't forget pocket change for barbecue and ice cream. (828) 258-6101; folkheritage.org —J.N.O.
6. Get Intimate at The Altamont
The Altamont Theatre is one venue that lives up to its tagline: "Asheville's best listening room." The building was extensively remodeled and opened in 2010 as a black box theater. Today, it seats up to 200 and its incredible acoustics make for a listening experience like none other in town. Catch multi-instrumentalist Zach Deputy on July 22, which opens with a special storytellers set. (828) 782-3334; thealtamonttheatre.com —J.S.
7. Make an Echo Mountain Playlist
For a decade, Asheville's Echo Mountain Recording has served as the recording and production suite of choice for scores of top-tier music acts. The studios fill vast and varied spaces with a vintage feel that doesn't shirk state-of-the-art technology. Here are just some of the hit records that were born at Echo Mountain: Band of Horses' Infinite Arms (2010) and Why Are You OK (2016); Dierks Bentley's Home (2012); The Avett Brothers' The Carpenter (2010); Widespread Panic's Street Dogs (2015); and Grammy-winning albums by Steep Canyon Rangers (Nobody Knows You, 2012) and Zac Brown (Uncaged, 2013). echomountain.net —A.M. & J.E.
8. Salsa at The Millroom
The Millroom, a multi-use event space that hosts everything from receptions to comedy shows, is the place to go salsa dancing to live music. Once a month (summer dates TBD), local Latin outfit Juan Benavides Group kicks up heated rhythms while crowds take to the dance floor. (828) 225-2585; ashevillemillroom.com —Melissa Reardon
9. Get Close to the Music at 5 Walnut
If you're anywhere near Walnut Street most any night of the week, you're bound to be drawn to the eclectic sounds streaming out of the large open windows at 5 Walnut Wine Bar. Inside the handsome, 1,400-square-foot space, up to 80 people can be found mingling over wine, beer, and small bites (such as cheese and olives or smoked trout dip) while taking in some of the best free live music in town. Catch African folk music on Wednesdays or blues-rockers Pleasure Chest on Thursdays. Other nights showcase everything from swing jazz to gypsy blues to indie rock. (828) 253-2593; 5walnut.com —M.R.
10. Dance in the Street
Lexington Avenue comes alive at the Downtown After 5 concert series, which starts at 5 p.m. the third Friday of the month, May through September. Local acts open for big-name headliners, and high-energy funk, country rock, and the Asheville All-Stars are just a few of the sounds that will surge through the city this summer. And you can party like it's 1990 when alt-rock band Cracker headlines September 16. ashevilledowntown.org/downtownafter5 —J.N.O.
11. Catch the Big Headliners
As Asheville's reputation for culture and arts has grown, so too has the list of acclaimed musicians who roll through town, lending the added bonus of chance encounters with the likes of Billy Corgan of the Smashing Pumpkins or David Byrne of Talking Heads fame. Ten venues in Asheville and nearby Black Mountain host headlining acts.
With a concert capacity of 7,200, the U.S. Cellular Center packs in the largest crowds, while the somewhat smaller Thomas Wolfe Auditorium, The Orange Peel, and Pisgah Brewing Company's outdoor stage attract equally big names. Venues with capacities of 300 to 500, including The Grey Eagle, New Mountain, White Horse Black Mountain, and Asheville Music Hall, are where you can catch local and national bands on the rise and across multiple genres. Isis Restaurant & Music Hall, named Best Venue of 2015 by the International Bluegrass Music Association, is known for showcasing acclaimed bluegrass acts such as Sam Bush and David Grisman, as well as jazz, blues, and soul. And while Diana Wortham Theatre presents all manner of plays and dance performances, it also features a variety of musical performers in a refined auditorium. —M.R.
12. Keep it Classy at the Symphony
Hear some of the finest musicians in Western North Carolina and beyond at the Asheville Symphony Orchestra. Each concert features a notable guest soloist for a mix of contemporary pieces and well-known orchestral works. There's no dress code, so don't fret if you left your ball gown at home. (828) 254-7046; ashevillesymphony.org —J.N.O.
13. Enjoy a Side of Music with Brunch
Asheville loves music. Asheville loves brunch. So it's only natural that the city offers up spots where you can enjoy both simultaneously.
Every Saturday, have brunch on the patio at Isis Restaurant & Music Hall while locals Lenny Pettinelli and Jacob Baumann play instrumental covers of pop, classic rock, and old favorites on the lawn. Brunch starts at 10 a.m., with music from 11 a.m. to 2 p.m. (828) 575-2737; isisasheville.com
The Southern, with its splendid stone and wrought-iron patio, hosts Yacht Rock Brunch on Sundays from noon to 3 p.m. DJ Kipper Schauer spins classics of the genre, from Hall & Oates to Michael McDonald to Christopher Cross and beyond. The Southern's hearty brunch options are backed with a build-your-own Bloody Mary bar. (828) 251-1777; southernkitchenandbar.com
The One Stop and Mojo Kitchen team up for Bluegrass Brunch, every Sunday from 11 a.m. to 3 p.m., with live bluegrass and rock. Kick back and enjoy items like jerk chicken and waffles with pecan-honey butter, poutine, or a plantain pancake stack. (828) 255-7777; ashevillemusichall.com
Burial Beer's Sunday Jazz Brunch offers the microbrewery's signature brews alongside New Orleans-inspired food from Salt & Smoke and live jazz from The Digs. The menu changes every week, so check the website for the latest inspired options. (828) 475-2739; burialbeer.com —A.M.
14. Take a Dive
A trio of West Asheville "dive bars" takes late-night denizens back in time, to a place with no-frills but unforgettable nights. These are hardly rough and tumble joints, mind you, and each shines in ways both nostalgic and modern.
The Burger Bar, serving the west side since 1960, doesn't serve burgers, but its relatively new owners have kept the place indubitably authentic while amping up the music. DJs playing gritty roots and rock, open mic nights, raucous karaoke, and local and regional singer-songwriters provide a steady sound track. (828) 253-9794; Facebook: The Burger Bar
On the east side of Haywood Road, West Asheville's main drag, The Admiral is famous for both its cuisine and its Friday and Saturday night dance parties, which draw on DJs immersed in soul music, garage rock, and hip-hop. (828) 252-2541; theadmiralnc.com
Similar mixes fill The Double Crown nearby, where an added delight is live performances that sometimes become legendary, for those in-the-know enough to go. (828) 575-9060; Facebook: The Double Crown —J.E.
15. Follow Your Ears to a Street-side Serenade
Ubiquitous and talented street performers, also known as buskers, sing out from downtown street corners and doorways while wild drummers, old-timey jazz bands, and daring jugglers show off their skills. Hear some of Asheville's most diverse musicians play old favorites and experiment with new sounds as you stroll by. avlbuskers.com —J.N.O.
16. Sway to the Rhythm Riverside
Sure, paddling and tubing are big draws on the French Broad River, but music unites everyone along the shore, and there are plenty of places to keep the good tunes flowing.
The rush of the river inspired RiverMusic, a free concert series hosted by environmental nonprofit RiverLink each month between May and October. Bands range from local favorites Floating Action and Grits & Soul (August 13) to national acts like Blitzen Trapper (October 7). (828) 252-8474; riverlink.org
Salvage Station is a new outdoor concert space that's big enough to handle 2,500 fans. A former salvage yard, the venue was recently transformed into one of the city's largest live music venues, with the capacity to draw big crowds and even bigger bands. salvagestation.com
The Bywater is so close to the river that tubers can drag their vessels onto the banks for a beer. Winter Wednesday shows ward off the chill indoors, and country crooners harmonize around the bar's fire pit on summer nights. (828) 232-6967; bywater.bar
Also, keep an eye on Smoky Park Supper Club and New Belgium Brewery for occasional riverside performances served with a side of local food. (828) 350-0315; smokypark.com | (828) 333-6900; newbelgium.com/brewery/asheville —J.N.O.
17. Raise the Roof at Aloft
Rooftop venues for live music in downtown Asheville are rare, which makes the Live@Aloft series, held atop the Aloft hotel, special. Mix and mingle during these free shows featuring local bands such as Hank West & the Smokin' Hots and Juan Benavides Group. The third-floor pool deck affords lovely views, and doggies are welcome at this canine-friendly hotel. The performances take place one Sunday a month through October. (828) 232-2838; aloftashevilledowntown.com —J.S.
18. Rock in Style at Biltmore
Biltmore's outdoor concert series combines great music with a stunning setting. Every summer, major artists rock the estate's South Terrace, with sweeping views of the Blue Ridge Mountains providing the backdrop. Emmylou Harris, Mary Chapin Carpenter, and Rick Springfield are a few of the acts scheduled to perform this season. (800) 411-3812; biltmore.com —J.S.
19. Chill Out with Hot Jazz
The local jazz scene heats up at Tressa's Downtown Jazz & Blues any night of the week. Let the good times roll in this New Orleans-style spot or drop by Isis Restaurant & Music Hall in West Asheville for a jazz showcase on Sundays. A rotating group of musicians performs and you never know who you're going to catch: Asheville-based horn players Justin Ray and Jacob Rodriguez can sometimes be seen when they aren't on tour with Michael Buble. (828) 254-7072; tressas.com | (828) 575-2737; isisasheville.com —J.N.O.
20. Jam to the Beat of Your Own Drum
Thundering drumbeats reverberate through the streets of downtown on balmy Friday nights, when locals and visitors crowd around the weekly Pritchard Park Drum Circle. Everyone is invited to dance, clap, and drum along during this quintessential Asheville experience. Want to join the circle? Skinny Beats Drum Shop offers a beginning drum class twice a week (Sundays at 2 p.m. and Wednesdays at 6 p.m.). Drums are provided, so no need to BYOD. (828) 768-2826; skinnybeatsdrums.com —J.N.O.
RESOURCES:
Photographs by Rich Orris • Illustration by Drew Findley Written by Jon Elliston, Ali McGhee, Matt McGregor, Jen Nathan Orris, Melissa Reardon & Jason Sandford