Libby & Jim Mijanovich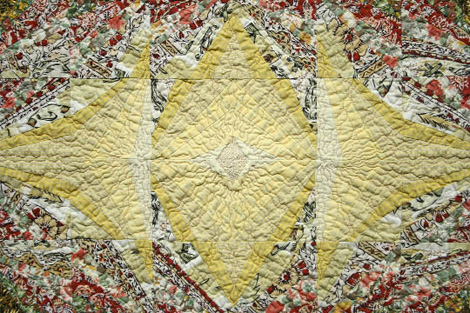 Small squares of fabric fan across Libby and Jim Mijanovich's design board. Bursting with hues of black, white, and red, the swatches take on the appearance of a brooding, stormy sky. But this is just the start. Weeks from now, when the two self-taught artists finish cutting, sewing, and ironing swatches of thrift-shop fabrics, their work may suggest a pending storm, a favorite mountain view, a flock of migrating red-winged blackbirds, or whatever you choose to see in the hundreds of fabric pieces that compose each panel. "It gives people an opportunity to see what they want to see," says Libby.
"We're on the edge of craft and fine art," Jim says of their wholly collaborative, fiber artworks. They use traditional quilting techniques to make their pieces, ranging from single, poster-size panels to large-scale, nine-panel works that consume entire walls. But their finished works, which feature undulating patterns in subtle and astonishing hues, are really less like vintage Log Cabin quilts and more like abstract expressionist paintings.
"There's just a lot of motion in our work," Libby says. Of the two, she is strongest in selecting color combinations and does much of the sewing, while Jim focuses on finding the right fabrics from used clothing stores and sewing supply shops and coming up with the patterns.
Encouraged by friends to pursue the arts, the two left careers in health care to start their company, Mija, in 1999. Since then, they've joined various professional crafts organizations, including the Southern Highland Craft Guild. They've also shown their work in juried and other shows from the American Craft Council to the Southeastern Center for Contemporary Arts.
And as they've taught themselves the craft, they've developed their technique and design sensibilities. Now, the two are focusing on dismantling some of their single-panel works and creating large-scale, multi-panel pieces. "It's about creating, putting more emotion, more life, more intrigue into our work," Libby says. "It's about moving into different possibilities."