Lake Life
Lake Life:
Serenity and adventure, water and mountains converge in Toxaway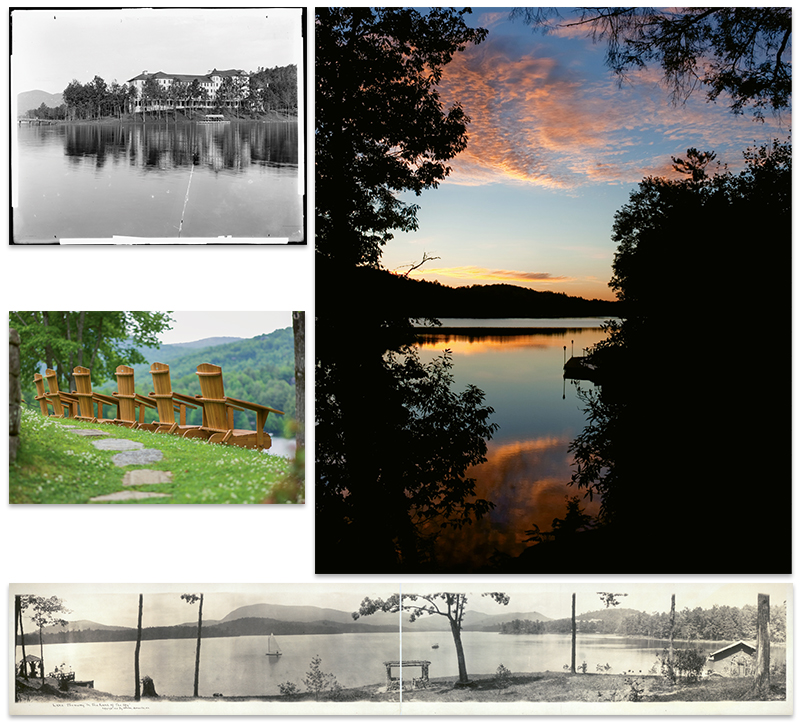 Olden Days - The historic Lake Toxaway hotel (top left) that opened in 1903 attracted the rich and famous until the dam broke in 1916. Middle left, the Greystone Inn today; Bottom, a lake view from 1913
If you've ever driven scenic Waterfall Byway (US 64 linking Rosman and Murphy) or ventured to Gorges State Park in Transylvania County, you may not even be aware you've passed through Toxaway, or realized that a gorgeous lake, speckled with a small fleet of handsome wooden boats, lies just beyond. Discretely dotting the lake and mountain that rises high above are the stunning homes of a small community, all tied together by a man-made body of water whose history is just as fascinating as its unfolding future. Until last year, the spoils of the lake have been nearly inaccessible to the public, but that's all changing thanks to a community that's coalescing around an inviting common identity and a couple of hoteliers who've revived a graceful old inn.
Keeping the Peace - The historic Greystone Inn reopened in May 2018 and offers top-notch luxury. For the first time, the restaurant and bar are open to the public.
Then & Now
Toxaway was once an elite resort destination, attracting celebrity names like the Rockefellers, Carnegies, and Vanderbilts. A five-story Victorian hotel operated from 1903 until 1916, when a devastating flood destroyed the dam and drained the lake, which sat empty for 45 years. Talk to any local and you'll likely learn the only casualty was a blind mule, also a namesake restaurant these days. A historic darling of Toxaway was Miss Lucy, who built a Swiss-inspired lakeside mansion in 1913 and remained well beyond the flood, offering homemaking classes and employing the locals, whose livelihoods had been washed away.
It wasn't until 1960, when a group of investors bought all the land and rebuilt the dam, that Toxaway began to recover. And not until '85, when the late Miss Lucy's mansion opened as the grand Greystone Inn, did the lake become accessible again for vacationers, some of who came, fell in love, and have stayed, at least seasonally.
Because property around the lake is all privately owned, access to the water has essentially been limited to guests of the Greystone. But last summer, when Geoff and Shannon Ellis (the young couple behind the award-winning Willcox Hotel in Aiken, SC) took over and reopened the inn, for the first time, the Greystone's bar and restaurant are open to the public, and it's a visitor's best gateway to the lake. What's more, an effort by the newly formed Historic Toxaway Foundation and Toxaway Business Alliance is serving to promote the area from Rosman to the Jackson County line through the telling of its history and directing visitors to points of interest. You'll notice signage marked by a red feather, a nod to the Cherokee translation of Toxaway, meaning "land of the red bird."
Travel & Leisure - A lake cruise aboard the Miss Lucy wooden boat or a game of croquet at the Lake Toxaway Country Club are among the myriad activities available to guests of The Greystone Inn.
Water Feature
To experience this gem of a mountain lake, a day trip could include a nearby hike or tubing adventure with Headwaters Outfitters in Rosman, followed by dinner at the Greystone, which is expertly prepared by sommelier and Executive Chef Jaime Hernandez (formerly of Jaime's Brasserie in Brevard). You'd be advised to reserve ahead, and arrive in time to order a cocktail at the bar to be enjoyed during a sunset cruise aboard the Miss Lucy, a 26-passenger mahogany boat. (Non-inn guests can take the cruise on weekdays only, and do reserve your spot in advance.)
The other and truly best way to experience Toxaway is to book a stay at the Greystone, and kick back and relax in this tranquil setting. The inn is lavish, with well-appointed rooms, a spa, dining options, and lake activities. Guests also have access to all of the amenities offered at the adjacent members-only Lake Toxaway Country Club, which includes a championship golf course, tennis, croquet, pool, fitness center, and recently renovated club house—a great spot to hobnob with friendly locals. An ideal stay might include nothing more than soaking up the sunshine from a lounge chair by day and fireside stargazing at night, but there are plentiful excursions on offer, from fishing and biking to falconry or river snorkeling (yes, that's a thing here). The Beekeeper for a Day adventure at nearby Killer Bees Honey Farm is particularly noteworthy; it includes an apiary tour and hive inspection (bee suit included) followed by a tasting and chance to pour your own bottle of the sweet stuff.
There are a few other accommodations in Toxaway, though none on the lake, unless you opt for a vacation rental. No matter how you plan your visit, this seemingly blink-and-you'll-miss-it community has much more to offer than meets the eye.
Ways to Unwind - Southern Highlands Reserve (top left) and Rainbow Falls in Gorges State Park (above) are musts for nature lovers. James and Carole Hargis (bottom left) of The Blind Mule at Toxaway Station.
More to Explore
Two grand wilderness areas are a short drive from Toxaway. To the south is Gorges State Park, where a stop at the impressive visitors center will educate about the area's unique species, rainfall (Toxaway averages among the highest in the state), and topography. A few of WNC's most spectacular cascades are here, including Rainbow and Turtleback falls. Just north in Jackson County is a 6,295-acre tract of Nantahala National Forest known as Panthertown Valley—another opportunity to take in waterfalls, sylvan trails, and cliff-top views.
If you can plan a visit that includes a Tuesday, don't miss touring Southern Highlands Reserve. Looming above Lake Toxaway at nearly 5,000 feet sits this incredible 120-acre native plant arboretum and research center. The property was privately owned until the landowners, with help from a group of specialists, discovered the high-elevation ecosystem to be extraordinary and transferred the land to a conservation easement. A huge amount of planning, labor, and private funding went into the reserve, which was completed in 2008. It's now open to the public by reservation on Visitor Days ($25; first Tuesday of the month through October) and by appointment ($35 per person for a minimum of 10). The chance to learn about a one-of-a-kind spruce restoration program, view rare native azaleas (which bloom in early June), wander a labyrinth that reaches its peak beauty in August, and enjoy unrivaled views over five lakes are just a few of the reasons you'll find this place so intriguing.
When hunger sets in, Toxaway offers a handful of dining options. The two in Toxaway proper of note are the Greystone Inn and The Blind Mule at Toxaway Station, a family-run restaurant serving a locally sourced and ever-changing menu created by owner and Chef James Hargis. Special events and occasional live music make this a fun community gathering spot. Two other restaurants in the area worth exploring are The Library Kitchen & Bar in Sapphire, helmed by Chef Johannes Klapdohr (formerly the executive chef at Old Edwards Inn), and Canyon Kitchen at Lonesome Valley in Cashiers, where the setting alone is cause to go.
For an area roughly encompassing 5,500 acres, Toxaway and its trove of natural beauty and opportunities for adventure—with the added bonus of just enough great dining options—is nearly an anomaly. But once you discover this unsung jewel, you'll understand the allure that's been drawing people here for more than a century, like a red bird to water.
RESOURCES
Toxaway Business Alliance
https://www.facebook.com/historictoxawaybusiness/
Historic Toxaway Foundation
https://historictoxaway.org/
Gorges State Park
976 Grassy Ridge Rd., Sapphire, NC, 28774
(828) 966-9099
https://www.ncparks.gov/gorges-state-park
Friends of Panthertown
https://panthertown.org/
Southern Highlands Reserve
558 Summit Ridge Rd., Lake Toxaway, NC 28747
(828) 885-2050
https://southernhighlandsreserve.org/
Greystone Inn
220 Greystone Lane, Lake Toxaway, NC 28747
(828) 966-4700
https://greystoneinn.com/
The Blind Mule at Toxaway Station
502 Blue Ridge Rd., Lake Toxaway, NC 28747
(828) 553-8978
https://www.blindmulerestaurant.com/
RESOURCES:
Photographs courtesy of (2, archival) the Library of Congress; (lake sunset) explorebrevard.com; Opposite (2) The Greystone Inn; Photographs courtesy of (Blind Mule Restaurant and Rainbow Falls) www.explorebrevard.com; (1) Anna Norton, Southern Highlands Reserve