Knife and Fork
Knife and Fork:
Close to Home: Knife and Fork keeps cuisine true to its local roots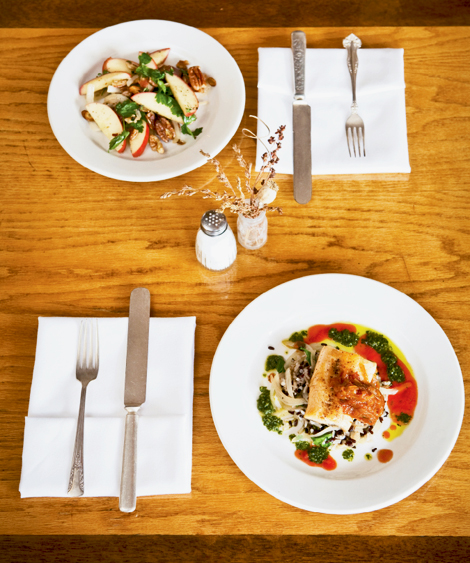 Save for a large chalkboard menu that Wendy Gardner amends twice daily, the walls at Knife and Fork are deliberately bare. The owners of this fledgling eatery purposefully keep the aesthetics simple so diners can focus on the main attraction—sophisticated cuisine directly tied to the farms in their community.
Gardner and her husband, Chef Nate Allen, moved from Los Angeles to Spruce Pine not quite a year ago, returning to their roots in Western North Carolina. They boldly signed a lease on this downtown space overlooking the railroad tracks the day after touring it. Today, white linen-covered tables and straight-backed chairs hint at a slightly formal style that Gardner calls Provençal countryside.
The menu also reflect a genuineness, starting with a savory and slightly sweet French onion soup. The rabbit rillette, a rustic appetizer akin to a French country-style pâté with a rough-ground pepper and coarse salt topping, is simply presented on a cutting board with dressed spring greens.
"It's about using all things available to you and not going outside of that," says Gardner. For instance, one local farmer provides the restaurant with rabbit, shiitake mushrooms, and honey. And as they've sought out sources close to home, their network for ingredients has grown. " I'm in love with farmers. These crazy people basically abandon modern calls for complacent consumerism and embrace self sufficiency. And they share," says Allen.
House-made sauerkraut and bratwurst crop up as lunch specials. The couple sometimes acquiesce to serving a few of these midday dishes for dinner, with a warning: "once they're gone, they're gone." But don't worry, Knife and Fork has no problems going back to the source; it's never far away.
Knife & Fork, 61 Locust St., Spruce Pine; L, D, $$; (828) 765-1511; www.knifeandforknc.com