Julie Robinson
Julie Robinson:
Soul Searching: When painting becomes a meditative process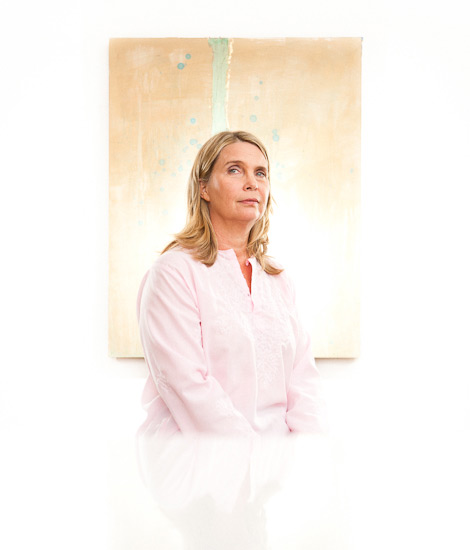 Spend some time with Julie Robinson and you get the feeling that she's perfectly comfortable with her technique for painting, but is still a little self-conscious describing her creative process and philosophy. As she explains how the forms in one finished piece illustrate the energy of a person's spirit and its interconnectedness with other energies in the universe, she stops herself. "I'm sorry," she says. "I know this can sound strange to a lot of people." But it makes sense when you hear her story. Themes based on Hinduism play a large role in Robinson's creative process—at least for the past few years.
Painting has traveled with Robinson through most of her life. From New Orleans to the West Coast, through high school, college, motherhood, and her life as a single empty nester, she always made time for her brushes. Unlike her work today of deeply textured mixed-media color fields, her focus for decades was on representational pieces. But she put away her brushes about eight years ago, citing family and social commitments as well as not having a studio space.
Then, about three years ago, while on a three-week meditation retreat in southern India, she had a personal revelation. Robinson realized that she needed to start painting again but wanted her work to somehow communicate her meditative experiences. "My work now connects to the side of me that's not of this world," she says. "It's coming through me." She refers to her current process of conceptualizing and executing a piece as dialoguing—in other words, "the language that happens with paint."
But her work is far from happenstance. She spends much of her time testing different materials and paints to see how they will build surface and texture. Two materials commonly found in her work are gold and silver leaf, another inspiration from her travels to India. "Everywhere you go there, people have built these little statues honoring the gods, and they are covered in gold leaf," she says. "But the statues are often so old and weathered that the gold is half peeled off of them." She uses many different materials to mimic the weathered beauty of these statues in her works, which are as intuitive and meditative as her process for imagining them.