Jargon
Jargon:
New owners showcase international flavors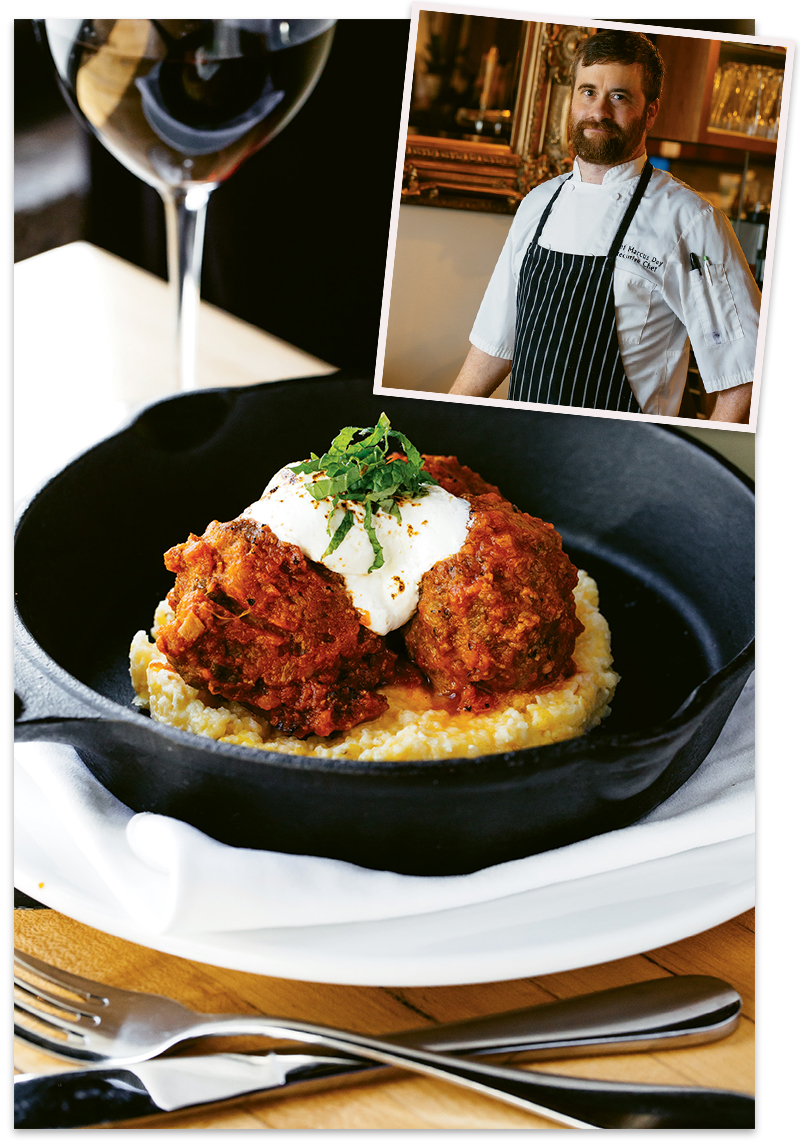 Bold Blends - Chef Marcus Day's (inset) menu at Jargon blends international flavors. Popular dishes include elk meatballs tossed with marinara and topped with burrata and basil over stone-ground grits, and deep-fried deviled eggs.
The Draw: Like being in a friend's cozy living room with a fancy chef in the kitchen
The Drawback: Having to walk through the service line on the way to the powder room
Don't miss: Sampling a wide variety of plates, but start with the agnolotti
Tucked into a row of relatively new West Asheville businesses, the front door of Jargon is easily overlooked. Behind this tiny storefront in a historic building, though, lies a magical kingdom of mid century-modern references. Amidst the warm tones of beige and teak, with an emphasis on board games of yore, lies a dining experience that is expertly geared toward the curious foodie who equally prizes comfort, ingenuity, and creativity.
Assisted by local artisans, owners Sean and Shelly Piper crafted the cozy interior, incorporating hand-blown pendant lamps from Lexington Glassworks, unusual 3D shadowboxes that illustrate Mad Men-style dwellings from Jon Arge, and hand-hewn tables made of 1950s bowling lanes. A wall of gold-framed mirrors (some from Shelly's grandparents' collection) reflects light, and oversized lava lamps line the liquor shelving behind the bar.
Play on Words - Located in a historic West Asheville building, Jargon is elegant yet fun, and filled with fixtures that reference games and speech.
Each visit will bring additional discoveries, from the intricate scrabble wall in the powder rooms to a circus-oddities mural and a dreamy-sky mural on the spacious patio for warm-weather dining. Fittingly, the Preservation Society of Asheville and Buncombe County recently gave Jargon the Griffin Award for adaptive reuse of a historical property.
And then, there's the food. Chef Marcus Day (previously executive chef of Vue 1913 at Omni Grove Park Inn, and a child of Louisiana with an Italian culinary arts background) created several menus: dinner, late night, and brunch. All of them work in tandem with Jargon's combo of fresh, idiosyncratic, and delicious.
Mouthwatering Morsels - (Left) The agnolotti, stuffed with butternut squash and pecorino and topped with pine nuts and brown butter; (right) the Icebreaker cocktail.
The most formal, of course, is dinner. On my first visit, our large party ended up sharing multiple items so we could taste a full array of Day's offerings. Each dish arrived beautifully plated but not overly fussy.
Deep-fried deviled eggs served up all the best taste touchstones of those family-reunion eggs your favorite aunt makes, and were also warm and bacony. The lightly battered crisp exterior lent a pleasant juxtaposition to the expected.
Entrées and smaller dishes at our table included pork belly and scallops, spicy gumbo, the market amberjack, and shrimp and grits extraordinaire. Oven-roasted octopus made the rounds several times, as everyone took loving spoonfuls of what was essentially a thick stew, savoring the tender yet meaty texture of the invertebrate. The flavors were deepened by hearty chorizo slices, fava beans, and fine-skinned fingerling potatoes.
On my second visit, my guest and I sat at the bar. Maty Hollingsworth, the chief bartender and "liquid mad scientist" who created the cocktail menu, was away that evening, but a fresh-faced Karen educated us well about the offerings. From our vantage point, we were able to peek into the small kitchen while simultaneously viewing diners receiving their plates, which were served by smartly vested servers with rolled up shirtsleeves who carefully explained each component of the dishes.
(Left) Chef Marcus Day's oven-roasted octopus with chorizo, fava beans, and fingerling potatoes; (right) corn bread pudding with scotch malt crème anglaise, and blackberry compote.
The Icebreaker cocktail, with its "smoked" ice (a process that takes some eight hours of smoking water, freezing, and refreezing the ice spheres), is worth the buildup. The delicate method of preparing this deconstructed Manhattan includes Knob Creek bourbon and fixings poured into the hollowed part of the ice, followed by the server using a tiny mallet to crack open the ice, releasing the beverage.
We planned for just cocktails and some appetizers, but got carried away with a full meal plus dessert, with the fresh ricotta-stuffed agnolotti (featuring local corn and chanterelles, super-savory house bacon, pistachio, and Pecorino Romano) voted our favorite. The delicate house-made shells were tender as could be.
The antithesis of this light and elegant starter, our elk meatballs on stone-ground creamy grits served in a cast iron skillet, was the epitome of stick-to-your-ribs winter heartiness. Spicy marinara and pillows of rich burrata rounded out this shareable first course, or main dish for one.
On the lighter side, the local trout stuffed with fennel confit and carrot purée with anise butter is a go-to for many diners. With crispy skin and tender but substantial flesh perfectly filleted, it counters all the rich holiday food this time of year. Don't miss the crispy lemon disks that sit atop the fish. They are not just a garnish, but imbue a delicate acidity to the dish.
Another nice detail to note: servers bring small carafes of wine to pour at the table for orders of single glasses, allowing the vintages to open up. We vowed to return to try the wine list while listening to live bands on jazz Tuesdays—or for "blunch," which features a shrimp cocktail bloody Mary, pork belly and eggs, "smiley face" French toast, and live jazz.
Or perhaps, one evening, dessert might well suffice on its own. The corn bread pudding—with house-made caramel popcorn, Marcona almonds, scotch malt crème anglaise, and blackberry compote—surprised us with a light, melt-in-your-mouth texture, so rich and buttery—and like so much at Jargon, a surprise in the most pleasant way. 
Jargon
715 Haywood Rd., Asheville
(828) 785-1761
jargonrestaurant.com