Hotdog!
Hotdog!:
Get inspiration for your next cookout from the wild flavor combos at Burnsville's Rad Dawgz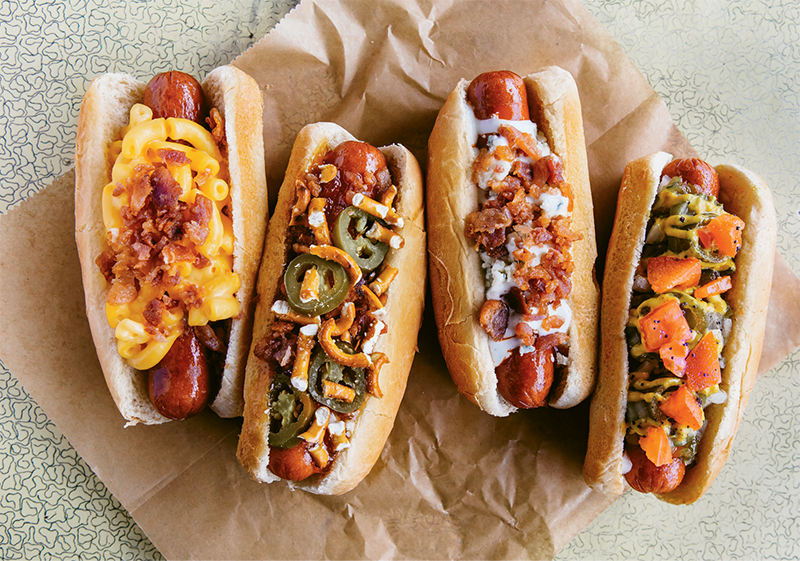 (left to right) KOOK: Mac 'n' cheese and bacon; SHORTBUS: Apricot preserves, bacon, jalapenos, and pretzels; COWABUNGA: Buffalo sauce, blue cheese, and bacon; GNARLY: Pickle relish, onions, pickles, jalapenos, mustard, tomatoes, celery salt, and poppy seeds.
There are some things in life that are so universally beloved virtually everyone can agree on them. If you ask Tim Honeycutt, owner of Burnsville's Rad Dawgz Hotdog Joint & Taco-ria, frankfurters land at the top of that list. A nostalgic crowd-pleaser, "they're basically memories," says Honeycutt­— "everyone has a story about them."
It's that sort of appreciation that led Honeycutt, a former graphic designer, to open his own colorfully eclectic, surfer-themed hot dog eatery in November 2016 (he added tacos last year). Honeycutt admired the straightforward business of food and knew he wanted to serve hot dogs. "Not everyone eats them four or more times a week like I do," he admits, laughing, "but everyone loves them—kids, adults, vegetarians, people who are gluten-free. There's a hot dog for everyone." Honeycutt ensures this by not only offering high-quality all-beef and vegetarian franks, but a minimum of 57 inventive toppings, including homemade pimento cheese, jalapeños, roasted red peppers, hummus, pineapple, bacon, and cheese wiz with tater tots.
The first step to building a great hot dog? "Have fun," Honeycutt says. "If you can think it, there's a good likelihood it will work on a dog." He also encourages people to think beyond mustard and ketchup. "If you can incorporate different flavor elements to your dog, it will taste much better," he says. "Take our Shortbus dog. It has apricot preserves, bacon, pretzels, and jalapeños. It's sweet, salty, and spicy—and delicious." It's also important to cook your hot dogs appropriately. "Don't use wet weenies," he says emphatically. "When you boil them, you don't get the snap and bite that comes from grilling or frying."
Take some inspiration from Honeycutt's vivid flavor pairings, and this summer's dogs are sure to be your most memorable yet. 
Rad Dawgz HotDog Joint & Taco-ria
112 W. Main St., Burnsville
(828) 536-5180
www.facebook.com/RadDawgzHotdogJoint
https://www.loc8nearme.com/north-carolina/burnsville/rad-dawgz-hotdog-jo...