Hopped Up
Hopped Up:
Local brewers and experts weigh in on the beer industry's recent boom and its future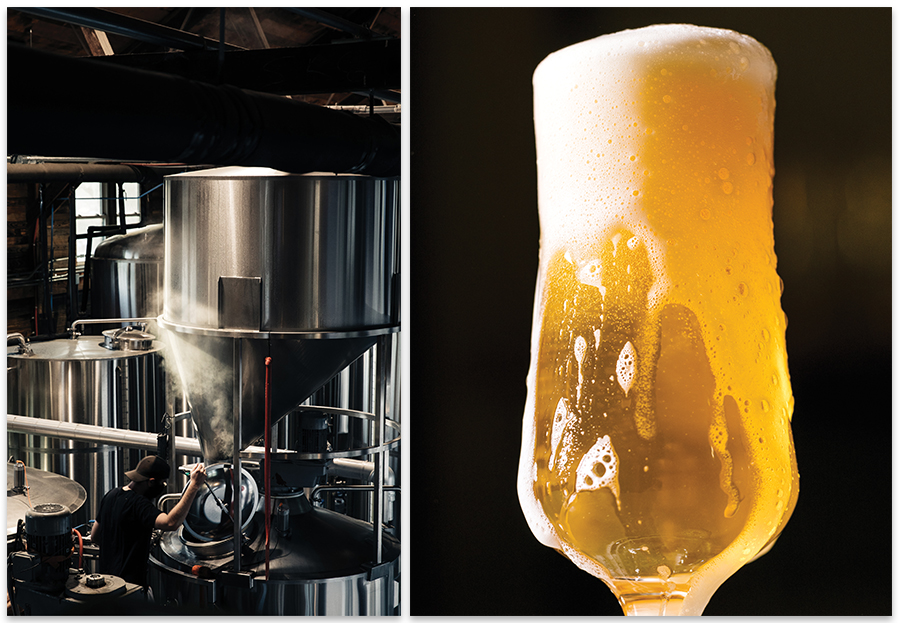 "Western North Carolina is still one of the best places in the world to drink locally-brewed craft beer," Local brewers and experts weigh in on the beer industry's recent boom and its future
says Mike Rangel, co-founder of one of Asheville's oldest breweries, Asheville Brewing Company, circa 1998. Despite pandemic challenges, expansion, diversification, and innovation have kept WNC's brewing scene growing, albeit at a slower pace than during the boom days of the early 2010s.
While the growth of the beer industry nationwide remains formidable, with more than nine thousand craft breweries in the U.S., the pace of growth has been explosive in the mountainous region of North Carolina for more than two decades. Asheville's population of around ninety-seven thousand and 35ish breweries give it one of the highest population to brewery per capita ratios in America. Over the past several years, the number of WNC breweries has quadrupled, with new brew houses and taprooms opening in small towns, many of which were formerly dry. Currently, there are 62 breweries in the great Asheville metropolitan area (including those in Asheville proper), and 98 total in Western North Carolina, while there are just more than 400 in the state, per Lisa Parker, executive director of the North Carolina Craft Brewers Guild. These numbers still are increasing, despite some closures.
"It's such a dynamic and organic industry, so the data is always changing, but we've been excited to see how brewing has become an important driver in regional manufacturing," says Clark Duncan, executive director, Economic Development Coalition for Asheville and Buncombe County. "The industry has pushed through the noise and become the region's second biggest manufacturer. Although Asheville is known for our automotive and aerospace manufacturing, we're best known for beer, which is more relatable for most people."
PANDEMIC PIVOT
Entrepreneurship has never been easy, and the pandemic brought both challenges and opportunities to breweries. While many WNC breweries already offered outdoor beer-quaffing options, once COVID became part of daily life, most outside areas needed to be repurposed into guest seating. "We naturally already had outdoor space, and it was kind of the only way to grow," says Brandi Hillman, co-founder of Hillman Beer. "Especially in 2020, it was great to have the ability to have so much open air." Asheville Brewing's Merrimon Avenue location famously spaced picnic tables throughout their parking lot and used one of the building's exit doors as an order window.
Another pandemic challenge, especially for breweries dependent on taproom sales, was figuring out how to get beer packaged into cans and bottles and into customers' hands. DSSLVR's to-go table in their brewery's doorway gave customers a way to purchase beer from the city sidewalk. Some breweries turned to mobile canning. Growlers became popular again. "There was terror for a couple of months," says Doug Reiser, Burial Beer's chief strategy officer and creative director. "But we were oddly positioned to succeed because we were packaging. We were able to offer special beers weekly that people could pick up and take home."
As the pandemic eased its stranglehold and people tired of restrictions, tourists returned, many driving from nearby states and most visiting a brewery or three during their stay, per Asheville's Chamber of Commerce. "After the shock of 2020, 2021 was an insanely good year for local breweries," says Leah Rainis, former executive director, Asheville Brewers Alliance. "Tourist spending was way up as people started traveling again. But 2022 has not been as good for revenue for many breweries. Everyone is trying to figure out what the new normal looks like."
Other ongoing pandemic-era challenges include supply chain issues and staffing. "Supply chain challenges are still real across the globe, so breweries will continue to have to innovate with different packaging as well as pricing. We likely will see prices adjust to what the customer and the market can bear," Duncan says.
Rainis, who also is a former brewer, notes: "Customers are less of a challenge right now than staffing, as there's no shortage of people who've moved to and continue to move to Asheville. The cost of living has increased around 25 percent in the past year, and local housing is out of reach for someone who makes $15 an hour. The number of available brewery production jobs has dramatically increased, but the days of people working for free just to get their foot in the brewery door are long gone."
Rangel mentions the trend of local restaurants limiting hours and open days since the pandemic, often because of staffing challenges. "Tourism might be plateauing here. You don't have to come here to get a great IPA anymore, you can get three wherever you are," he adds.
ACQUISITIONS AND MERGERS
There have been several high-profile acquisitions and mergers of WNC breweries over the past several years, which, in some ways, has cemented the area's legacy as a desirable producer of quality brews. In what was one of the biggest national beer news stories of the past several years, Belgian-owned AB InBev purchased Asheville's Wicked Weed Brewing in 2017. Then, in 2019, one of the U.S.'s largest independent craft breweries, New Belgium Brewing, sold 100 percent of its company, including the Asheville facility, to Lion, an Australian-based subsidiary of Japan's Kirin. In late 2021, Burke County's first brewery, Catawba Valley Brewing, sold its portfolio of brands to Made by the Water LLC. Earlier this year, soft drink company Monster Beverage purchased the CANarchy family of breweries, including Oskar Blues Brewery, whose east coast production facility opened in Brevard in 2012. Have these acquisitions changed WNC's beer culture? Does your average beer drinker care?
Everyone knows a craft beer purist or two who refuses to drink "corporate" beer. However, there are upsides to these business deals, and not just for those who hit the American jackpot dream of selling a homegrown business and cashing out. "We have ardent 'Support Local' and 'Unchain Asheville' proponents," Rainis says. "But as much as we might want to lambast the breweries that have sold out, they are providing lots of jobs. And not just jobs, but well-paying jobs with benefits and promotions and on-site improvements, such as safety teams."
New Belgium Asheville's general manager, Jay Richardson, has been with that company through multiple ownership reiterations, from partially to fully employee-owned to the current international oversight. "Very little changed at the day-to-day brewery work level after we sold to Lion," he says. "They said they'd be crazy to mess with anything that had given NBB success." Extra financing has translated into numerous capital improvements, including expanded brewery safety protocols, more brewhouse tanks, and a huge covered outdoor seating area.
"When a larger, well-resourced entity wants you to succeed and is willing to finance that success, there's something emotionally freeing in that," Richardson says. "When the Liquid Center shut down during COVID, we called Lion and asked what we could do with those employees. Lion told us to keep paying them. It was great to have the feeling that someone is in our corner who wants us to succeed." He adds that Lion's acquisition of Michigan's Bell's Brewing has been more of a challenge for New Belgium than adapting to the initial acquisition. "We're now one company with two different families of brands," he says. He's not sure yet but says everyone's hoping that some Asheville-brewed Bell's soon will be on draft at the Liquid Center.
"I don't think that the typical beer drinker gives a rip who ownership is anymore," Richardson says. "When ABI acquired Wicked Weed, there was more of an outcry. There's an independent spirit that thrives in Asheville that we all believe in. But they are now able to pay their workers more and invest in the community and support the brewing community in ways they couldn't before."
BREWERY CLUSTERS AND SMALL TOWN GROWTH
Walkable brewery clusters have sprouted up around WNC like mushrooms after a warm rain. Asheville's most well-known one, the South Slope, is currently home to nine breweries, a cidery, a ginger beer producer, a sake maker, a distillery, and at least one brewery-in-planning. It's basically adult-beverage heaven. Both Asheville's River Arts District and West Asheville now have brewery clusters, as does the area east of Biltmore Village.
Then there's the Woodfin to Weaverville corridor. One of WNC's newest breweries, Outsider Brewing, opened in August 2022 in Woodfin. The small brewery joins Zillicoah and Riverside Rhapsody on Riverside Drive. Like the South Slope, this area of old warehouses and buildings is ripe for conversion and renovation. Weaverville itself boasts three breweries right off Main Street. If you want to keep heading north, there are now breweries in the towns of Marshall, Hot Springs, and Burnsville. "These small breweries in small towns really have a strong sense of place and work to integrate into the community. I imagine that's where there will be a lot of growth going forward," Duncan says.
John and Emily Silver opened Yancey County's first brewery, Homeplace Beer Company, in Burnsville, in 2017. An experienced brewer and native son of this formerly remote area of WNC, John has transitioned the brewery from a small taproom with a "closet" brewing set-up into a sprawling brewpub and event space with outdoor and indoor stages. While Burnsville is growing, the year-round population is only around 1,600, and Silver says the brewery only makes a decent profit for six to eight months annually.
"It can be dangerous for small towns when people start seeing money signs," he says. "We're going to start cannibalizing each other if we're not careful, because we're so small. Lots of people think Burnsville is the next Weaverville, but we're probably 20 years from that, in terms of limited infrastructure, including housing and job opportunities."
He's still a proponent of small-town entrepreneurship. "It seems that we've peaked in terms of fervent energy around craft beer. Now it's more, 'Let's go to this cool place that happens to have great beer,'" Silver says. "My advice is to go to some small town, start small and really invest in the town."
EXPANSION AND DIVERSIFICATION
Now that almost every small town has a brewery or three, new players in the craft beverage scene are looking for ways to help them stand out from the competition. "You often need to have some kind of value proposition stand out to survive, especially in Asheville, where there are so many choices," Rainis says. "Locals don't go downtown as much anymore if they have to fight for parking and then fight for elbow space at the bar."
A popular path to growth for existing breweries is opening a second taproom, production facility, or outpost, or even multiple taprooms. Bhramari, Burial, Catawba, and Hi-Wire all now have taprooms in Charlotte. Some breweries have expanded within WNC, such as Hillman, with facilities in Asheville and Old Fort, and 7 Clans, with taprooms in Cherokee and Asheville. Boone's Appalachian Mountain Brewery now has a taproom in Mills River. Wedge Brewing famously added a second taproom and brewhouse just a mile from its original location, and now also has a taproom in downtown's Grove Arcade. "Wedge choosing to build two breweries that you can now walk or bike between on the greenway was brilliant," Duncan says. Hi-Wire has become one of WNC's larger breweries by supplying beer to its taprooms in Louisville, Cincinnati, Birmingham, and Nashville, as well as a second location in the River Arts District.
In addition to its two Asheville locations, Burial has opened taprooms in Raleigh and Charlotte. "We've become a more event-based economy," Reiser says. "We're doing what everyone is having to do during these times—we're following as many diverse revenue streams as we can and trying to see what works." Burial's Forestry Camp opened mere months before the pandemic hit, and per Reiser, evolved from a family-style shared-plate restaurant into a taproom with an elevated food and drink concept. The brewery recently added another production facility, in the building across the street from Burial's South Slope locale, which now sports an indoor stage. "It's not our thinking to always be making more beer," Reiser says. "We want to bring a unique experience to the customer."
Like Burial, Homeplace focuses on customer and community experiences. "Everybody in WNC is so on top of their game in terms of beer quality," says Silver. "You have to differentiate your brewery in other ways. We separated ourselves as a destination location. We get spillover from the Asheville area and from people traveling between there and Boone. Nowadays, it's not just about great beer. You have to provide better customer experience, music, events, and other ways to bring people to your facility."
Kaeleigh McCauley and Julian Arena co-own Woodfin's Outsider Brewing. Outsider's niche is brewing on a transparent glass fermentation system that Arena designed with fabricators. Thus, the process is visible to customers as they gather in the taproom. Arena schedules brewing on Friday nights and Sundays so customers can watch or even participate in the process. "We are blurring the lines between the brewhouse and the taproom," McCauley says. "We're trying to appeal to those who want to ask questions and learn more about brewing, and Asheville is a city that loves and appreciates beer."
Breweries learned several years ago that they needed to have food options, whether an in-house restaurant or regular food trucks. Several also added full bars, with non-alcoholic and gluten-free options. Some started making wines, ciders, ginger beers, seltzers, and even non-alcoholic beverages. Taking production to a whole new level are breweries such as UpCountry and Asheville Brewing, which are distilling liquors alongside fermenting IPAs.
"One of the things we're doing since the pandemic is try to look at revenue streams that are less labor intensive," Rangel says. "Asheville is such a great beer town and such a competitive market. We're hoping distilling will amplify the brewery, and the brewery will amplify the distillery." He says that distilling seems like a natural addition, especially given the business' partnership in downtown outdoor music venue Rabbit Rabbit, where some concert goers might like to get a strong drink.
ON THE HORIZON
There are numerous WNC breweries-in-planning, but many are keeping their details on the down-low at present. One we can tell you about is a brewery, brewery education, and wellness center called brewwell. Josh and Shannon Brewer are in the funding and business development stages for this quintessential Asheville concept. An experienced brewer, Josh's most recent brewery stint was at Sierra Nevada, while Shannon is a long-time health and wellness proponent.
"I think someone could still open a small brewery here and make money, but at this point in my career, I want to do more than that," Brewer says. "I want to combine my and Shannon's passions to make something unique and exciting. We're in this great rich environment for our passions. We just happen to be in a really good spot to combine them for tourists and locals."
With its contributions to both WNC's culture and economy, it's unsurprising that the industry has evolved so much in the last decade. Despite the complications that arose during the coronavirus pandemic of 2020, it's stronger than ever, paving a hopeful future for breweries young and old, nationwide and local, and even those currently in the works. All Western North Carolina can do is wait and see—and drink local.
BEERY INFRASTRUCTURE
As the number of breweries continues to increase, so too have the number of ancillary support businesses. From raw ingredient producers to maintenance businesses to educational training programs to law, insurance, and marketing firms, WNC breweries benefit immensely from this local pit crew. Businesses such as White Labs, an international producer of yeast, and Riverbend Malt House, a craft grain maltster, offer easy access to quality ingredients, saving time and money as well as helping brewers produce better beer in a competitive marketplace. "Many people don't know brewers come from all around the world to study yeast production in White Labs' lab here," Duncan says. "They've helped put Asheville on the map as a center of the brewing manufacturing economy as well as the hospitality economy."
RESOURCES:
Photographs by Evan Anderson & courtesy of Burial Brewing; courtesy of Asheville Brewing; courtesy of Hillman Beer; courtesy of New Belgium Brewing; Sheila Mraz; courtesy of Homeplace Beer Co.; courtesy of Appalachian Mountain Brewing & courtesy of 7 Clans Brewing