Hob Nob Farm Cafe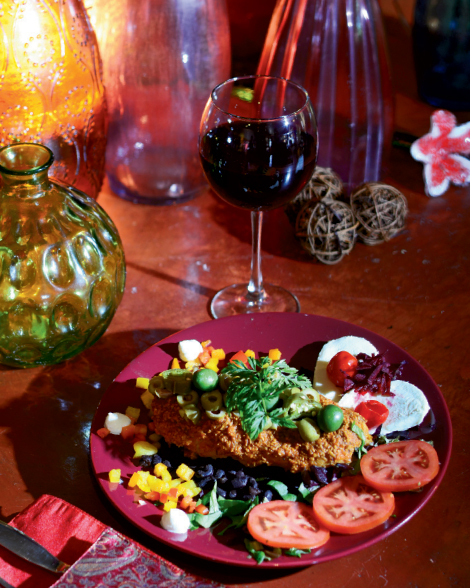 If your mission is to bolster the farm-to-table movement, you can't be much truer to the cause than operating an organic farm as well as a café that puts the harvest into healthy dishes.
Hob Nob Farm Cafe owners Mike and Nova Nelson rely on their 22-acre organic plot along the Watauga River, to provide apples, berries, tomatoes, herbs, and more for their Boone eatery.
Inside the King Street café, patrons bump elbows with friends in an intimate dining room filled with eclectic décor and local art. The patio provides a prime perch to enjoy an Ocracoke fish sandwich with broiled tilapia on house-made bread while people-watching. Spending a warm afternoon here sharing a pitcher of ginger-pear sangria with a few companions is sheer bliss.
Mike is the chef behind the menu of old-fashioned comfort foods and  international dishes. Thai, Mexican, Italian, Cuban, Indian, Jamaican, and Japanese flavors are all represented. Breakfast can be as down-home as biscuits with vegetarian rosemary-mushroom gravy, served with brown eggs, cheddar cheese, tomatoes, and fresh basil, or as spiced up as huevos rancheros with layers of black beans, corn tortillas, cheddar-jack cheese, eggs, and Southwest chili sauce. Refreshing fruit smoothies,carrot juices, and locally roasted organic coffees from Bald Guy Brew are perfect accompaniments.
A lunch favorite is the Local Farm Burger made with Ashe County beef, smoked Gouda, bacon, organic mixed greens, tomato, and onions on a toasted Kaiser bun. The dinner menu is divided by country. Try the Garam Masala Indian Curry tossed with fresh vegetables and served with jasmine rice, ripe mango, and toasted cashews.
Though the flavors span the globe, the philosophy comes back to supporting the local farming community, including New River Organic Growers, a 30-farm co-op that provides additional fresh ingredients to the restaurant.
"By choosing to grow our own foods and supporting farmers in the area, we're providing fresher, healthier food," Mike says. "The money given to local farmers stays in our community, helping advance the sustainability of the local economy. This is what we love and are dedicated to doing."                             
Hob Nob Farm Cafe
Boone
506 W. King St.
(828) 262-5000
www.hobnobfarmcafe.com
B, L, D; $$
Cash & Check Only