Hittin' the High Notes
Hittin' the High Notes:
Five local bands serve up new summer albums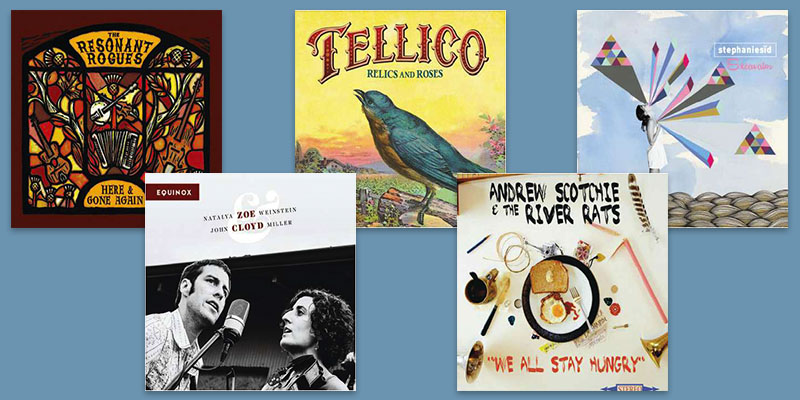 Here & Gone Again - THE RESONANT ROGUES
The Resonant Rouges' third studio album is as much a taste of Asheville as it is of New Orleans, Paris, and the back streets of Eastern Europe. It's a collection of the quartet's travels that plays out in Blue Ridge clawhammer banjo ballads, gypsy jazz, and Balkan accordion and violin tunes. www.theresonantrogues.com
Relics and Roses - TELLICO
Tellico's debut album is a story-rich medley of bluegrass- and old-time-tinged tracks. Lead singer Anya Hinkle's vocals meld with the warm humming of Jed Willis's mandolin though tunes like "Mexico 1995," "Forsaken Winds," and "You Can't Go Home Again," a song inspired by Thomas Wolfe. www.tellicoband.com
Excavator - STEPHANIESĬD
Pop-noir trio stephaniesĭd's fifth album is nothing short of a musical meditation. Singer Stephanie Morgan leaps out of a scratchy violin intro, quickly transforming a quiet monologue into an electrifi ed incantation. The album is underscored by classical violin and cello, piano, heavy drums, and sweeping, symphonic crescendos.
Equinox - ZOE & CLOYD
You may know fi ddler Natalya Zoe Weinstein and banjo and guitar player John Cloyd Miller from their band Red June. Now, this husband-and-wife duo has released their debut duet album. Equinox features a blend of old-time-inspired instrumentals, original ballads, and standards like "Lost Love" and "Lazy Man Blues." www.zoeandcloyd.com
We All Stay Hungry - ANDREW SCOTCHIE & THE RIVER RATS
Andrew Scotchie & the River Rats' second studio album marks an elemental step forward in the band's hard-driving sound, with horns backing up all but one song—the-anthemic acoustic title track—forming a funk-heavy rock 'n' roll experience.