The Healing Garden
The Healing Garden:
Recipes with a local expert in gardening and herbal medicine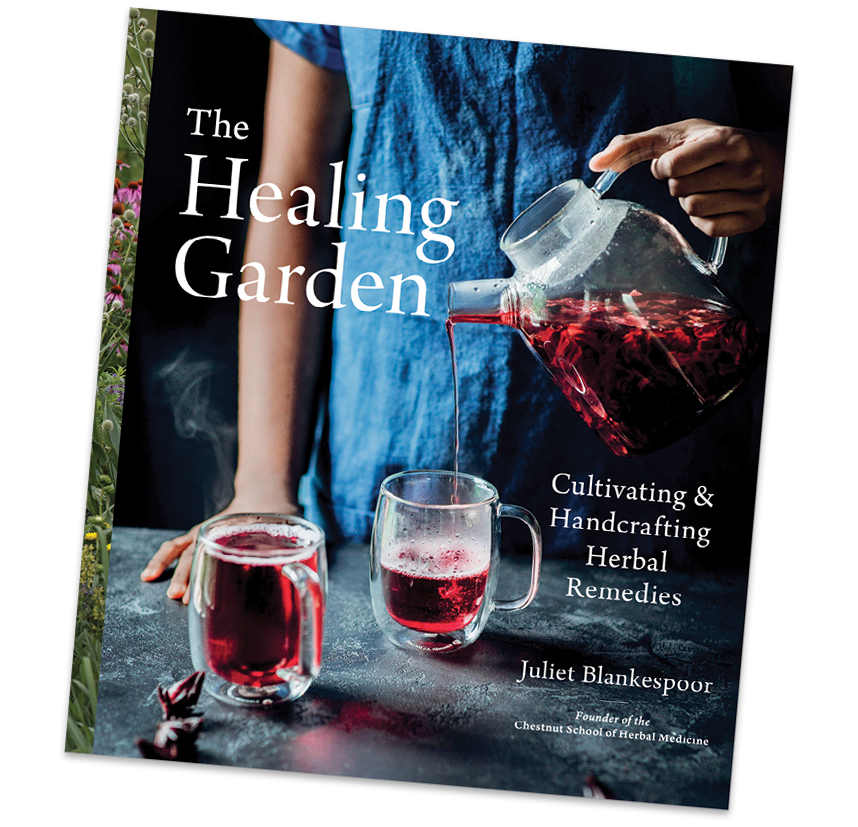 Editor's note: Southern Appalachia is known for its self-reliance and connection with nature. Native foliage has played an essential part of life in Western North Carolina for native tribes, settlers, and even some of today's residents, all using the land as a resource for healing and survival. Nowhere is this modern connection more evident than The Healing Garden by Juliet Blankespoor of Asheville's Chestnut School of Herbal Medicine.
Released this spring, The Healing Garden is a collection of ground-to-table instructions for growing a variety of herbs and plants that can be used for healing purposes. Author and botanist Juliet Blankespoor's new book contains instructions on the basics of gardening and herbal medicine, but most attractively, it covers dozens of herbs that can be grown at home, how to care for them, their benefits and qualities, and recipes for herbal remedies and tasty delicacies that incorporate each ingredient. Using her horticulture expertise, Blankespoor walks through three parts: plant cultivation, making medicine, and herbalism in action. It's imperative that growers are familiar with their soil composition, garden landscape design, means of propagation, and insects and plant diseases, all of which Blankespoor covers.
Blankespoor graduated from the University of Florida with a degree in botany and pursued further education at several schools of botanical medicine. A self-described "card-carrying plant geek," she has studied and worked in herbal medicine for more than 30 years. She's run herbal nurseries, clinical practices, and even created her own products to sell. Currently, Blankespoor spends her time running the Chestnut School of Herbal Medicine out of her home in Asheville. At the school, she collaborates with other herbalists to teach students about bioregional herbal medicine—that is, cultivating and using plants grown locally for their medicinal properties. When she isn't working, Blankespoor shares her home with her family and many, many houseplants.
"Befriending living plants keeps me close to my roots, literally and figuratively," Blankespoor writes. "When I want to know more about a plant, I bring it into the garden. From there, we slowly begin the dance of plant-human reciprocity, a friendship of sorts…."
In the following pages, get to know Blankespoor—botanist, naturalist, teacher, plant lover—through two recipes from The Healing Garden. Each is accompanied by information about their main herbal ingredient.
From the author
Gardening is medicine for our spirit, mind, and body. When we grow a garden that is in tune with the elements and the earth's ebbs and flows, we're cultivating more than meets the eye. We are, in essence, cultivating medicine. Medicine travels in many guises: it can take the form of connection—to our bodies, to the earth, to the healing plants. This rootedness is potent, a remedy for our times. Herb gardening is profoundly empowering: by nurturing a plant from seed to harvest and ultimately into a healing remedy, we're practicing ancient skills that all our ancestors once knew. Of course, we're also growing medicine in the literal sense. Herbs are the most ancient form of medicine and their usefulness persists into modern life. Medicine abounds, underfoot, and towering above—healing plants range from lowly "weeds" to shrubs and trees. No matter where you live, there is an abundance of botanical medicine you can easily grow in your garden. Herbal medicine provides us with a natural and safe way to address everyday health challenges and minor upsets, along with plenty of tools for promoting vitality and overall wellness—it truly shines as preventative medicine.
Preparing homemade remedies from organic, homegrown herbs is one way we can tread more lightly on the earth. By that token, we're cultivating medicine for the earth as well as for ourselves. Our gardens beckon us outdoors and keep us moving, two vital foundations of happiness and wellness. Herbalism also provides a framework for gaining intimacy with our bodies and with wellness. When we grow and harvest our own medicine, the remedy is full spectrum—it contains the intangible and unquantifiable medicine of kinship.
Prickly Pear
CULINARY USES
The pads are tangy and mucilaginous, like a muddle of okra, lemon, and green beans. After disarming them, slice nopales into 1/2-inch pieces. These can be parboiled or roasted with a little oil and salt and added to salsas, casseroles, or scrambled eggs. I find nopales delightful in salsas, as the punch of the other ingredients distracts from the gooeyness. (See my recipe.) Likewise, mix them into a pot of beans or layer them into a casserole, and their texture melds with the other ingredients.
You can also consume the raw blended nopales as a slurry, but be forewarned: it's gloopy! As a daily dose, blend two small nopales with a little water. Adding lime juice and a touch of cayenne helps counteract the viscousness. Also, consider adding celery juice or cucumber juice. People who do not have diabetes may want to add a little pineapple juice. Drink in divided doses with meals to manage cholesterol levels or blood sugar in diabetes. Go slow at first, as high doses can cause gastric upset and nausea. You can prepare bigger batches to save time and refrigerate the blended nopales for up to four days.
I prefer to consume the melon-flavored fruit in small amounts as a juice concentrate: an ounce or two diluted with water, lemonade, cocktails, or vegetable or fruit juice. If you have one of the carmine-colored varieties, the juice is an electrifying fuchsia. It audaciously wakes up salad dressings, chilled summer soups, herbal teas, pancakes, and margaritas. You can buy the juice bottled without preservatives. Freeze any excess in ice cube trays, and pop out the cubes into freezer storage bags to store.
Take a Dip - Cacti in the prickly pear family can grow up to 18 feet tall.
RAINBOW NOPALES SALSA
Fresh, seasonal salsa says festive, especially when it's prepared with edible flowers and nopales in the mix. Use store-bought nopales (typically these are already despined) or gather the tender young pads and prepare them yourself, using the directions found on page 353. You can substitute other seasonal edible flowers; visit page 178 for inspiration.
(Makes 3 cups )
1 ear sweet corn, or substitute ¾ cup frozen sweet corn
3 cups water
3/4 cup (80 grams) diced nopal pads (about 3 small pads or 1 large store-bought pad)
1½ cups (215 grams) diced tomatoes
1/3 cup finely diced white onion
1/4 cup finely minced cilantro leaves
1½ tablespoons fresh lime juice
1 small fresh jalapeño pepper, finely minced, or to taste (optional)
2 garlic cloves, finely minced
10 fresh calendula flowers (Calendula officinalis), yellow rays removed from the tough green base
Sea salt, to taste
Steam or boil the sweet corn, let cool, and slice the kernels from the ear; set aside. In a small pot, bring 3 cups of water to boil, add the diced nopal pads, and simmer, uncovered, for about 2 minutes. Strain immediately, briefly rinse with cold water, and let cool completely. In a large bowl, combine the corn, nopales, tomatoes, onion, cilantro, lime juice, jalapeño, and garlic. Add the calendula flowers and season with Prickly pear pads at the perfect stage for harvesting salt just before serving.
Lavender
CULINARY USES
Lavender's bitter aromatics balance the sweetness of confections, which is why the herb is fancied in baked goods, like scones, cookies, and shortbread. A little goes a long way, so proceed tentatively, in small batches. Even then, the flavor isn't for everyone; some find the herb to be floral-cloying, soapy, or overly bitter. Lavender is an ingredient in the French herbal blend herbes de Provence, along with rosemary, thyme, basil, tarragon, marjoram, and other Mediterranean herbs.
Batter Ingredients - According to Blankespoor, lavender oil has relaxation properties. 
LAVENDER-LEMON BUNDT CAKE
This cake is not only dense and moist but also ever so pretty. The flavor is elevated by the lavender and lemon, with the raspberry-sugar dusting and fresh berries lending a festive and light touch. Amber Brown, our resident recipe creator, and I modified her delectable grain-free cake recipe and dialed down the sweetness compared to most other cakes.
For the best results, weight your ingredients. If you don't have a Bundt pan, you can bake this cake in two 9-inch loaf pans; the baking directions are the same.
(Makes 1 (10-cup) Bundt cake or 2 (9-inch) loaves)
For the Cake
10 ounces unsweetened coconut cream (see Note)
1/4 cup (8 grams) dried lavender flower (Lavandula angustifolia)
4 teaspoons grated lemon zest (from 3 small lemons)
4 teaspoons lemon juice
5⅓ cups (620 grams) extra-fine almond flour
2 tablespoons plus 1 teaspoon (18 grams) coconut flour
2¼ teaspoons baking powder
1¼ teaspoons baking soda
1/4 teaspoon salt
10 tablespoons (141 grams) unsalted butter, melted
1 cup (170 grams) lightly packed light brown sugar or coconut sugar
7 large eggs, at room temperature
Nonstick cooking spray
Raspberry Sugar Dusting
2 tablespoons (10 grams) powdered freeze-dried raspberries (see Notes)
1 heaping tablespoon (10 grams) powdered sugar
To serve
Fresh lavender flowering stalks
2 cups raspberries or seasonal berries
Whipped cream (optional)
Notes: For the powdered raspberries, start with ⅓ cup freeze-dried whole raspberries; grind to a powder in a food processor or spice grinder. Look for coconut cream in the baking or Asian food section of your grocery store. Alternatively, skim the thicker cream off a jar of full-fat coconut milk, reserving the coconut milk (thinner portion) for another use.
In a small saucepan, heat the coconut cream until steaming but not yet bubbling. Turn off the heat, add the lavender flowers, and steep, covered, for 30 minutes. Meanwhile, combine the lemon zest and juice in a small bowl; set aside. In a medium bowl, whisk together the almond flour, coconut flour, baking powder, baking soda, and salt. Preheat the oven to 350°F. Strain the lavender cream through a fine mesh strainer or a straining cloth. Be sure to press out all the cream. Measure ¾ cup of the lavender-infused coconut cream and set aside. If you have extra cream, reserve it for tea.
In a large mixing bowl, use a whisk or mixer to beat the butter and brown sugar until creamy, fluffy, and well whipped, 4 to 5 minutes. Slowly add the eggs, lavender-infused coconut cream, and lemon juice and zest, beating until well incorporated, about 2 minutes. Working in batches and mixing by hand, fold the dry ingredients into the wet ingredients. Spray a 10-cup Bundt pan with the cooking spray, taking care that the entire surface is coated (use a pastry brush, if necessary, to evenly coat the recesses of the pan). Spoon the batter into the pan, allowing it to fill the reliefs of the pan. Gently tap the pan on the counter a few times to remove air bubbles. Smooth the batter up the sides of the pan, so it's slightly higher on the sides than in the middle of the pan—this will help prevent doming as the cake rises. Bake for 45 to 50 minutes, or until golden brown and a toothpick or knife inserted into the cake comes out clean and batter-free.
Let the cake sit in the pan for 10 minutes to set. Shake the cake free from the edges of the Bundt pan before turning onto a plate or cake stand. If the cake has domed during baking, you can trim it so it has a flat bottom. Allow to fully cool before serving. Combine the raspberry powder and the powdered sugar in a small bowl. To serve, surround the cake with berries and flowering lavender stalks. Using a sifter or tea strainer, sprinkle the raspberry sugar dusting over the berries and cake. Serve with whipped cream, if desired.
From The Healing Garden by Juliet Blankespoor. Copyright © 2022 by Juliet Blankespoor. Reprinted by permission of Harvest, an imprint of HarperCollins Publishers. The book comes with an online portal of free gardening charts, ten video tutorials, and regional herb gardening profiles created by the Chestnut School of Herbal Medicine. For booksellers and book bonuses, visit HealingGardenGateway.com