Haywood Common
Haywood Common:
It's always pretty fantastic when a hard-working food truck can transition into a brick-and-mortar location.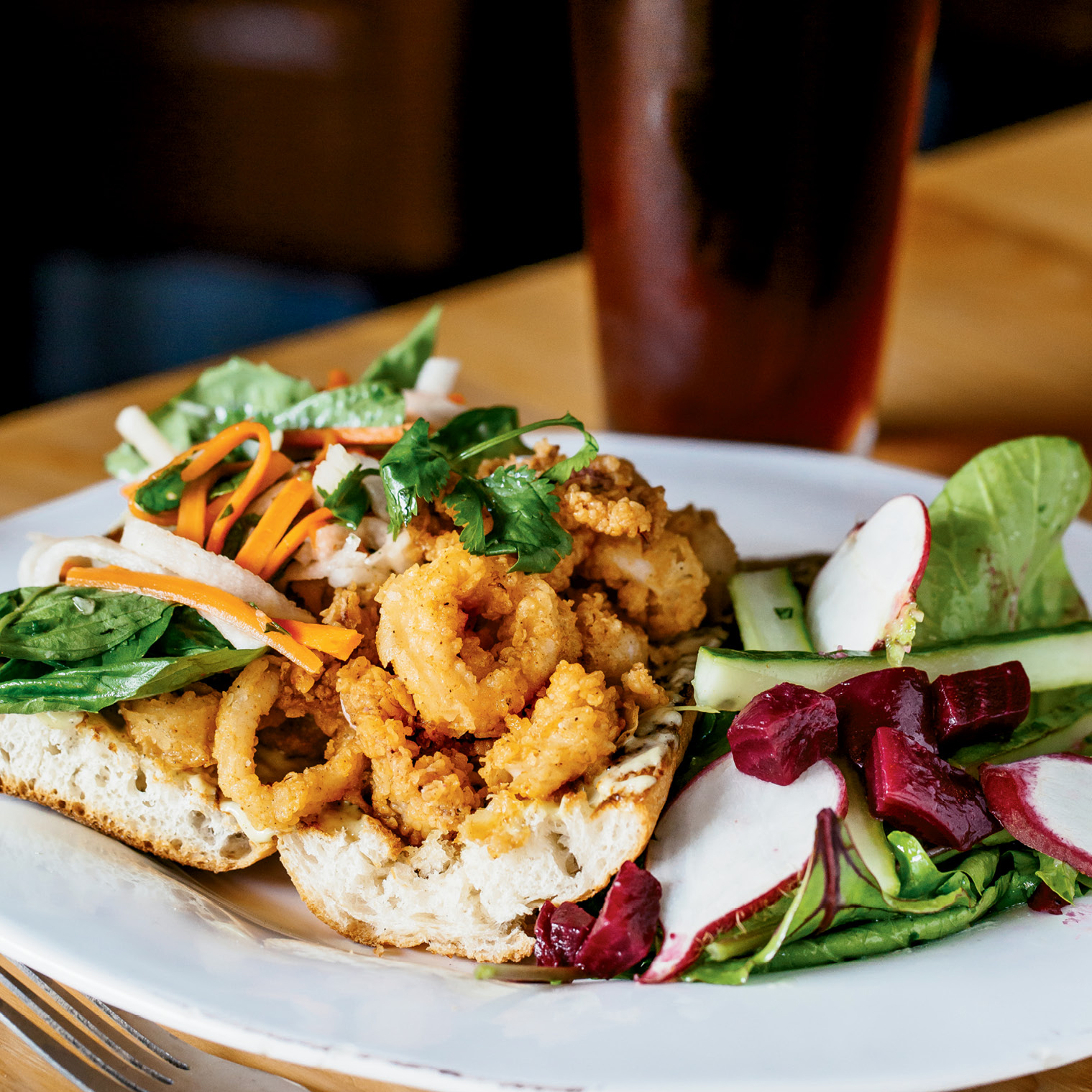 Calamari bánh mì, with arugula, herbs, pickles, and charred lemon mayo, represents his use of global flavors.
The Draw: Rustic and approachable wholesome comfort food served in an elevated community gathering space 
The Drawback: Too much blinding sun on the front patio at times and busy traffic during rush hour
Don't miss: Covering your table with a variety of plates to share, accompanied by the rotating frozen cocktail of the day
With a spate of newly-opened restaurants in Asheville, Haywood Common stands out for its approachable menu, fun cocktails, and neighborly atmosphere.
Florida transplant Chef Rob Starr and his wife, Hannah, launched Belly Up food truck in Asheville in 2015. The couple met in Berkeley, California, so it's probably no surprise that the mobile menu and the one at Haywood Common boast wholesome, nutritionally-dense grains, super fresh produce combinations, and globally-inspired dishes.
But whereas the food truck, which is still on the move, delights patrons with burritos, tacos, and small plates, the restaurant slows the pace to a four-tiered menu delineated into shared dishes, large salads, sandwiches, and entrées such as marinated and pickled vegetables, hand-cut beef tartar, braised short ribs, brined and roasted chicken, pork-chops, and the like.
Inside, light pours in the front windows, scattering sunbeams over a focal wall of mortared bricks. The minimalist shabby-chic interior is all warm wood tones and dark steel, with exposed ductwork bisecting a high ceiling studded with long nails from the floorboards above. A mix of comfy booths and chair and table sets compose the main dining room, where attractive succulents planted in retro coffee cans or clay pots don the tables. High tabletops and a hand-hewn hardwood-topped bar comprise the other half of the space. And daily specials are announced tastefully in large, colorful hand-lettering on rolls of craft paper suspended from the wall.
Haywood Common shares a building with The Whale, a "beer collective" and tasting room that serves international and hard-to-find brews as well as wine, cider, mead, and sake. You can enjoy Haywood Common's menu at The Whale via counter service, but for the full experience, secure a seat in the restaurant or on the patio and settle in with a cocktail to start.
Classic concoctions get a boost with fresh house-made syrups such as hibiscus, blood orange, or Earl grey tea and flavorful bitters. Wine, craft beer, and ciders round out the libations.
Lunch and dinner menu items change seasonally, and differ in flavor profile enough to appeal to an array of diners. But you'll have to decide between a variety of small plates, like calamari bánh mìsandwiches or pork belly bites, or larger entrées such as a pan-seared rib eye over romesco, sautéed radishes, and potatoes or a tea-brined pork-chop.
Copiously tattooed servers bring out prettily plated dishes as the place fills one recent evening. Our dinner starts with tater tot patatas bravas and shrimp hush puppies, both with dipping sauces. Our choices are a bit heavy for summer, but the elevated pub food sounds solid enough to accompany our second cocktail.
Mussels in a creamy tarragon sauce with savory bacon-bit goodness are sinfully rich. Thankfully, plenty of rustic charred bread slices for dipping are served alongside the dish. Buttery, perfectly pan-seared scallops drizzled with zesty seaweed chimichurri, confit potatoes, and savory small strips of Spanish chorizo harmonize delightfully.
At our friendly server's recommendation, we share a duck confit salad, one of the most popular items on the menu. The salty, tender duck pairs exceedingly well with the fleshy spinach, aged white cheddar, and tarragon vinaigrette. It is a generous portion, enhanced with crunchy pea shoots, pickled rhubarb, and strawberries. In other seasons, the fruits and cheese are traded out for earthy beets and chèvre.
Although we're quite sated already, I choose the pork belly rice bowl for my entrée. Thin slabs of the well-prepared meat nestle next to house-made kimchee, thick sprouts, and a delicate fried egg with caramelized teriyaki. Thinking ahead, I vow to return one Sunday for Turntable Brunch with beloved local DJ Dr. Filth spinning tunes from his vinyl collection to an equally fun menu, which includes dishes like Memphis-style hot chicken and waffles and french toast of the day.
While we certainly don't need dessert at this point, the ramekins being delivered to nearby tables waft past us so temptingly we can't resist. The strawberry and rhubarb cobbler topped with strawberry crème fraîche reveals a lighter-than-expected sweet finish to the meal.
Haywood Common
507 Haywood Rd., Asheville
(828) 575-2542
www.haywoodcommon.com