Hang Times
Hang Times:
For years, Grandfather Mountain served as the launch pad for high-flying gliders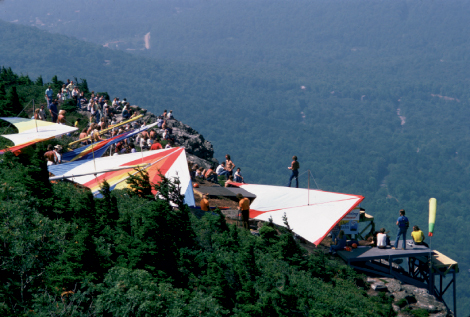 Glimpsing a hang glider in the skies over WNC is a rarity these days. Yet for more than a decade, the sport was synonymous with Grandfather Mountain. From the mid-1970s to late '80s, the mountain's sheer cliffs and consistent winds—with the aid of master promoter Hugh Morton—helped turn hang gliding into a popular spectator sport.
In 1974, John Harris of Kitty Hawk Kites approached Morton, the owner of the park, about launching from the top. Harris' "calm, matter-of-fact approach," Morton wrote, won him over, and on July 14, 1974, Harris, "became our Lindbergh at Grandfather." Morton soon began hosting national competitions, including the first Masters of Hang Gliding Championship held in '76. It was a prestigious, invitation-only event that, for more than a decade, drew the world's best flyers, including the father of hang gliding, Francis Rogallo.
Exhibition flights were also popular. In 1975, Morton hired the mountain's first team of professional pilots, the Grandfather Mountain Flyers. Weather permitting, the team of four flew daily. "[Experienced hang gliders] moved to the Boone area from all over just to fly Grandfather and get paid for it," says Bubba Goodman, who was a reserve pilot. "Those guys were the best of the best."
"Grandfather is one of the great cliff-launching sites," says Goodman. One launch site tops a 500-foot cliff. Another propels you over a vertical mile elevation change. "It was unbelievably intense flying."
The Masters of Hang Gliding ended after Grandfather's chief pilot, Stu Smith, died during the 1986 competition. Exhibition flights ended the following year, due in part to changes in kite design. Flyers increasingly rode thermals far above the mountain or soared long distances from it, which made it more difficult for spectators to watch.
The sport has dramatically evolved since the 1980s. Though some facilities in the Southeast (Lookout Mountain Flight School in Chattanooga is the closest) still teach hang gliding, the bulk of the action is in the newer sport of paragliding. Goodman keeps the tradition alive each August when he hosts the Tater Hill Open hang gliding and paragliding competition near Boone. "I started the competition to have friends to fly with," he says. "I guess I just don't want the good old days to go away."
Fifth Annual Tater Hill Open
August 1-7; Boone
(828) 773-9433
www.flytaterhill.com