Guadalupe Café
Guadalupe Café:
Tropical Paradise: Guadalupe Café ignites Sylva with exotic fusion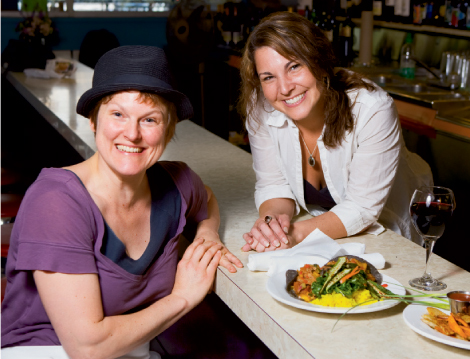 With black-and-white checkered linoleum floors, a pressed tin ceiling, and red vinyl stools lining a long counter, Guadalupe Café in Sylva charmingly makes use of the telltale décor of its past life as Hooper's Drugstore.
It's a laissez-faire place where the quality and creativity of the tropical-fusion cuisine clearly counters the retro environs. Also a music nightspot, concerts bring in listeners past the dining hour on the weekends.
Chef-owner Jen Pearson arrived in town after working in the restaurant industry in North Florida during a break from her Atlantic world history studies. Academia gave her a taste for the cultures bordering the Atlantic Ocean, hence the melding of flavors from her favorite regions. "In the Caribbean and Americas, so many diverse groups came together by force or by choice…. Together these people created whole new societies, complete with some really fascinating cuisines," says Pearson.
Guadalupe Café opened in 2004, evolving from serving tapas to full dinners that evoke a melding of cuisines from around the equator—alternately featuring dumplings, empanadas, samosas, and falafel. "I coined the term 'tropical fusion' to get away from that catch-all 'eclectic' moniker," she notes.
The banana leaf tamale, for example, is loaded with salsa, cheddar, and Split Creek feta over masa. With this salvo of flavors hitting the palate, the predominant theme is heat. Juju Ginger Beer from Louisiana—a hoppy brew with hints of the root—quells the fire nicely. Fragrant mango pork tacos—two blue corn shells stuffed with tender shredded pork, freshly chopped greens and herbs, and a mango salsa steeped with cloves—are tempered with coconut-scented rice and savory fried okra spears.
A staple for locals, Guadalupe Café shares the fun side of exotic cuisine with diners prepared to go along for the adventure.
Guadalupe Café
Sylva
606 W. Main St.
(828) 586-9877
www.guadalupecafe.com
D $$