The Great Outdoors
The Great Outdoors:
Burke County is bursting with options for your next adventure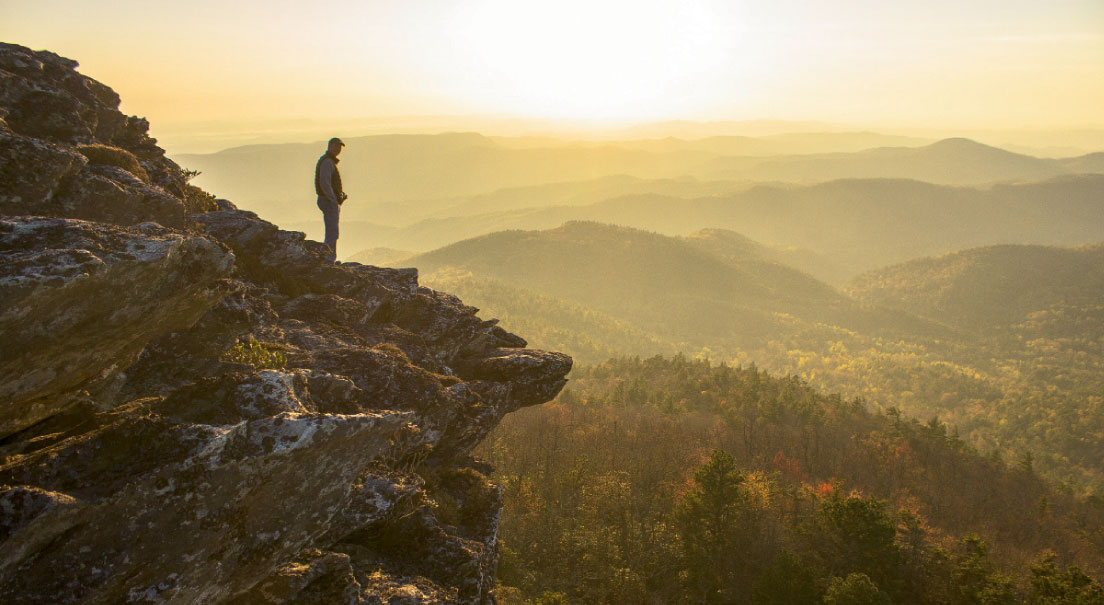 When you think of embracing the outdoors, your mind might wander down the Blue Ridge Parkway or up and over the Great Smoky Mountains. Yet, the foothills of Burke County hold plenty of gems for the outdoors lover.
Ease into an adventure here on one of the cleanest bodies of freshwater in North Carolina at Lake James State Park, located at the base of the Linville Gorge. From the beach, you can relax in a stunning mountain setting, or rent a kayak or canoe ($5 for an hour) and wander the shoreline.
When you're ready for a thrill, boost your adrenaline at Beanstalk Zip Lines in Morganton, where a series of interconnected tree houses, zip lines, and sky bridges are appropriate for ages four and up. The more daring should try the QUICKjump free fall, a new attraction that offers the initial rush of a free fall but slows to safely lower jumpers to the ground.
For those seeking adventure without the hassle of planning, HikeMore Adventures leads customizable excursions through the Linville Gorge, including mountaintop picnics, backcountry fishing, photography lessons, half-day hikes, and wilderness camping. Opt for the four-hour waterfall tour of Linville Falls, which provides the chance to learn about the geology of the deepest gash in the earth's crust east of the Grand Canyon while splashing around in several secret swimming holes.
When you're ready to go it on your own, try the two-mile round-trip trek to Table Rock. The climb is steep, but the view over the gorge from the 3,950-foot summit is worth the effort. And south of Table Rock, on the gorge's eastern rim, are The Chimneys, a pair of summits that also offer grand views. It's a 1.8-mile round-trip hike along a ridge to reach them. After a day in the gorge, soak in the scene from Wiseman's View, a great vantage point to reflect on an adventure-packed trip and ponder the mysterious Brown Mountain Lights, an unexplained phenomenon that's among the state's most famous legends.  
If You Go
Lake James State Park
(828) 584-7728; ncparks.gov
The Beanstalk Journey Zip Line
(828) 430-3440; www.thebeanstalkjourney.com
HikeMore Adventures
(828) 595-4453 ; www.hikemoreadventures.com
For details on hikes in the Linville Gorge, visit www.hikinginthesmokys.com/linville_gorge.htm.
Find Wiseman's View Overlook five miles south of the Linville Falls community on the gravel Kistler Memorial Highway (aka Old N.C. 105 or State Road 1238).
Do more
EAT
Grind Café Coffeehouse
Morganton
Facebook: Grind Café
JD's Smokehouse
Connelly Springs
www.jdssmokehouse.com
Root & Vine
Morganton
www.rootandvinerestaurant.com
DRINK
Lake James Cellars Winery
Glen Alpine
www.lakejamescellars.com
Catawba Brewing Co.
Morganton
www.atawbabrewing.com
Fonta Flora Brewery
Morganton
www.fontaflora.com
STAY
Inn at Glen Alpine
Morganton
www.innatglenalpine.com