The Great Family Getaway
The Great Family Getaway:
Discover what's new and awesome for all ages in Gatlinburg, Pigeon Forge, and Sevierville, Tennessee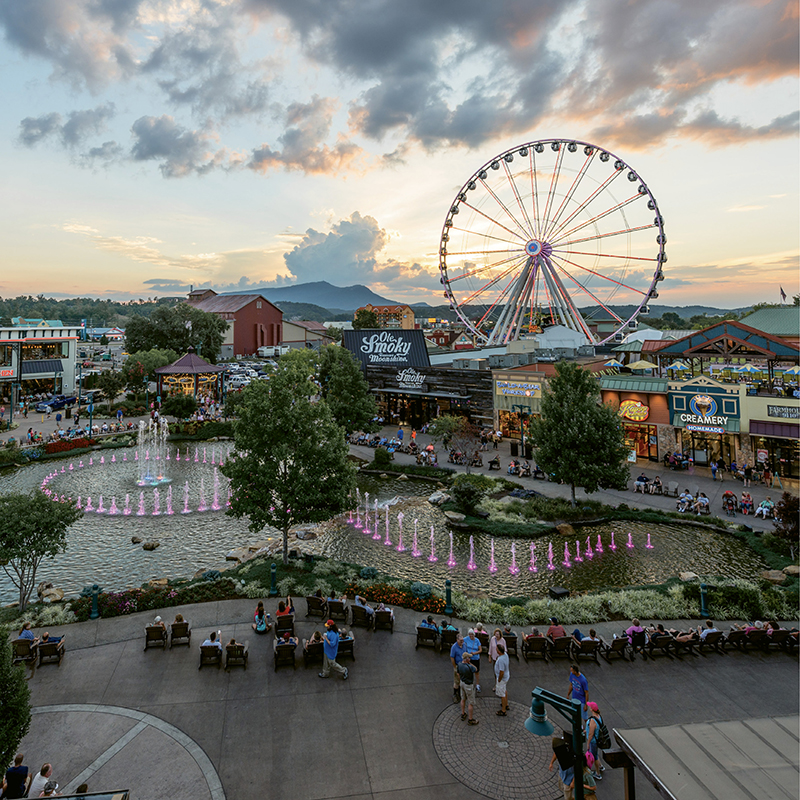 In Pigeon Forge, The Island entertainment complex includes rides and games, 35-plus retail shops, restaurants, and a new Margaritaville Island Hotel.
Forget any preconceived notions you may have of our neighboring Tennessee towns of Gatlinburg, Pigeon Forge, and Sevierville. The trifecta cities hold an abundance of amusements for all ages, and, of course, convenient access to the natural playground of the Great Smokies. The area still retains some of its kitschy Americana appeal—think old timey photo booths, candy shops, and a colorful carney vibe—yet it's very much on the up and up. Hundreds of attractions range from classic mini golf to a state-of-the-art aquarium to one-of-a-kind roller coasters, museums, and entertainment, and include a number of firsts, such as the country's longest downhill ride and, as of March, first indoor snow tubing park. The list of superlatives is impressive, which might help explain why the area's population of just over 100,000 swells to accommodate some 23 million visitors annually. And thanks to a united governing effort, they've got the infrastructure to support the surge.
There is one superlative we'd wish not to have to mention: the Great Smoky Mountains wildfires that burned 16,000 acres in November and December 2016. The fires claimed 14 lives, damaged or destroyed some 2,000 homes and buildings, displaced 14,000 residents and tourists, and were the deadliest wildfires the eastern United States has seen since 1947. In the wake of the destruction, Gatlinburg experienced the hardest blow, but the entire region felt the impact in lost tourism revenue for the first half of 2017. Despite the slow start, according to Leon Downey, who leads the Pigeon Forge Department of Tourism, his town still saw over a billion dollars in tourism revenue that year—a record for the third year in a row. "It shows you the strength of this destination," he says. "We all benefit from being so close to each other, and then you've got America's most visited national park in your back yard. It's the best of both worlds."
So if there's one message our neighbors wish to send, it is that they are back in business and offer a wealth of things to do. So cue up the Dolly Parton playlist, and head over the mountains for the quintessential great American family vacation.
Gatlinburg
No matter how you get to this mountain burg, once you arrive, you won't need wheels to get around. Everything is within walking distance, and when exhaustion sets in, you can ride the trolley for as little as 50 cents (or $2 for the day).
Start your visit with a bird's-eye view over the town, which can be accomplished a number of ways, the newest of which is via the chondola (chair/gondola hybrid) ride to Anakeesta. The lovely 72-acre attraction, which opened in September under the management of two park rangers-turned-landscape architects, is thoughtfully designed. In addition to incredible views, Anakeesta offers a canopy walk, zip lines, an adorable tree house playground, shopping and dining, and by the end of summer, a one-of-a-kind mountain coaster. Don't miss the informative Memorial Walk that is a poignant reminder of the recent wildfires. Plaques explain what burned (including 20 acres at Anakeesta), how forests benefit from fires, the replanting efforts underway, as well as tearful testimonies from locals.
Back on the main strip, you could easily spend a full day meandering from one luring attraction to the next, ogling at the knick-knack shops and candy stores along the way. Ripley's holds a sure footing in this town, with nine attractions offering weird and mind-bending fun. If you choose just one, Ripley's Aquarium of the Smokies is impressive, with many novel sea creatures like miniature cuttlefish, squiggly garden eels, a giant octopus, and plenty of sharks. The Shipwrecks display will appeal to history buffs and pirate-loving kids, while the Penguin Playhouse is a rare opportunity to watch these amusing animals in action. For an additional charge, there are opportunities to get up close to them or take home a painting made by a penguin.
For the of-age crowd, there are moonshine whiskey distilleries, a brewery, and wine tasting outlets in town. Ole Smoky Moonshine Distillery (aka "The Holler") is worth a visit just for the chance to kick back in a rocking chair in a sunny courtyard and catch one of the notable live bluegrass acts that perform here and at the Pigeon Forge location almost daily. Tours and tastings are on offer as well.
Art lovers could make an entire vacation revolving around fine craft. Where Western North Carolina has Penland School of Crafts and John C. Campbell Folk School, Gatlinburg has Arrowmont School of Arts and Crafts. Even beginners can access weekend or weeklong workshops in ceramics, woodworking, fiber, metals, and more. At the very least, make a point to stop by the gallery—July 7 to September 15 is a showcase of works by the Artists in Residence. Additionally, there's an eight-mile self-drive craft trail (also accessible via trolley) that leads to the studios of more than 120 artisans. Look out for Great Smoky Arts & Craft Community brochures, or find info and directions at www.gatlinburgcrafts.com.
And at the western doorstep to the Great Smokies, you'd be remiss not to set foot in America's most visited national park. Before you go, stop into Sugarlands Visitor Center to brush up on native flora and fauna through interpretive displays and gather maps and intel from the helpful rangers.
Dolly's World
While Gatlinburg may claim the lion's share of attractions within walking distance, Pigeon Forge and Sevierville are a short 15 and 30 minutes drive north, respectively, and offer plenty more to do, with the added bonus of a star-studded draw. Sevierville is the hometown of legendary singer Dolly Parton, and Pigeon Forge holds her namesake theme park. If you aren't already a fan of country music's most honored female performer, chances are you will be by the time you leave.
Forget the hokey theme park with costumed characters and outdated rides—Dollywood is quite the opposite. The award-winning park, which isn't overwhelmingly large and offers ample shady corridors and spots to relax, invests heavily each year into a new ride or top-notch performance. Plan accordingly and you could catch a big name touring act as part of your admission cost or even a glimpse of the star herself. Don't miss the Chasing Rainbows Museum that traces Dolly's rise to stardom. The costume exhibit is wowing, as are the cases of gold and platinum records and awards found nowhere else. Right outside, you can tour one of her retired buses, which even holds a Dolly-size pink bathtub.
You'll want to spend an entire day at Dollywood, but if you've got more time, elect to stay nearby at the luxurious family-friendly Dollywood DreamMore Resort & Spa. You can also spend a day at Dollywood's Splash Country water park and a still make it to Dolly Parton's Stampede dinner show that evening.
According to Downey, Pigeon Forge has more than 70 attractions alone. Dollywood is a must and so is the Titanic Museum.
Why, you ask, is a museum dedicated to one of the most famous shipwrecks in history located in landlocked eastern Tennessee? It's actually one of two in the country owned by producer and director John Joslyn, who led a 1987 expedition to explore the Titanic and recover and film the wreckage. The first is in Branson, Missouri, chosen because it's the center of the country. The Pigeon Forge location was selected because it's one of the nation's fastest-growing vacation destinations.
The interactive experience is both tearful and awe-inspiring. Built in the image of the Titanic itself and containing more than $4.5 million in original artifacts, the tour takes you through the ship's construction, its maiden voyage, and ultimate demise. Upon entry, you'll receive a "boarding pass" that tells the story of one of the passengers. The tour takes you from the engine room and cargo holds up through the third-, second-, and first-class areas, and into the command room. You'll even get to experience the bone-chilling temperature of the air and water that fateful night in 1912. And at the end of the visit, a commemorative wall bears the names of those who lived and died, so you'll find out the fate of the passenger boarding pass.
Other worthwhile things to do in Pigeon Forge include The Island, an entertainment complex with rides, dozens of shops, and restaurants. Go at dusk and catch the fountain show set to light and music. The Old Mill is also worth a visit to shop for handmade pottery and enjoy a hearty Southern meal at the restaurant of the same name.
In Sevierville, top draws include the Tennessee Museum of Aviation, which houses vintage and rare aircraft. Nearby, Sky High Air Tours is a chance to get airborne in a vintage 1927 Waco Model 10 Straightwing. Alternatively, you can travel to subterranean depths at Forbidden Caverns and learn how Native Americans and moonshiners utilized the cave in earlier times—never mind the fascinating fact that Tennessee claims the highest number of caves in the US (over 8,000). There are also the multiple go-kart tracks at NASCAR Speedpark, where ages 16 and up can experience the thrill of driving a smaller-scaled version of a Sprint Cup car on a speedway. And Rainforest Adventures holds the world's largest reptile zoo.
No matter how you spend your time, it's all fun and games until you have to go home. But before you leave, stop by the Sevier County Courthouse lawn to snap a pic beside the bronze statue of Dolly Parton—an ode to the woman who used her fame and fortune to uplift a depressed region of Southern Appalachia—then head across the street to Courthouse Donuts. The design-your-own donut shop is, quite literally, the icing on top of an adventure-filled family vacation.
Trip Planner
Find essential need-to-know info with these resources:
Gatlinburg Convention & Visitors Bureau
(865) 436-4178
www.gatlinburg.com
Pigeon Forge Department of Tourism
(800) 251-9100
www.mypigeonforge.com
Sevierville Convention & Visitors Bureau
(888) 738-4378
www.visitsevierville.com
Great Smoky Mountains National Park
(865) 436-1200
www.nps.gov/grsm
RESOURCES:
Photographs courtesy of (Vista & Deer) the National Park Service; (attraction) The Island in Pigeon Forge; Photographs courtesy of (Chondola) Anakeesta; (zip lining) Gatlinburg Convention & Visitors Bureau; Photograph courtesy of Ripley's Aquarium of the Smokies; Photographs courtesy of (water park & dinner show) The Dollywood Company; (2, Titanic Museum) Titanic Pigeon Forge; Photographs (2) courtesy of Sevierville CVB