Grace Land
Grace Land:
A family-owned Madison County dairy bridges the gap between farm and table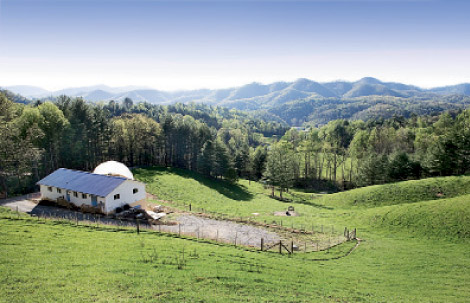 With their names painted on little green tags dangling from their collars, Key Largo, Beauty, and Zaza bleat impatiently and paw the earth, waiting for entry into the room where their daily milkings take place. On 165 bucolic acres in Madison County, these dairy goats are privy to views of rolling green slopes most humans covet. It's here at Three Graces Dairy that Sacha and Steve Alford, and Sacha's mother, Roberta Ferguson, create a litany of cheeses to be sold at local groceries and used in dishes served at restaurants across Western North Carolina.
Sacha opens the door and a dozen goats storm the milking room. With her red pixie cut hidden beneath a kerchief, she washes their udders, then attaches milking mechanisms. Meanwhile, her husband pours grains and grasses
in the troughs to keep these caprine spirits content.
Today, the couple has an audience of culinary interns from Biltmore Estate who are touring the farm, as well as the two-story facility that houses the milking and cheese-making rooms. They will cap the field trip with a meal in the French country-style dining room upstairs. But first, Sacha will school them about the milking process.
"This is a working farm," she says, "but it's important to let people see where our product comes from."
It wasn't all that long ago that Sacha and Steve were learning the multiple facets of making cheese and running a farm. Their days now are a far cry from their former urban lifestyle in Chicago, where Sacha managed a gallery and martini bar and her husband made a living as a jazz musician. The couple joined Roberta, a former ballroom dance instructor, in Western North Carolina in 2004. "Originally, the farm was a retirement plan," Roberta explains, "but I was here more and more often, and bought six goats. Then I had 12, and the rest is history."
---
Menu
Smoked Trout on Crispy Brioche with Dill Goat Cheese and Pickled Red Onion
Field Greens with Camembert, Spiced Pecans & Grapes
Seared Duck Breast over Honey & Walnut Goat Cheese Risotto
Fingerling Potato & Caramelized Onion Au Gratin
Pineapple Chutney with Abbey Goat Cheese, Jumpin' Juniper with Cucumber Relish
---
Curds & Whey
As milking continues, the students' mentor, Chef Edwin French, is bringing in baskets of leafy greens, containers of duck breast, and brightly colored relishes for lunch. Sacha is a prodigious cook, but with 11-month-old daughter, Circe, on her hip for much of the day and farm duties, she's leaving the cooking to the chef.
Back downstairs, the students have moved across the hall and are peeking through windows into the cheese kitchen where Sacha and Roberta are pouring fresh milk into large cauldrons to be heated. The mixture will later separate, leaving behind curd, which will be aged to make cheese. The amber liquid runoff is whey, and will be used in the brine needed to make feta.
All of Three Graces's cheeses fall into the farmstead category as defined by the American Cheese Society, which means they're made with milk from the farmer's own herd, on the farm where the animals are raised. Here, the goats are raised from birth and the herd consists of three breeds—white Swiss Saanens that produce volumes of milk; Nubians, with distinct drooping ears; and the Nigerian Dwarfs that provide the richest milk of all the breeds.
There are also Guernsey cows and Clun Forest sheep, which are newcomers to the farm. The sheep's milk will add pecorino to dairy's repertoire.
Feeding Time
The group follows Sacha and Roberta to the barn to feed the kids. Shafts of sunlight edge through the barn's wood-slat walls, catching the dust from trampled straw midair. The weeks-old kids are hopping from one overturned feed bowl to another, fussing and agitating for their "mothers" to serve breakfast. "Its music to my ears," says Roberta, bringing out buckets of feed. "They'll be quiet once they eat."
Sacha nudges a long-tipped bottle into the mouth of one of a handful of Nubian goats born just last night. After the students coo over the kids and contemplate adopting a particularly winsome animal, they climb the hill to the dining room for a gourmet lunch that will bring the lesson full circle.
French has been preparing a meal to highlight the versatility of the farmstead cheeses. The first course presents brioche rounds topped with a petite mound of rich smoked trout and a dollop of dill cheese. A breath of pickled red onion adds a piquant flavor and a touch of color to the assemblage. The chef brushes a swirl of balsamic reduction on the plate as a sweet-sour accent.
The of-age visitors sip wine as a salad is brought out. With the first bites, the diners note how much the flavor of the milder Camembert, made with cow's milk, is enhanced by bites of spiced pecans and grapes.
Next, he sears duck breast, placing the slices gingerly atop helpings of honey and walnut goat cheese risotto. Fingerling potatoes, caramelized onions, and raw abbey-style cheese create a rustic gratin.
A cheese course is the finale and the selection served to the students ranges from creamy, mild chèvre to the pungent abbey variety. The inspiration for Three Graces' flavors comes from all around. "It's really just a case of looking in the garden and seeing what's abundant," says Sacha. "We also scour our tailgate and farmers markets for herbs and local ingredients to use in our product."
French has created chutneys and relishes to complement the cheeses. The abbey pairs well with a colorful pineapple chutney. "A strong cheese like this needs a refreshing palate cleanser like pineapple," he points out to the students. "The Jumpin' Juniper goat cheese, which also has a hot pepper kick, goes with a cooling cucumber relish," Sacha adds.
Life on the Farm
Satisfied students eventually trek to the vans, leaving better prepared for their careers ahead.
"We've made a connection with what we do and our roles in the process," says Bethany Miller, a student at the New England Culinary Institute in Vermont, and an intern at Deerpark restaurant. Jeane Boddie, an intern at The Bistro agrees, "It's great to see things at their freshest level."
For Sacha, Steve, and Roberta, the work is far from over. There are stalls to be cleaned, and Steve must drive the 30 miles to Mars Hill College to teach an evening jazz class.
"To make this kind of business occur is a sheer act of will," he says, nibbling on a cheese rind while he rests on the porch. "You wake up with more of a purpose."
No wonder the musician-turned-farmer, the gallery manager-turned-shepherd, and the ballroom dancer who introduced them to this farming lifestyle don't mind rising early.