A Good Yarn
A Good Yarn:
Historic Henry River Mill Village tells a tale beyond its role in The Hunger Games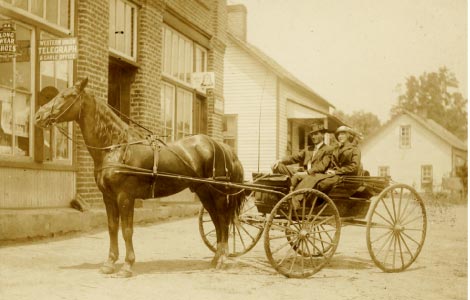 Until recently, Henry River Mill Village, abandoned and showing its age, seemed destined for the dustbin of history. The 76-acre compound in Burke County was home to a thriving textile community in the early 20th century, but its last residents left in the late 1960s, when the mill ceased operations.
Then Hollywood came calling, and the village became the setting for key scenes in The Hunger Games, one of this year's blockbusters. The place was transformed into District 12, the hardscrabble community where the main character, Katniss Everdeen, lived. During a bracing scene, one of the village's 20 or so remaining buildings was blown to bits. But the rest are still standing, and there's more interest than ever in preserving what's left.
It's ironic, but fortunate, that a film about a dystopian future revived attention to this relic of the industrial age. The silver screen success has shed new light on the unheralded labors and stories of those who hunkered over spindles of fine cotton yarn at the mill and lived in the village.
In its heyday, the community was home to some 100 residents, and a few of their descendants have launched new efforts to document life at Henry River. Several online tribute sites have sprung up, and two locals, Nicole Callihan and Ruby Young Keller, recently published a book about the mill town's history, titled Henry River Mill Village.
"In its time...Henry River was remarkable; it generated its own electricity, operated under its own currency, swam in its own swimming hole, and churned its own moonshine," the authors note. "Villagers played poker and baseball, they made quilts and blackberry dumplings, they spent their evenings playing music on the front porch, and they worked. They worked hard."
The property's owner, Wade Shephard, is in his 80s and hopes to move the real estate toward a future that honors its past. In collaboration with the Syfy channel's Hollywood Treasures program, he's put the property up for auction, with bidding to start at $1.4 million. Shephard says that he'd be most happy with a buyer who would preserve the homes and company store. At press time, the auction was set to close July 31.
Meanwhile, the abandoned mill town has become an unlikely destination, of sorts. Visitors can drive along Henry River Road in Hildebran, or stroll the sidewalks along the road to glimpse the remains of the village.                                     
RESOURCES:
Photograph courtesy of N.C. Room, Burke County Public Library