Go Nuts
Go Nuts:
Celebrate a sweet national holiday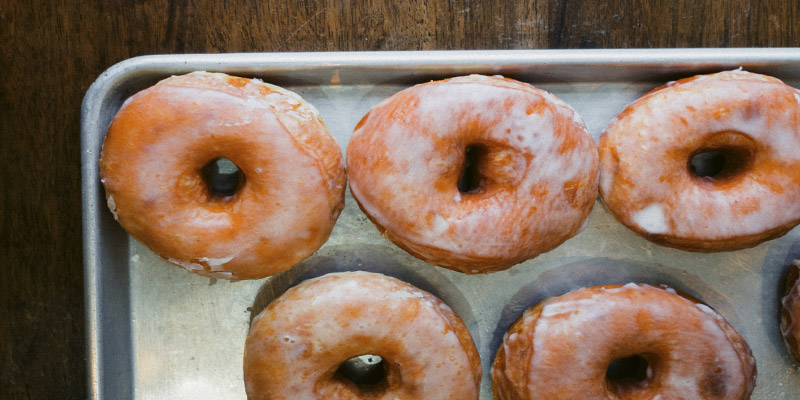 Should every day be National Doughnut Day? Absolutely. But it's your patriotic duty to honor them on June 1. Try making a classic yeast doughnut recipe courtesy of HenDough Chicken & Donuts in Hendersonville, or stop by any WNC doughnut shop for a sweet treat.
Yeast Doughnuts Courtesy of HenDough Chicken & Donuts
(Yields 24 doughnuts)
3½ cups all purpose flour
3½ cups high gluten flour
1 Tbsp. kosher salt
1 Tbsp. active dry yeast
8 oz. lukewarm water
10 oz. buttermilk
1/2 cup granulated sugar
2 eggs
4 oz. butter, melted
Classic Glaze
2 cups powdered sugar
1/2 cup water or milk
1 tsp. vanilla extract
In a medium bowl, combine the flours and salt. In a large mixing bowl, whisk together yeast and water and let sit three to five minutes until yeast is foamy and activated. Whisk in buttermilk, sugar, eggs, and butter. Add the dry ingredients and either bring the dough together in the bowl with your hands or use a stand mixer with a dough hook. Knead or mix the dough for about four to five minutes, until the outside of the dough is smooth and elastic. Place dough ball in an oiled bowl and cover with plastic wrap or a towel. Allow to rise until doubled in size, about 45 minutes to one hour. Knead the dough and allow it to double again.
Place a generous layer of flour out on a work surface and place the dough ball onto it, coating the top and bottom with flour. Gently roll the dough, maintaining even width, to half an inch in height. Using a three and a half-inch doughnut cutter, cut out as many doughnuts as will fit. You can reroll your dough, allow it to rise again, and cut additional doughnuts. Lay doughnuts out on a lightly floured sheet tray and allow to rise a third and final time.
While this is happening, prepare the pot for frying. Fill a large, shallow pot with at least two inches of canola oil. Using a thermometer, heat the oil and maintain a 350°F temperature. Carefully place three to four doughnuts at a time in the hot oil, fry for approximately one and a half to two minutes, and then flip with a wooden or mesh spoon and fry the other side. Lift the doughnuts out and allow to drain.
To make the glaze, combine powdered sugar, liquid of choice, and vanilla extract in a bowl. Whisk together until smooth. Dip doughnuts in glaze while still hot. Allow to dry on a wire rack. Enjoy warm.
Get Your Fill at Local Doughnut Shops
Vortex Doughnuts // Asheville
Must try: Peanut butter-banana-chocolate
Online: www.vortexdoughnuts.com
Davis Donut House // Forest City
Must try: Orange twist
Facebook: Davis Donut House
HenDough Chicken & Donuts // Hendersonville
Must try: Crème brûlée
Online: www.hendough.com
Hole Doughnuts // Asheville
Must try: Toasted almond-sesame-cinnamon
Online: www.hole-doughnuts.com
Local Lion // Boone
Must try: Potato doughnuts (traditional 1930s recipe)
Online: www.local-lion.com
Mr. Bob's Do-Nuts // Old Fort
Must try: Maple crunch
Online: www.mrbobsdonuts.com