Get Out of Town
Get Out of Town:
Ten near by cities worth a trip this summer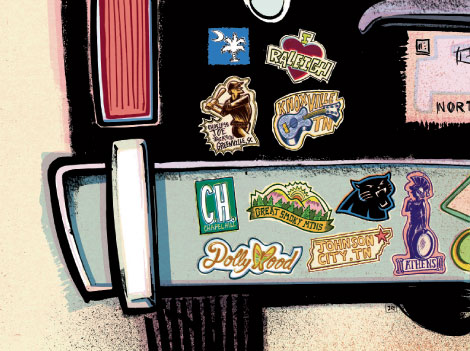 Each year, thousands of visitors trek through Western North Carolina in search of what we enjoy every summer: an outdoor wonderland blessed with cool temperatures and even cooler towns. And each year, we marvel at their numbers. Sure, the mountains are hard to top, but there are plenty of cities within a few hours' drive that hold their own charms and attractions. So when the Blue Ridge starts overflowing with vacationers, switch it up—and see how the other half live.
---
Charlotte, NC
Ride the Queen City's new beast that's neither Bobcat nor Panther
Parking the car and hitching a ride on public transit might seem like a clunky way to get to know a city, but forget what you know of the stale-aired London Underground or Atlanta's sprawling MARTA; Charlotte's LYNX light rail is sleek and comfortable. Riding between the suburbs and the 9th Street station uptown, you'll be able to visit museums, ride the historic trolley, and eat at restaurants the locals love.
On the way into the Queen City, avoid the busy roads and stop at the I-485 and South Boulevard. LYNX terminus. A $4.50 day pass will get you uptown and back, and allow you to transfer onto CATS buses and the city's trolleys.
Your first stop should be East-West Boulevard, where you'll find a variety of shops and art galleries. Charlotte Trolley Powerhouse is just two blocks south and takes visitors back to the glory days of the city's trolley lines with rides uptown on replica streetcars. Grab a bite at Price's Chicken Coop on Camden Avenue, where you'll find some of the city's best Southern fried chicken. The chopped pork barbecue and fillet of perch are equally as delicious, but if you've never tried fried chicken gizzard, this is the place to branch out. If you're in the mood for a burger and shake, nothing beats Mr. K's for a taste of old Charlotte.
Hop back on the light rail and head for uptown with its gleaming skyscrapers, museums, restaurants, and copious nightlife. Step off at the 3rd Street station, and make for the Bank of America tower, where an 18-by-23-foot fresco painting by Asheville's own Benjamin Long dominates the lobby. If you want more visual stimulation, check out the Mint Museum of Craft + Design. An offshoot of its fine art counterpart, the four-story building features handicraft revival and contemporary works in permanent and rotating exhibitions. See pieces by acclaimed WNC artists Randy Shull, Harvey Littleton, and Michael Sherrill that share space with world-renowned glass blower Dale Chihuly.
Next, hit the Levine Museum of the New South for an interactive collection of exhibits that trace the diversity of the South since its post-Civil War reinvention. A block away stands the modern architecture of ImaginOn, which houses the Children's Theatre of Charlotte and the Public Library under the same roof.
Round out your trip with live music at The Double Door Inn, a blues club on Elizabeth Avenue, which in its 35 years, has welcomed the likes of Eric Clapton, Stevie Ray Vaughn, and Buddy Guy. If you go there on a Monday evening, you'll get down with the Monday Night All-Stars, the house band since day one and a fixture of soul and funk music who will make you wear out your dancing shoes.
After the fun is over, catch the light rail, and relax as you're zipped back to your car in less than 30 minutes. On the way, enjoy the view of the luminous skyline receding into the distance, and be happy you don't have to navigate the city at night.
—Caleb Beissert
---
Chapel Hill, NC
Put away the UNC jersey for a day, and explore Chapel Hill's better half
Walk a mile west on Chapel Hill's historic Franklin Street, the commercial and cultural artery of the country's oldest public university, and the bustling corridor gives way to Main Street in Carrboro. It's a locavore's oasis with one of the state's most active farmer's markets, a thriving co-op, active arts center, and healthy music scene—all in less than one-square mile. The area was once called West End, but this town of 20,000 has a cultural identity of its own, and adopted a more appropriate moniker: "the Paris of the Piedmont." Locals might be quick to point out that the title was given in jest, but spend a day in this town, and you'll find there's some truth in the humor.
MORNING: Sunrise on Saturday morning means business at Carrboro Farmer's Market, where roughly 60 family-owned operations sell their goods, all grown within a 50-mile radius. June is the peak season for tomatoes, melons, as well as beans, and check out the chef's event on June 20. If you can't find what you're looking for at the farmer's market, take a quarter-mile stroll to the Weaver Street Market. Grab a fresh sandwich, bowl of soup, and a microbrew from the co-op's deli and sit back on the front lawn, a community gathering spot for visitors, locals, buskers, and students alike.
AFTERNOON: The ArtsCenter houses exhibits, improv and traditional theater, and the popular American Roots Series, which will feature Grammy-winner Steve Earle on June 10.
NIGHT: There's even more music next door at Cat's Cradle, ground-zero for up-and-coming artists, as well as big acts. To prep for the show, head to Mill Town. The establishment delivers better-than-average bar food, but the real gem here is the deep list of Belgian brews.
—Brian Gallagher
---
Raleigh, NC
Despite how you might feel about its politicians, there's a lot to like about Raleigh
If you've always skipped Raleigh for its hipper sister cities in the Triangle, then it's time for a visit. The nation's only preplanned state capital is now one of its most rapidly expanding metro areas. While the burgeoning "city of oaks" spreads ever-outward, stop by downtown's Hargett Street. Its cluster of upstart businesses and old standbys are proof that good ideas can still be found inside the Beltline.
Cure what ails 'ya: The Remedy Diner serves no snake oil when it comes to the all-day breakfast menu, and it's one of downtown's few (but best) places for vegan and vegetarian lunches. Build your own salad from a selection of more than 20 vegetables at 50 cents each.
For the Wee ones: The Marbles Kids Museum's interactive displays are a creative way to occupy a child's mind. Parents could find themselves equally rapt with the handful of permanent exhibits, including Ideaworks, where visitors can build simple machines, design apparel, and see other ideas come to life. The IMAX theater shows both mainstream and educational movies.
Evening Edition: This gorgeous, 100-year-old husk of the defunct Raleigh Times newspaper is a fitting home for this local favorite. While Raleigh Times Bar's wide selection of microbrews gets the highest marks, don't make the mistake of missing out on the top-shelf bar food, including barbecue pork nachos and their namesake burger.
—Brian Gallagher
---
Greensboro, NC
Explore two centuries of Southern history in Greensboro
Though Greensboro just blew out 200 candles on its birthday cake, this bustling metropolis, planted among the rolling hills of the Piedmont, hasn't lost sight of its long history. Indulge a passion for the past with visits to the Colonial Heritage Center or the Historical Museum. Those with an interest in learning about the everyday lives of their ancestors will enjoy Mendenhall Plantation and the Blandwood Mansion. Contemporary and historic coexist in the revitalized turn-of-the-century commercial and industrial district and in the plethora of antiques shops. Guilford Courthouse National Military Park offers a chance to trod the scene of a bloody Revolutionary War battle while the Walkway of History commemorates paths of slaves who escaped with the help of the Underground Railroad. Finally, reserve a table at the Barn Dinner Theatre, America's oldest, entices guests with a tasty buffet accompanied by traditional theater in the round.
—Lydia Dishman
---
Charleston, SC
Charleston's Southern charm extends far beyond the usual tourist haunts
If you're looking for a quick escape to the coast, there's no better place than Charleston. But for those who've already worn out their soles on the Holy City's beaten cobblestone paths, here's an insider's itinerary for your next trip south.
tourist: Charleston Farmer's Market
local: Mount Pleasant Farmer's Market Barbecue and fixin's, bluegrass music, fresh produce, local shrimp and fish, farm eggs, and cut flowers sold under an umbrella of live oaks and spanking new pavilions near Moultrie Middle School make MPFM a country fair.
tourist: Old City Market shops
local: Upper King design district
Every April and October, the hip and mostly locally owned design-based shops of Upper King Street stay open till nine-ish, serve wine and lite bites, and let patrons shop and catch up before heading to Shine, Basil, Monza, or Pane e Vino for dinner. And even when they're only open till five-ish, the shops are still supreme.
tourist: Lower King antiquing
local: Page's Thieves Market
and Architectural Antiques &
Garden Elements Furniture, windows, doors, light fixtures, earthquake bolts—a dusty hunt-and-find trove with rock-bottom prices awaits shoppers in Mount Pleasant's Page's Thieves Market and West Ashley's Architectural Antiques & Garden Elements.
tourist: Palmetto Grande 16 Stadium Cinema
local: The Terrace Theatre on James Island Indie favorites (new and old) served alongside Dr. Brown sodas, beer, wine, coffee, tea, and your pick of popcorn, candy, or granola bars.
tourist: Sticky Fingers
local: Fiery Ron's Home Team Barbecue
On-site smoked pork and chicken plus grilled beef and Southern sides, as well as crazy combos—including a mashed tater, cream corn, and 'cue wrap—and fresh salads (try the Home Team) make Ron's the fun new kid on the block.
tourist: Hyam's Seafood
local: The Wreck of the Richard & Charlene
The Wreck is a cash-and-local-check joint next to the shrimp boat docks of Shem Creek. Boiled peanuts, red rice, fried grits, and shrimp straight off the trawlers make it a local institution.
—Melissa Bigner
---
Greenville, SC
From museums to sports cars, you'll find a little bit of everything in Greenville
One of the first Europeans to discover the charms of this verdant area was Richard Pearis. A bit of a rogue trader, he carved out a plantation near the falls of the Reedy River around the time of the American Revolution. It wasn't long before an economic boom turned the small settlement into a bustling mill town, which gave way to big business and foreign investment. Even with its deep roots in industry, today's Greenville isn't all work and no play. The town's population is a mix of long-time residents and transplant workers from Europe, Asia, and all parts of the U.S. who appreciate a mix of attractions, arts, culture, and natural beauty, wrapped in urban chic and down-home comfort.
If You Crave Culture:
The town has an arts scene on par with many big cities. Visit the Greenville County Museum for an outstanding collection of contemporary American art from a variety of major movements, as well as works by Jasper Johns and Andy Warhol. Thirty-five paintings by Andrew Wyeth are on permanent display and represent the full scope of the artist's career. The galleries are intimate and the price is right: free. 
For art in motion, The Peace Center features companies such as the Carolina Ballet Theatre, which fuses Latin, modern and classical styles, as well as touring troupes including STOMP and Broadway hits such as Chicago.  If you're craving live music, The Handlebar hums with the sounds of locally and nationally renowned bands. It also plays host to swing dances on Tuesdays, and spoken-word performances by poets and writers once a month.
If You're looking for adventure:
Your first stop should be Sunrift Adventures outfitters in nearby Travelers Rest. After you've geared up, take a hike at Paris Mountain State Park or Jones Gap, or head up to Caesar's Head and Table Rock State Park. The trails are relatively easy and the rewards are many. Or get some professional instruction behind the wheel of a German sports car at the BMW Performance Center. Though one hour in the classroom and about six more spent negotiating BMW's multitude of road courses—including slalom, skid pad, and wet track—will set you back more than $600.
If You're Taking the Kids:
Little ones will love the Zoo with its red panda, elephants, lions, tigers, raptors, and petting farm. They'll also want to play at the adjacent, newly refurbished Cleveland Park. The butterfly garden at Roper Mountain Science Center is a great spot for a picnic. To escape the heat, test your balance ice skating at the Pavilion (year-round), or play some putt-putt on the new indoor course at Fall's Park on Main Street.
—Lydia Dishman
---
Athens, GA
Everything you loved about college—music, food, and brews—awaits in the Classic City
Buy Music (Offline): Rediscover the tactile joy of picking out an album by a band you've never heard simply for the phenomenal cover art at downtown fixture Wuxtry. You can spend an afternoon flipping through obscure vinyl, new and used CDs, and yes, cassette tapes. For everyone's sake, retrieve that Mariah Carey CD from under your driver's seat and trade it in for cash toward something respectable, like Athens originals Jucifer or the now disbanded Olivia Tremor Control.
Go Vegetarian: Herbavores aren't the only folks grabbing tables at The Grit (think the comfort food of Asheville's Early Girl Eatery mixed with the dogma of Laughing Seed). Many meat eaters have been turned on to tofu by such specialties as the Golden Bowl, browned tofu cubes sautéed with soy sauce and nutritional yeast over brown rice. Here, off downtown's beaten path, sugar junkies have been known to order a slice of housemade brown sugar caramel cake as an appetizer. It's the best strategy to ensure you have room for dessert.
Skip Class: Start a pickup game of Frisbee among the monstrous magnolias and shade-splaying oaks on North Campus, the oldest section of the University of Georgia. Chances are a few guys who are planning to drop microeconomics this semester will join in. If the killer summer heat (it'll feel like 100°F with the humidity) is taking a toll and your arm isn't what it used to be, stroll the quadrangle and admire the Greek Revival architecture like the post-grad you are.
ID, Please: You won't be squeezed into a crowd of students packing fake IDs at The Globe, where the clientele reaches beyond the typical collegiate bunch to include professors, locals, and others that remember R.E.M.'s heyday. Take your pick from 14 draughts, 70 bottles of brew, wines, and more than 50 single-malts. Kicking back on a couch with a pint of Belhaven always feels so right here.
Get your Hand Stamped: Between the venerable 40 Watt Club, classic Georgia Theatre, and two-story Tasty World (music above and games below) you'll find a new band to idolize or reaffirm a favorite's stage presence.
Stave off the Hangover: No matter what time the band plays its last encore, The Grill, open 24-7, has your late-night snack covered. In the tradition of all great diners, the menu is substantial, yet beautifully simple—patty melts, turkey Ruebens, tofu hot dogs, and milk shakes. If you don't order the chunky, fresh-cut fries and a side of feta dressing for dipping, your trip isn't complete.
—Rita Larkin
---
knoxville, tn
Within the hustle and bustle of Knoxville resonates the rhythm of the South
This city of 180,000 may be best known for its love of sports—be prepared to get your fill of folks wearing orange University of Tennessee hats—but it also has an artistic side.
Since the days when settlers first crossed Cumberland Gap, East Tennessee has been fertile ground for the string-heavy sounds of traditional music. Today, the standard-bearer of Knoxville's acoustic music scene is FM radio station WDVX, whose "Blue-Plate Special"—live performances by some of the country's best acoustic talent—you can see daily at the Knoxville Visitors Center, on the corner of Summit Hill and Gay streets downtown. On Fridays, the event moves to The Square Room, three blocks down on historic Market Square.
Any roots-music pilgrimage to Knoxville should include a stop at Yee-Haw Industries. The letterpress print shop is known for its quirky, off-center aesthetic and long-standing affection for the stars of country music.
Shoppers will find images of Loretta Lynn, Hank Williams, Kenny Rogers, Lucinda Williams, and others, all done up in an irreverent and rough-hewn style.
A little farther down Gay Street, major talent performs nightly at the Tennessee Theatre and Bijou Theatre. Launched in 2008, the Bijou's monthly roots-music showcase, Tennessee Shines, is flush with top-notch acts, including Donna the Buffalo, Pinetop Perkins, and BeauSoleil.
Across town and close to the University of Tennessee campus, The Historic Laurel Theater boasts a regular schedule of old-time, blues, bluegrass, and Cajun musical performances, as well as swing, contra, and English country dancing for the tourist with a participatory bent.
If the demands of the workweek haven't carried you away yet, consider a trip to Barley's Taproom & Pizzeria on Jackson Street in the Old City, where, for a decade or more, Sunday nights have belonged to the acoustic-swing outfit Robinella. Singer Robin Ella Bailey's unassuming stage presence and achingly sweet voice will make the $5 cover charge seem like the deal-of-the-century.
—Kent Priestley
---
Johnson City & Jonesborough, TN
The oral tradition—and a few good tunes—can still be heard on the other side of the mountain
Since the 1970s, the little town of Jonesborough has cultivated a big reputation as a global center for storytelling. The main event is the National Storytelling Festival, which is held every October and draws thousands of guests hungry for a good tale. But you don't have to wait that long—as part of its Storytelling Live! program, The International Storytelling Center hosts matinee performances by revered storytellers throughout the spring, summer and fall. And it's not all tobacco-juice-and-checkers anecdotes either: Madafo Lloyd Wilson tells stories in the tradition of the West African griots; Corinne Stavish spins tales with a Jewish flair; and Tim Tingle relates the singularity of growing up Choctaw in Oklahoma.
If you're looking for something more rhythmic, take East Jackson Boulevard into Johnson City, and catch an act at Down Home—The Eclectic Music Room. The humble clapboard-sided music hall, with its tiny rustic stage, has hosted countless national bluegrass, old-time, and country acts since it opened in 1976.
—Kent Priestley
---
Gatlinburg, TN
Let the tourist in you come out and play
Sure, there's a lot to be said for a culturally enriching vacation, but don't discount the value of some good-old-fashioned touristy fun. Just on the other side of the Smokies awaits the Myrtle Beach of the mountains: Gatlinburg. There's something about Appalachia's capital of kitsch that's downright refreshing. The town is designed to dazzle the kid in you with cheap T-shirts, goofy attractions, and the constant promise of family fun for less than $20 per person.
If you want to visit a museum, buy a ticket for Ripley's Believe It Or Not or the Hollywood Star Car Museum, where you'll get to see everything from Herbie The Love Bug to The Dukes of Hazzard's General Lee. For some fresh air, take your pick from a gaggle of mini-golf courses that line the town's main drag, Parkway Road. Themes range from hillbilly to black-lights and fluorescent paint. And to take in the scenery (mixed with a little "how-long-ago-did-they-build-this?" concern), ride a glass elevator more than 400 feet to the top of the Space Needle, or grab a seat on the Gatlinburg Sky Lift, which travels up Crockett Mountain.
Finally, no trip to Gatlinburg would be complete without visiting the queen of Dixie's kingdom, Dollywood. It's acres of roller coasters and thrill rides, a water park, and crafts shopping that will leave you exhausted. And besides, who can say no to a seating of The Kinfolks Show, where Dolly's relatives tell stories about growing up with her—all set to music.
—Eric Seeger
---