Get Fit
Get Fit:
25 new, novel, and fun ways to get in shape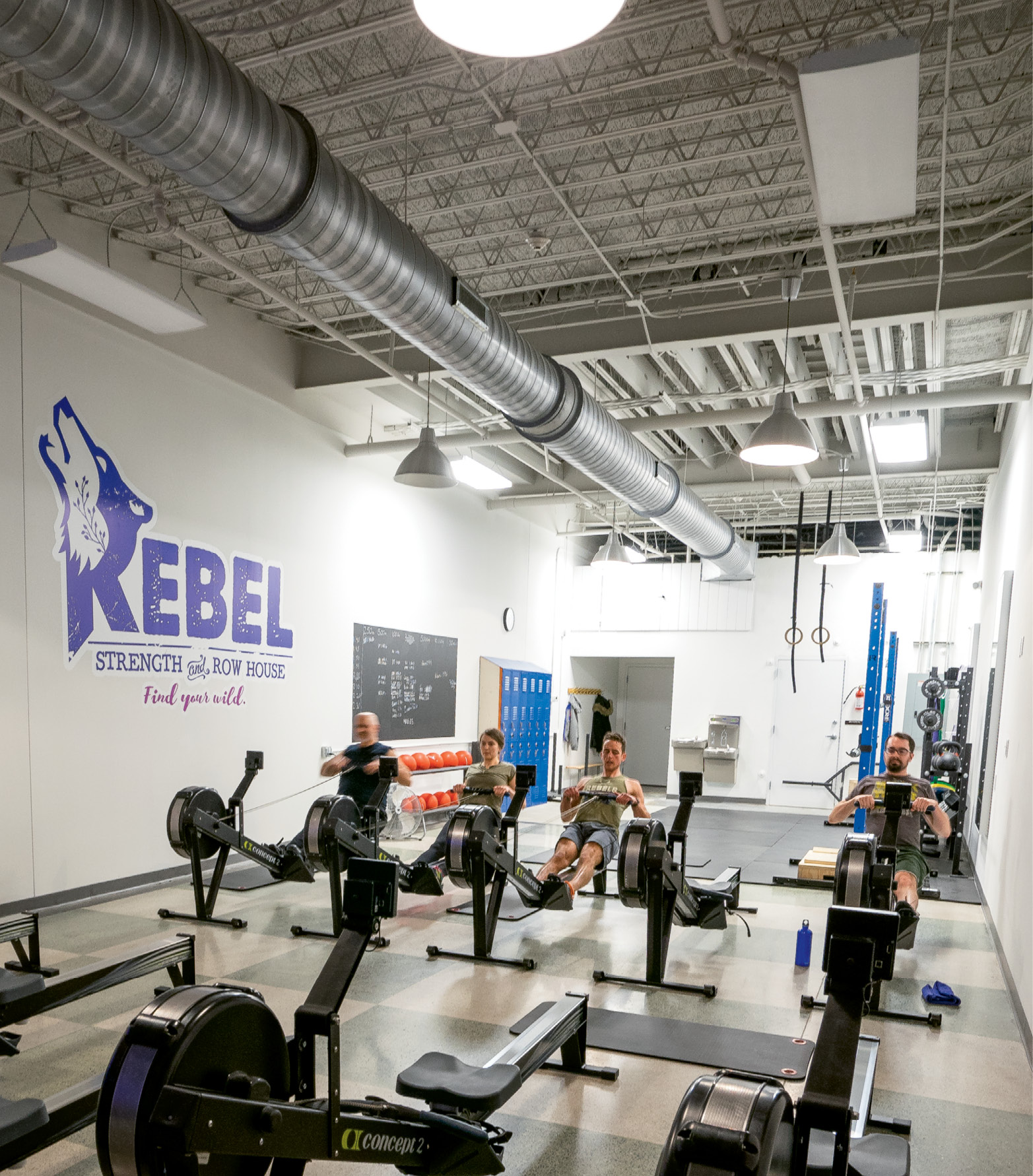 Hit the Gym: Get pumped for heart-pounding, calorie-shedding opportunities at area gyms
Get on a Row
Few indoor exercises beat rowing for novelty and full-body involvement. Many traditional health clubs include rowing machines as part of their mechanized mix, but two places in the region place a special focus on the exercise. Rebel Strength and Rowhouse in Asheville's River Arts District features the sport and claims that 84 percent of your muscles get into the act. "It's the only aerobic activity that uses all of your major body motions and almost all of your joints," says Rebel owner Adam Smith. "And it's so comprehensive it doesn't take a lot of time to get a great workout." www.rebelavl.com
SpinRow in Boone has a biking and rowing focus with many membership options, including multiple-visit punch cards and drop-in rates. A Saturday series of rowing classes starts January 10. www.spinrow.com
Rock Out 
Climbing is wildly popular in our mountains. It's hard to imagine a better full-body workout, but not everyone wants to scale real cliffs, and even rock jocks are driven indoors by winter. Luckily, indoor "crags" and artificial handholds beckon at area climbing gyms.
Downtown Asheville's Climbmax was a pioneer, but owner Stuart Cowles' new Smoky Mountain Adventure Center in the city's River Arts District has upped the ante. Multifaceted climbing walls feature top-rope routes of varying difficulty and a 35-foot Walltopia face for lead climbing. You can watch the action from above while sipping a brew at the facility's upstairs Asheville Hangout. www.climbmaxnc.com, www.smacasheville.com
Brevard Rock Gym offers competition teams and group and kids' programs, as does Boone's new Center 45, where you can also learn aerial acrobatics. www.brevardrockgym.com , www.center45.com
At all these gyms, daily passes, rental gear, instruction, and memberships are available.
Lift Weights
Athletic Performance Lab in Morganton has a bona fide Barbell Club, an Olympic weightlifting program led by Pan Am games silver medalist and USA Weightlifting-certified coach Jennifer Jaeger. Gym owner Patrick Henson says Olympic weightlifting "is an incredibly fast, complex movement that's much better for an athlete than many weight workouts. It teaches explosive movement that's useful in all kinds of sports." The six-week program meets twice a week, and participants have off-day programming to address issues and ensure they make the moves correctly and safely. www.theathleticperformancelab.com
Take Up Tennis
Tennis may be best on a cool fall day, and outdoor courts are widely available at local parks and resort communities. The best strategy for winter play is to join a racquet club, but many are pricey or restricted to residents of a given resort. Luckily some, like Blowing Rock's Yonahlossee Racquet Club, offer memberships for locals. The club has six outdoor and three indoor courts, a bocce court, fitness room, pool, and more. "Tennis can be as high an impact aerobic workout as you want it to be," says Frank Morrison, Yonahlossee's director of tennis, teaching pro, and board president of the state's US Professional Tennis Association. "This sport has it all. Regular play lowers your resting heart rate, improves reaction time, flexibility, even bone density." See www.yonahlossee.com, or visit www.tennispoint.com to find a court near you.
Just Swim
Choose the right fitness facility—one with a pool—and winter ranks right up there with summer as a time to pursue swimming, the perfect mix of cardiovascular exertion and a full-body workout, all delivered with minimal impact.
Why Not the Y?  Western North Carolina's 12 YMCAs and one YWCA are affordable, multifaceted, nonprofit fitness facilities, many with programs and amenities not found at private clubs, including swimming pools, racquetball courts, climbing walls, and hot tubs. Full YMCA members are able to use other Y facilities across the country. If you still aren't convinced, from January 1-9, Asheville area Ys waive the joining fees, and if you join for a year, the first month is free. The Ys are a movement worth supporting.
YMCA of WNC - www.ymcawnc.org
YMCA of Northwest NC - www.ymcanwnc.org
YMCA of Avery County - www.ymcaavery.org
MCA of Catawba Valley - www.ymcacv.org
Instructor Spotlight: Kim Boose Personal Trainer, Fitness Consultant, & Director of Group Fitness at Asheville Racquet Club
Anyone who has stepped foot inside the Asheville Racquet Club knows Kim Boose. The spunky, motivational trainer is full of contagious energy. Starting out as a kickboxing instructor, she's been in the field of fitness for about 20 years and with the ARC for seven. Here, she offers insight on ways to get and stay fit.
Tips for getting into a regular exercise routine? If you're getting started, find a place where you feel comfortable and welcome, and pick an activity that you enjoy or have an interest in. You're more likely to be committed to it long-term than if you start with something that's out of your comfort zone.
Pointers for staying motivated to exercise? It's important to find a connection to fitness that isn't just about burning calories. For example, fitness facilities like the Racquet Club offer a sense of community. Make short-term goals that are six-weeks or less. Exercise with a buddy so that you have accountability to someone other than yourself. And determine if morning or afternoon is more suitable for you to exercise. You burn more calories in the afternoon because your metabolism is higher, but you have more consistency if you get it out of the way in the morning, and it's more important to be consistent.
How often should you exercise? Ideally, at least three times a week. And in order to do that, you really need to plan for four to five potential workouts. Overshoot so you have some wiggle room.
Steps you can take to boost your metabolism? Smaller meals and more often, in combo with exercise, is the best way to keep your metabolism high and burn more calories. Also interval training. Think of it like driving a car: You burn more fuel during city driving when you're starting and stopping.
Benefits to having a personal trainer?  It's individualized. A personal trainer knows your goals, limitations, injuries. They work with you to plan out the best way to reach your goals and help keep you motivated.
For more on Asheville Racquet Club, memberships, offerings, and personal or group trainings, visit www.ashevilleracquetclub.com.
Enlist in Boot Camp
Join the army of people doing the diverse activities that make up boot camp fitness programs. Well.Fit Asheville has four such programs, including two for men and women over 50, with a variety of components including a TRX Suspension Trainer that uses your own body weight to create resistance training. Owner, founder, and self-proclaimed "Lady Boss" Teah Boswell says the regimen works because it combines full-body strength with cardio conditioning "that transfers directly into the activities of daily living. It also makes you an efficient fat-burning machine. In a nut shell, you get improved strength and endurance, better immune function, more energy, and you feel great." You can join by the month or just purchase a set number of classes. www.wellfitavl.com
Try CrossFit
With 27 CrossFit affiliates in WNC, it's easy to join these group workouts. Heather Sowry of CrossFit HVL in Hendersonville describes the workout as a mix of body weight movements, gymnastics, endurance activities like running and rowing, and Olympic lifting, all aimed at what CrossFit calls functional movements. According to Sowry, that means "everyday things that people do, like lifting something off the ground (a dead lift) or placing something over your head (a press), all done safely to become stronger, faster, and healthier." The weight used varies by person but "the intensity is up there to raise your heart rate." There's a CrossFit kids program at six local affiliates, with an emphasis on agility, jumping, and balance. At CrossFit HVL, membership plans include month-to-month, and from unlimited coach-led workouts to three a week, or a punch card of 10 or 20. Visit www.map.crossfit.com to find a CrossFit gym near you.
Get Well
Boone's Paul A. Broyhill Wellness Center is a good example of the well-kept secret that wellness centers offer great fitness options. Often medical facility-affiliated, these centers aren't just geared toward medically challenged adults; anyone can join. Associated with the Appalachian Regional Healthcare System, a High Country-wide group of hospitals, rehab facilities, and medical practices, the Broyhill Center boasts all kinds of state-of-the-art offerings. It features an aquatic fitness program in a warm water therapy pool for arthritis sufferers, a noncontact boxing program for Parkinson's patients, nutrition consultations, and a Thrive program with exercise and educational components for weight loss and disease management. There are also dozens of exercise classes each week, such as Zumba, yoga, CrossFit, rowing, and spinning. As an added bonus, membership costs may be offset by insurance coverage. January 7, the center offers a free-access Member For A Day promotion, and if you sign up the initiation fee is half off. www.apprhs.org/services/wellness
Take a Spin
Cycle indoors when temps take a dive. Almost any club has exercise bikes of some kind, and many offer group spin classes that appeal to newcomers and seasoned cyclists alike. For a more focused ride, check out the CompuTrainer program at SpinRow in Boone. Members ride their own road or triathlon bikes on a precision ergometer that spits out the sort of sophisticated stats that are used by elite cyclists. In Brevard, The Fitness Factory's Shanna Chambers leads a rousing Cycle and Sculpt class on bikes that permit serious riders to clip specialized cycling shoes to the pedals. The classes are free for members but drop-ins are welcome for a fee. Well.Fit Asheville also has an aggressive spin program. www.spinrow.com, www.thefitnessfactory.biz, www.wellfitavl.com.  SpinRow's CompuTrainer program is a good option for avid cyclists.
Health Spotlight: Be Well at Work
Discover Wellness in Hickory brings healthy habits to the office
Americans spend a lot of time at work. Gallup estimates that full-time employees work an average of 47 hours per week, and in many professions that translates to nearly 10 hours a day sitting behind a desk.
Discover Wellness, a corporate wellness company in Hickory, is helping employees embrace physical activity through exercise and nutrition programs designed to improve their health where they spend most of their day: at work. Employees participate in exercise challenges like friendly competitions to see which team can walk the most steps. Workers receive resources for starting lunchtime yoga classes or weekend soccer leagues and get one-on-one exercise and nutrition counseling from Discover Wellness dieticians.
Wellness director and registered dietitian Dana Plummer helps design programs that are tailored to local employers, like technology manufacturer US Conec in Hickory. She has found that encouraging exercise at work can often lead to healthier habits outside the office, too. Learn more at www.discoverwell.net.    
Make a Move: Gain confidence, coordination, and feel-good endorphins through dance
Lisa Zahiya - Studio Zahiya
An award-winning performer and instructor, Lisa Zahiya is the proprietor of the studio that bears her name, a sunny, lofted space in downtown Asheville. The sheer array of classes—hip-hop fitness, West African dance, ballet and barre, belly dance, Bhangara and Bollywood, hula, contemporary and tap—draws dancers of all experience levels. Ask Zahiya about the health benefits of dance, and she ticks them off with ease: cardiovascular fitness, strengthening, mobility and flexibility, coordination, body awareness, brain health. For Zahiya, it's not necessarily about the physical benefits of dance—although those are certainly valuable—but the emotional and mental gains. There's confidence, community-building, and pure joy that come with dance. "My goal is to make you comfortable, happy, and healthy," Zahiya promises. "When you feel good about yourself, you feel healthy and sexy and empowered." Visit www.studiozahiya.com for class details.
Belly Dance!
If you picture a lithe Esmerelda bedecked in jingling bells when you hear the words "belly dance," you've got it all wrong. "Belly dancing is accessible to everybody—all shapes, sizes, and ages," says Paula Ransom of Ransom Dance Studio in Boone. This dance style is a low-impact workout that offers strengthening and toning without the wheezing of intense cardio. Facebook: Ransom Dance Studio
In Asheville, Studio Zahiya offers belly dance for beginner through advanced as well as the Indian folk dances Bhangra and Bollywood. www.studiozahiya.com
Get Movin' with Nia
Nia is "a holistic fitness class that draws on the wisdom of martial arts, dance, and healing arts," explains Jenny Lumb of Asheville's Nourish & Flourish studio. "Nia teachers model simple choreography based on the 52 moves of Nia and encourage students to connect to sensation, move in their own body's way, and follow what feels good," she says. After class, keep the good vibes going with a stop at Nourish & Flourish's organic juice bar. Details at www.nourishflourishnow.com, or check out nianow.com for other classes across WNC, including in Etowah, Hendersonville, Blowing Rock, and Boone.
Shake it at Zumba
It wasn't just a craze—Zumba is still around, and with good reason. The average Zumba workout burns over 800 calories in an hour. Devotees of the dance attest to a host of benefits, like endorphins, weight loss, and incomparable community. But perhaps the best part of Zumba is its accessibility: You'll find classes at every YMCA in the region, as well as at churches, fitness facilities, and even restaurants. Check out www.zumba.com to find a class near you.
Get to the Core
For a sexy workout, give pole fitness a spin. Asheville's Empyrean Arts offers all sorts of pole classes that strengthen muscles and confidence alike, including those for the pole novice. "Our beginning-level classes are perfect for the absolutely new student, and our curriculums are specifically designed with that in mind," says cofounder Heather Poole. www.empyreanarts.org
Dance Club Asheville also offers pole fitness, and owner and head teacher Kathleen Hahn is quick to defend the classes from detractors. "Despite popular belief, it is the most accessible dance class to all levels that we have at the studio," she says. "It's an amazing workout that completely changes people's bodies. There are so many women that come in with no dance experience at all and do amazingly well. It's inspiring to watch." www.danceclubasheville.com
Head to the Bar
River Arts Ballet in Fletcher offers Late Bloomer's Ballet classes for folks who never got a chance to don those pretty pink slippers. "Adults just need to be brave and open to trying something new!" says cofounder Christina Schreivogel. The professionally sprung floors are easy on older knees, and seasoned professionals are there to ensure proper alignment to prevent injuries. Late Bloomers classes are daily at 9 a.m. and Wednesdays at 5:45, or try Simply Ballet Barre on Saturdays at noon. www.riverartsballet.com
Cut a Rug and Clog
Did you know that clogging is the official state dance of North Carolina? One who knows all about it is Amber Hendley, owner and director of High Country Dance Studio in Boone. The studio specializes in clogging and teaches a variety of adult classes, including beginner lessons on Tuesdays at 7 p.m. "Depending on how fast you clog, you can take as many steps in five minutes as you would in a mile," says Hendley, who promises it's a full-body workout. To burn even more calories, try a Cardioclog class. www.highcountrydancestudio.com
Join the Flash Mob
Dance Club Asheville offers a bevy of cool classes, but its flash mob series is totally unique. Owner Kathleen Hahn hosts the eight-week intermediate jazz/funk series, coaching participants through choreography before they take it to the streets. "In the past, we have flash mobbed in grocery stores, with the Pubcycle, in bars, the mall, and as part of big events like the Color Run, LEAF Festival, and Downtown After Five. It's tons of fun," Hahn promises. www.danceclubasheville.com
Zen Out: Stretch, bend, and breathe your way to wellness
Find Your Center in Pilates
The popularity of pilates, an exercise that hones mental and physical awareness, continues to rise. This system, also called "contrology" by founder Joseph Pilates, asks students to focus on precise alignment and breathing cues in order to improve the health of mind and body. Core strengthening and flexibility are key components of a pilates class, and all movements begin in the core, or center. Take a class at Studio Elenas in Boone [ www.studioelenas.com ], Yoga with an Edge in Hickory [ www.yogawithanedge.com ], Pure in Asheville [ www.purepilatesasheville.com ], or Brevard's Studio of Pilates & Movement [Facebook: Studio of Pilates & Movement].
Learn a Martial Art
Martial arts train your body and your mind. There are hundreds of martial arts styles across the world, and almost every country has a style of its own. What links them together, according to Muay Thai and Gracie Jiu-Jitsu instructor Jason Parsons of Primal MMA in Hickory, is that martial arts "is a lifestyle: You're conscious about what you eat in the morning and your exercise before you come to a class, so when you get to class you're already in a mindful state, ready to give it 100 percent." Facebook: Primal MMA
Whether you're looking for a sustained practice or a one-time self-defense course, our region is rich with options. Try Filipino martial arts, including Arnis stick and sword techniques, at Blue Ridge Kung Fu Arnis Academy, with locations in Boone, West Jefferson, and North Wilkesboro [ blueridgekungfu.com ]; Combat Hapkido self-defense training, designed to fit busy modern lifestyles, at Full Circle Martial Arts in Marshall [ www.combathapkido.net ]; Muay Thai and Gracie Jiu-Jitsu at Southside Power and Fitness [ www.southsidepf.com ] and Primal MMA in Hickory; or Muay Thai, Brazilian jiujitsu, judo, and capoeira at Boone Docks MMA in Boone [ www.boonedocksstudios.com ].
Escape to a Wellness Retreat
If you want a full- or multi-day experience to jump-start your fitness goals, consider doing a retreat that combines physical exercise with healing arts, meditation, and the natural beauty of the mountains. The Prama Institute & Wellness Center in Marshall offers yoga detox and juice cleanse retreats that combine yoga, meditation, juicing, and meals. Up to four retreats are offered per month, with cleanses scheduled in both January and February. www.prama.org
Take Your Yoga Practice to the Next Level
Yoga teacher training is a fantastic way to increase your knowledge of yoga and deepen your own practice. Asheville Yoga Center's 200-hour and more advanced 300-hour trainings offer in-depth classes that delve into anatomy, the business of teaching, and much more. The 200-hour training can be done over nine weekends or during a three-week immersion, and the center even has short-term housing available for out-of-towners.
If teaching is not your end goal, a training will still have positive effects on your life. AYC owner Stephanie Keach notes that other reasons to take a training are "to improve health" through a required daily yoga practice, "to improve your sense of purpose" through discussions of yoga's role in daily life, relationships, work, and habits, and "to improve your sense of self" through practice teaching that starts on day one.
Still not ready to commit to a teacher training? The center regularly offers workshops that are open to anyone. If you're new to yoga, check out the Introduction to Yoga 4 Week Series starting January 9. The Monday evening classes delve deep into the basics of poses, breathing, and mindfulness. For more information on trainings, workshops, or drop-in classes, visit www.youryoga.com.
Soar with Circus Arts
If you want to build strength along with Zen-like focus, circus arts are for you. Fly high on the trapeze, silks, and rings at Asheville Aerial Space, which offers classes in aerial basics, trapeze, silks, lycra, and more. Beginners are welcome in most classes. Or try aerial yoga for the ultimate in moving meditation. Aerial yoga practices, which combine traditional yoga poses and acrobatics, are offered at River Arts Ballet in Fletcher and The Shift studio in Hendersonville. "Aerial yoga breeds great strength and confidence," says Shift owner Emily Van Eman. "It's a safe way to find your edge." www.aerialspace.org, www.riverartsballet.com, www.theshiftstudio.com
Yoga: Why Experts Love the Practice
"Yoga is valuable for creating a healthy body and also a sound mind. Yoga is the foundation of a life in which you can not only care for yourself, but in which you are able to become a sustainable resource to care for others." – Lisa Sherman, instructor, Asheville Yoga Center and Light a Path
"Kundalini yoga is much more than just a physical practice. Through breath, movement mantra and vibration, we begin to connect with our true essence. With that, our daily practice then becomes a lifestyle: a life of service and awareness." – Bob Bauer, instructor, Asheville Kundalini Yoga
"Yoga builds self-confidence. Not self-confidence in the ego way, but self-confidence in your body—how to move your body, how to trust your body, how to communicate with others about their bodies—as well as self-confidence in your thoughts and actions." – Stephanie Keach, owner, Asheville Yoga Center
Go Wild
Stretch and breathe deep alongside cuddly creatures—all for a good cause. Hendersonville's Sanctuary Brewing hosts Yoga with Cats on Saturdays at 10:30 a.m., when instructors lead you through a practice with up to 10 furry felines. The $5 class fee goes to the Blue Ridge Humane Society. "Bringing cats in livens up the yoga class and makes it even more fun," says Humane Society Director of Operations Eryn Carper. "And it's a lighthearted, fun way to showcase the kitties." www.sanctuarybrewco.com
Get a Runner's High
Every runner craves the "runner's high," that sweet state of mental clarity. Running has many of the same effects as meditation, including calming the mind and improving resistance to stress. It also increases the production of new brain cells. To jump-start your jogging in a supportive, encouraging environment, check into ZAP Fitness's Adult Running Camps in Blowing Rock. Registration is open now for summer and fall camps, which last between four days and one week. Whether you're training for a marathon or just interested in signing up for a 5K, the camps will help you meet your goals. www.zapfitness.com
Take Tai Chi
This ancient Chinese martial art emphasizes linking movement with breath to activate and steady the mind. Evolving alongside systems like Taoism and Confucianism, tai chi is believed to bring balance to the body and mind. According to Aaron Dison, owner of Dragon Phoenix Kung Fu in Asheville, "Tai chi harmonizes the mind, body, and spirit, engaging muscles from the entire body and teaching them to work together while staying relaxed." Although there are many styles of tai chi, most are characterized by slow, graceful forms and deep breathing. Tai chi is appropriate for all ages and fitness levels, and is also thought to increase longevity. www.dragonphoenix.org
Sweat it Out in Bikram
Bikram Yoga offers an intense, heated practice like nothing else. Students can expect to leave feeling challenged, invigorated, and sweaty. Ninety-minute practices are held in a room heated to around 105°F, and students are led through the same sequence—26 postures and two breathing exercises—every time. Vivian Smith, owner of Bikram Yoga Brevard, loves that Bikram is "rooted in a really strong yogic lineage" and says its intensity "helps people look at their own resistance and brings in the potential for self-actualization," besides having many health benefits. Check out a Bikram class at Bikram Yoga Brevard or Hot Yoga Asheville. www.bikramyogabrevard.com, www.hotyogaasheville.com
SPOTLIGHT: Yoga for All
Light a Path is an Asheville- and Marshall-based nonprofit that brings yoga and other practices that provide mental and physical health benefits, including running, weight training, and qi gong, to underserved populations in the region. According to board member and yoga teacher Lisa Sherman, one goal of Light a Path is to help people care for themselves and others through yoga practice. Program volunteers teach at women's and men's correctional facilities and in at-risk programs in schools, as well as to populations at Hillcrest Apartments, a public housing development in Asheville, and the Haywood Street Congregation for the Unhoused. Referencing their motto, "Connection creates resilience," Sherman notes that "we're connecting people to powerful practices for health and well-being, making them more resilient in whatever circumstances in which they find themselves." Light a Path organizes fund-raising events in the community, including a yoga series at New Belgium Brewing, to help provide financial support to its students. For more information on upcoming events, visit www.lightapath.org.