Get Down for Winter Biking
Get Down for Winter Biking:
Even in the depths of the cold season, these lower-elevation routes keep the wheels turning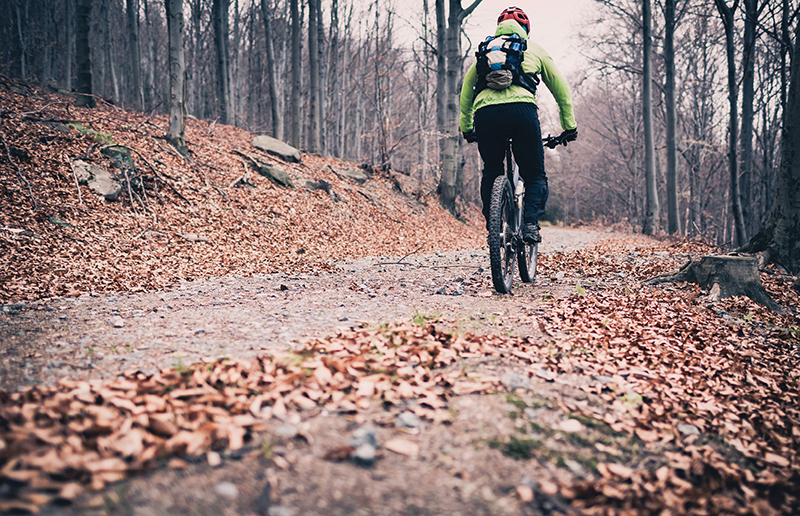 When biking trails in the higher mountains are icy, snowy, or just plain bitter cold, the marvel of microclimates comes to the rescue for Western North Carolina riders. Just like our summer farmer's market bounty of fresh foods from nearby lower elevations, the riches for riders include a bountiful crop of warmer, sunnier riding spots that put year-round riding on the menu.
The options include road routes, but the best bets are self-contained mountain biking networks and paved greenways, some rails-to-trails conversions. If you're targeting natural surface trail networks, be sure to check park and other websites about trail conditions before traveling. Rain and freeze/thaw conditions often close trails and enthusiasts insist that closures be strictly obeyed. "If you're leaving tread tracks on a trail you shouldn't be biking those trails," says Travis Hutchins, president of the Northwest North Carolina Mountain Bike Alliance. "A lot of trail maintenance falls on volunteers, so spending time and money repairing trails means we're not building new ones."
Here's a sampler of destinations, including one in nearby east Tennessee.
Fonta Flora Trail
Fonta Flora State Trail at Lake James
The Fonta Flora State Trail will be nearly 100 miles long when completed between Asheville and Morganton in about 10 years, estimates Shane Prisby, operations manager for the trail in Burke County. Already this burgeoning project unites Lake James State Park and Fonta Flora County Park, and a loop of the entire lake is well underway. There are about 30 miles of single-track riding available now with three or four prominent loops of six to 10 miles, says Michael Lowther, an active supporter of the trails and owner of Overmountain Cycles in downtown Morganton.
Next spring a new visitor center and trailhead is expected at the state park along with a major new pedestrian bridge across a cove of Lake James. Fonta Flora Brewery, just north of the state park, makes a great post-ride pause that will eventually have its own trailhead.
Experts love the trails, says Prisby, but less experienced riders and families find plentiful entry-level options on trails noted for moderate grades, bermed turns with exhilarating flow, and public art.
Trail status: Fonta Flora State Trail on Facebook
W. Kerr Scott Reservoir
Wilkesboro's massive medley of easy to extreme rides includes three separate trail clusters totaling more than 40 miles of multiuse trails encircling the U.S. Army Corps of Engineers' W. Kerr Scott Reservoir. From the lake's visitor center to Bandit's Roost Campground, the gradual, undulating, and easy Overmountain Victory National Historic Trail seems largely downhill whichever direction you ride. Other trails cluster in the Warrior Creek and Dark Mountain networks (the latter most advanced).
Besides lakeshore rides, nearby Wilkesboro adds another eight miles of mountain bike riding in downtown's Cub Creek Park. There are also adjacent paved greenways along the Yadkin River with easy access to eateries and the Wilkes Heritage Museum. Local bike shop, Cook's Sports, rents bikes Friday through Sunday from a satellite shop near the greenway and the park trails.
Trail status: W. Kerr Scott Reservoir and Cub Creek Park on Facebook
DuPont State Recreational Forest
Just barely north of the South Carolina line, DuPont State Recreational Forest between Brevard and Hendersonville is one of the Southeast's true mountain biking destinations, with close to 100 miles of multiple-use trails. Luckily, rocky trails and forest roads and well-drained sandier soils often permit riding when higher-elevation nearby trails are off limits due to muddy conditions. Add to that years of trail building and reconstruction in the forest by a local company that happens to be one of the country's top trail contractors, and this is a real trail destination.
There are "slickrock" sections of trail that traverse granite domes at moderate elevations, but the forest's deep woods and lush stream valleys are the primary attraction. Not far away, Brevard's paved greenway stretches for five miles to Davidson River Campground in Pisgah National Forest, a 10-mile ride unlike the usual pedaling found on many town trails.
Trail status: dupontstaterecreationalforest.com
City of Lenoir Greenway
Lenoir's seven-mile paved greenway network combines diverse natural settings on three out-and-back sections, one of which incorporates two internal loops to vary the scenery. The path connects the city library and Lenoir Fitness and Aquatic Center, the latter flanked by an unpaved, four-mile network of flowing, family friendly single-track mountain biking trails called Zacks Fork.
Trail status: Zacks Fork Mountain Bike Trail on Facebook
(Left) Thermal Belt Trail; (Right) Tweetsie Trail
Thermal Belt Rail Trail
The name just about says it all for winter riding. This 14-mile route, running northwest to southeast from Gilkey through the towns of Ruth, Spindale, Rutherfordton, and Forest City, makes a great one-way ride or a 30-miler out and back. The wide, smoothly paved rail-to-trail conversion is a nice road bike ride out of traffic lanes, but there are a good number of road crossings that demand attention. The northernmost part of the trail is rural and least busy.
Roadside restaurants and even a brew pub make for easy stops along the way, as do real points of interest. The Bechtler Mint Historic Site just south of Gilkey, for example, is part of the "golden crescent" that stretches to Reed Gold Mine east of Charlotte, and the Bennett Classics Auto Museum is just off the trail in Forest City.
Trail status: thermalbeltrailtrail.com
Tweetsie Trail (Tennessee)
Interstate 26 from Asheville to Johnson City makes this trail easy to reach for many WNC riders. The 10-mile gravel ride from Elizabethton's covered bridge to downtown Johnson City is the former rail corridor for Tweetsie Railroad, which linked Boone and Johnson City between 1919 and 1940 (sparking Blowing Rock's Tweetsie Railroad attraction). The route ranges from downright urban at both ends to wonderfully rural, with almost backcountry scenery in the middle.
Start at Sycamore Shoals, a Tennessee historic site (where the Overmountain Men gathered before the Battle of King's Mountain), and ride to Local Motion Cyclery, a Tweetsie trailhead bike shop downtown that's conveniently close to restaurants and pubs.
Trail status: tweetsierail.com