A Fulfilling Cause
A Fulfilling Cause:
Hunger-relief nonprofit Bounty & Soul goes beyond just feeding a need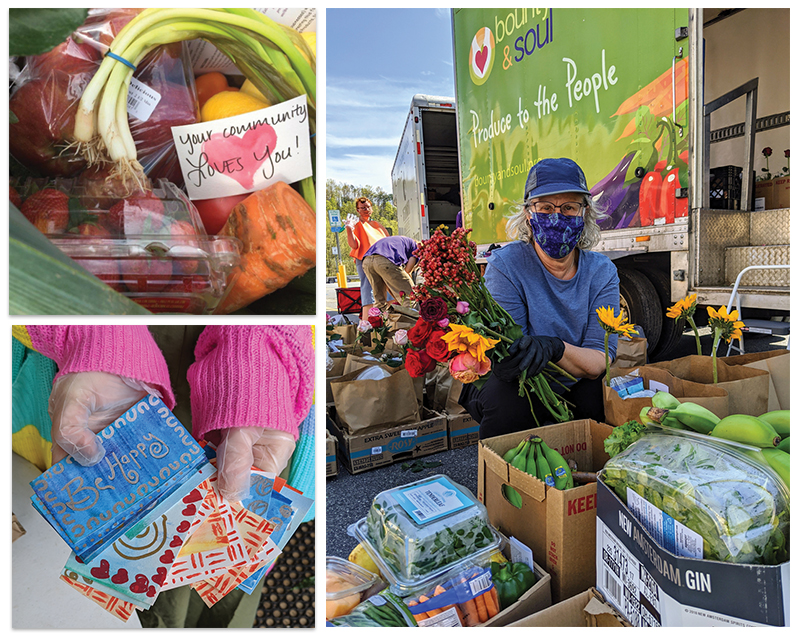 Thanks to support from many partners and volunteers, Bounty & Soul provides free, healthy food to anyone in need. People even received inspiring notes during the pandemic.
Resorting to a food pantry in order to feed your family can be dehumanizing, especially when you have to prove that you're poor enough to qualify. That was the catalyst that motivated Ali Casparian to launch her Black Mountain-based hunger-relief nonprofit Bounty & Soul, which tackles hunger with a different model than most.
When Casparian moved to Black Mountain in 2012, she faced food insecurity. For her, there was no pride in having to turn to the local food pantry. However, she soon found a community with whom she could connect and began volunteering at the Welcome Table in town, helping to prepare meals. When she discovered an area food bank was struggling to give away surplus produce before it went bad, Casparian took action. At the next Welcome Table, "I brought my camp stove and did a cooking demo with the food and fed people and showed them how to cook it," she says. "And it grew." The nonprofit, which started in 2014, now operates five markets throughout Buncombe County that service over 800 individuals each week.
Normally (pre COVID-19), Bounty & Soul's events look very much like a farmer's market, with tables piled with produce, even flowers, and the friendly greetings and hugs that go along with the communal gathering. Cooking demonstrations take place and there's a large focus on wellness, with integrative doctors, herbalists, and specialists coming to teach and also yoga or zumba classes on offer. All of the food has been donated from farmers, grocers, and community gardens, and all of it is free; however, no one has to prove their need to be fed. And because food insecurity often reveals inequalities in access to whole and fresh foods, Casparian even brings in interpreters for classes and has materials and recipes available in Spanish.
"There are no qualifications or requirements to receive the free produce," explains Casparian. "When people leave, they're leaving with five or six days of beautiful food to cook with and snack on. Nobody ever says 'I can't believe I drove all this way,'" she says.
During the pandemic, Bounty & Soul saw a sharp rise in need, with participation more than tripling in just one week. The organization adapted its distribution methods with pre-bagged packages that even included flowers and notes of encouragement written by volunteers. And despite the pinch in funding, Casparian even doubled down, choosing to purchase otherwise donated produce from local farmers who have been overwhelmingly struggling during the pandemic. Her take: "Now is the time to support where our food comes from."
Feed Your Soul
To learn more, find market schedules, or to donate, visit bountyandsoul.org.