The French Broad
The French Broad:
The French Broad combines multiple environments under one roof with French-influenced staples, a lengthy wine list, and original cocktails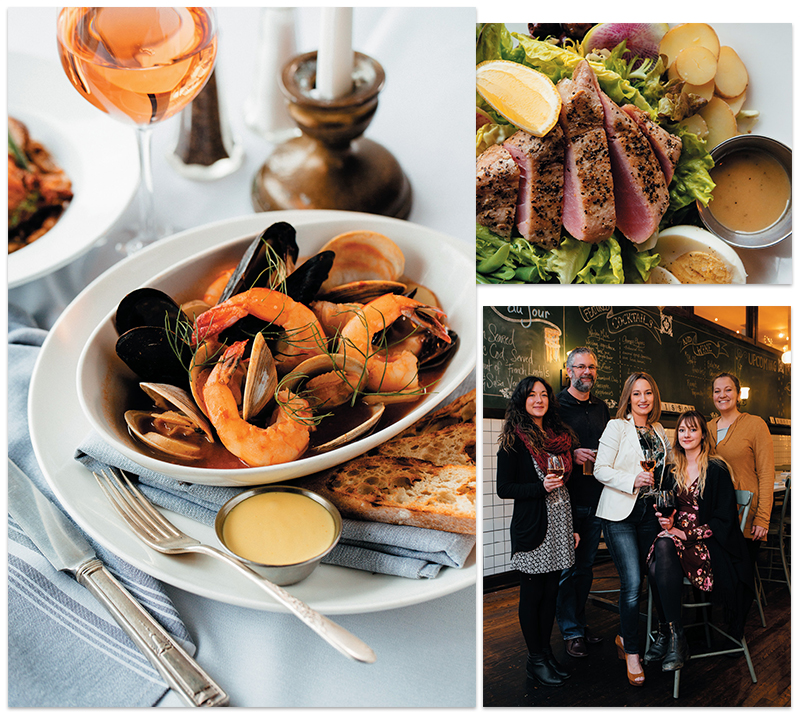 (Clockwise from left) COMFORT IN A BOWL - The bouillabaisse features a tomato-saffron broth studded with steamed wild mussels, shrimp, clams, and Atlantic cod; TO BE REAL -  Teeming with fresh, colorful components, the Niçoise salad epitomizes the restaurant's emphasis on ingredient-driven, approachable French fare; The French Broad staff includes owners Chuck and Janna Watson (center) and Chef Arienne Casebier (far right). 
The Draw: Bright and airy, warm and cozy—two floors of varying atmosphere, with French-influenced comfort food
The Drawback: If you want a cozy date-night for two, be sure to reserve ahead or you'll be rubbing shoulders with strangers at the communal table (not a drawback for some).
Don't miss: The frites and garlic aioli, short ribs, and a very pleasing Brasserie burger
Step into the brightly lit interior of The French Broad, A Kitchen and Wine Bar in downtown Hendersonville, and immediately a boisterous, fun brasserie comes to mind. Spread over two levels, including a cozy, quiet mezzanine with balcony booths lining an exposed brick wall and grand window seating overlooking Main Street, The French Broad combines multiple environments under one roof with a menu of French-influenced staples, a lengthy wine list, and original cocktails.
I met with friends early on a Friday evening, and while only a few tables had patrons, reserved signs littered the tabletops at the banquet seating lining the white and sage-toned dining room downstairs, as well as upper-level tables. We were invited to sit at the 30-foot gleaming marble community table that forms the focal point of the first floor. From this perch, we could easily peruse the wall-sized chalkboard set against white subway tiles that displayed the specials and recommended wines, as well as observe how quickly the place filled.
The restaurant was opened in December 2018 by restaurateurs Chuck and Janna Watson, who relocated to the area from South Carolina three years ago. There, they own five Mellow Mushroom franchises as well as a popular English-style pub in Greenville. The French Broad resulted from a desire to create the type of place they'd like to frequent but didn't already exist in downtown Hendersonville. They enlisted chef Arienne "Air" Casebier, a graduate of Charleston's Johnson & Wales University and alumna of lauded Holy City restaurants Husk and FIG.
"We love this very alive and charming downtown," says Janna, "and we liked the idea of creating an atmosphere where young people moving to the area and retirees would feel equally welcome and inspired."
French-themed cuisine was close to the couple's heart, mainly because of the traditional cooking style. "There's a certain simplicity. The cooking methods are classic and could just about apply to anything," notes Janna. "We're not about overloading dishes with 10 different sauces, but rather letting the true flavors of the foods, the produce, and the freshness come through."
Several French-themed cocktails, usually made with cognac or champagne, top the full-page cocktail list. We began with a refreshing Moscow Mule and a Champs Elysees, made with botanical gin and house-made cucumber simple syrup. Gin and champagne make an interesting combination. The restaurant's take on a French 75, the cocktail imbues notes of floral, sweet, and bitter all at once. For the best flavor, it should be served very cold, and mine would have benefitted from that extra chill to keep it from being on the medicinal side.
Or, I simply could have ordered better from the extensive wine list: perhaps a wonderful Magique Crémant, a sparkling wine from Burgundy using the great grapes of the Côte d'Or. Likewise, for my main dish, California Stag's Leap cabernet sauvignon would be a good accompaniment, or even the Domaine Courtois Côtes du Rhone, a pleasant wine at a reasonable price from the Rhone Valley. Next time.
TRUE TO FORM - The restaurant's spacious interior and classic French-influenced menu, offering dishes such as cassoulet (right) with crispy confit duck and Flageolet beans, invites guests to savor the experience.
Almost every nation can boast some kind of a croquette—a roll filled with a blend of mashed goodness, dipped in bread crumbs, and fried. French shrimp croquettes appear on this menu as a starter, served simply on a white tapas plate with a wedge of lemon, fried parsley, and a mayo-based bagnarotte sauce for dipping. Crispy outside with a soft, warm burst of shrimp and béchamel, these made for a pleasant, light hors d'oeuvre. Silky liver pâté served in a tiny jar with brioche toast completed our foray into the starters, and our favorite part might have been the pickled cipollini onions that lent a beautiful and bright acidity to the rich pâté.
One in our group was vegetarian, and though we thought we'd have a tough time here, the Farm Market Plate stilled any of those worries. A generous serving of sautéed, herbed, and lightly spiced produce presented deep-green al dente broccolini, woodsy shiitake mushrooms, and crispy Brussels sprouts (these and others can also be ordered as sides).
Weekends feature two specials. I had missed the bouillabaisse by a few days. Provençal fish stew loaded with clams, mussels, shrimp, potatoes, fennel, and garlic in a tomato-saffron broth sounded grand, and Wednesday's wholesome cassoulet—duck confit and French sausage with slow-braised white beans and preserved tomato—would have been a contender as well.
Our cheerful server announced Chef Air's additional special this evening to be lamb chops, but I chose red wine-braised short ribs, sold on the promise of tender, richly sauced meat with a slightly caramelized edge. Dotted with jewel-green shaved Brussels sprouts, velvety root vegetable purée, and fresh horseradish, the plating radiated elegance, and the rich, well-balanced flavor showcased this chef's apparent finesse.
As the evening wound down, I was reminded how an enjoyable dining experience such as this isn't just about eating for sustenance—it's catching up on friendships, observing others, celebrating, and experimenting with our own tastes and interests. The French Broad, A Kitchen and Wine Bar provides just the right backdrop for that.
The French Broad
342 N. Main St., Hendersonville  
(828) 595-9797 
https://thefrenchbroad.net/