Forgotten Shore
Forgotten Shore:
Slip away to peaceful Apalachicola for sun, siestas, solitude, and a taste of wild Florida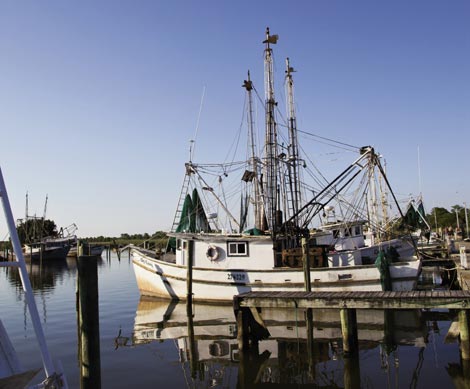 In history's long sweep, the emerald mountains of WNC and the sparkling Gulf of Mexico are unexpectedly linked by one event: the tortuous march around 1540 of Spanish plunderer Hernando de Soto. He and his army  wandered through the land of the Apalachee people in what is now the Panhandle of Florida, and then north to Appalachia in search of riches.
While de Soto may not have slept precisely in what today is the town of Apalachicola, his path took him close enough to the broad bay there that he carried into the hills a sense of the dense semitropical forest he'd left behind—the wild white beaches, the birds and beasts, and the endless succulent delights of the sea, including scallops, shrimp, oysters, and nearly 200 species of fish.
Today, the busy port of Apalachicola and the vast wilderness surrounding it make an unforgettable recreational destination. Nicknamed Florida's Forgotten Coast, the bulging cape 80 miles southwest of Tallahassee is marked by pristine barrier islands, the wide Apalachicola River, and is home to exciting bird and marine life such as eagles and dolphins. Apalachicola is one of a couple of eclectic towns on this coast, and recreation is serious business, with plenty of fishing, canoeing and kayaking, and wildlife watching opportunities. Or your trip can take a more leisurely approach—sun, seafood, beer, and a nap.
Forgotten says it well. Almost 90 percent of the land in Franklin County, where Apalachicola is located, consists of protected wilderness. More than a half million acres of national forest, plus state parks and forests, wildlife refuges, and environmental study areas create a buffer to development. The result is a Florida experience based on undisturbed nature rather than theme-park thrills.
Although I've stayed in nearby Carrabelle, I prefer Apalachicola for a holiday. Where rough-and-tumble Carrabelle serves as a center for deep-water sport fishing, Apalachicola, sheltered from the Gulf by St. George Island and St. Vincent National Wildlife Refuge, presents a gentler face. Moss-draped oaks line the wide streets of the historic district, oyster and shrimp boats unload their catches at riverside docks, high grasses rustle in the delta, and pelicans sail past.
Even in the cooler months, the town feels tropical. During summer, with its cleansing heat and brilliant coastal light, Apalachicola and the barrier islands beyond the bay seem like another planet. It's wise to ride bikes or go to the beach early in the morning or in the hours just before dusk, and take a siesta during the midday heat.
No matter what the season, dining in Apalachicola means feasting on seafood most likely plucked from nearby waters the same day. The town is justly famous for its sweet, juicy oysters, which comprise some 10 percent of the nation's harvest and 90 percent of Florida's total. Franklin County's prodigious seafood haul occurs where the mighty freshwater Apalachicola River, which traces back to a swath of land north of Atlanta, empties into the sheltered, warm saltwater of the bay. What happens here is magic, with a nonstop supply of nutrients feeding the aquatic food chain.
I have journeyed to Apalachicola in summer, fall, and winter. It's a long trip from Western North Carolina and the travel choices include flights to Tallahassee or Panama City, followed by an hour and a half drive from either city, or a 10-hour drive from Asheville. For our last visit, my husband and I detoured through eastern Alabama to avoid the congestion of Atlanta and found that approach worth the extra miles.
Once we arrive in Apalachicola, life falls into a mellow routine. We park the car and leave it parked for days. Time stands still, save for the slow arc of the sun and the gentle swell of the river tides. The quiet Water Street Hotel & Marina is our tried-and-true place to stay. Just a few blocks from the heart of downtown, and even closer to favored restaurants, the hotel sits at the edge of the Apalachicola River. All the rooms have screened porches that open onto breathtaking views of tidal grasslands teeming with wildlife. The sky is enormous.
After checking in, you'll want to rent bicycles, the fat-tire cruisers available at the hotel. Then it's off to find fresh oysters served raw on the half shell. We have eaten at many local restaurants, and the informal Boss Oyster tops our list for two reasons: the freshness of the mollusks and the amazing wildlife watching to be had on the water-level screened porches. There is a flair to the half-shell offerings here, such as oysters Greektown, sashimi, and Cubano, among dozens of other styles. Additional specialties include char-grilled amberjack steak with cheese grits and a soft-shell crab sandwich.
Up the Creek Raw Bar also offers outstanding vistas from two large patios. Talented young chef Brett Gormley creates imaginative entrées from fresh local seafood and game. A typical menu might include alligator and white bean chili, a cassoulet with house-made duck sausage, and appetizers such as steamed littleneck clams.
Our bike rides take a familiar and oh-so-pleasant track through the historic district, which sprawls along the grassy lowlands lining the bay. We stop at the spooky Chestnut Street Cemetery and wander through the silent, sandy expanse to read the town's history in the jumble of old marble headstones. Apalachicola was an early cotton port, and later shipped out turpentine, which was distilled from the longleaf pines.
Sometimes we hitch the bikes to the car and head to the barrier island beaches. With so much protected wilderness, it's easy to go exploring along the bike paths. St. George Island State Park, just across a four-mile bridge from Apalachicola, occupies a long, narrow strip of undisturbed land that includes lovely beaches, picnic and camping areas, and miles of bike trails that skirt pure white sand dunes—a surprisingly challenging but beautiful pedal. Other islands can only be reached by boat. There is a shuttle from Indian Pass to the national wildlife preserve on St. Vincent Island, an option for foot passengers and bikers who want to explore an undeveloped setting.
Each visit, we book a boat excursion. Once it was a half-day trip up the Apalachicola River, where we saw birds of prey more spectacular than any creature Disney could dream up. Most recently we went aboard a small oyster boat and watched amazed as the crew hoisted hundreds of pounds of mollusks aboard. Next time, we may take a canoe or kayak trip through the tidal marsh. But always, at the end of the day, there are oysters and a magnificent sunset.       
 
Guide To Apalachicola
Getting there:
By Car: Apalachicola is located about 450 miles from Asheville.
By Plane: Tallahassee Regional Airport and Northwest Florida Beaches International Airport in Panama City are each about an hour and a half drive from Apalachicola.
Stay:
Water Street Hotel & Marina happily arranges boat excursions, and offers free yoga classes. 1-(888) 211-9239;
www.waterstreethotel.com
Eat:
Boss Oyster at the Apalachicola River Inn shucks oysters to order. Water St.; (850) 653-9364; www.apalachicola
riverinn.com/boss.html
At Up the Creek Raw Bar, try an alligator burger or conch cakes.
Water St.; (850) 653-2525;
www.upthecreekrawbar.com
Do:
St. George Island Visitor Center & Lighthouse Museum offers daily tours except Thursday. (850) 927-7744; www.seestgeorgeisland.com
Journeys of St. George Island
arranges boat and paddlecraft rentals, fishing charters, and excursions. (850) 927-3259; www.sgislandjourneys.com
Kayak or canoe waterways along the Apalachicola River Paddling Trail. www.americantrails.org/national
recreationtrails/trailNRT/
Apalachicola-FL.html
Inland day trips:  
At Florida Caverns State Park, tour formations of limestone stalactites, stalagmites, soda straws, flowstones, and draperies. www.floridastateparks.org/floridacaverns; 2-hour drive
Take a boat excursions at Edward Ball Wakulla Springs State Park, home of the world's largest clear-water springs.www.floridastateparks.org/
wakullasprings; 1.5-hour drive
Travel planning:
Visit www.anaturalescape.com, or call 1-(866) 914-2068.