Forged in the Mountains
Forged in the Mountains:
A young craftsman in Avery County uses steel and local materials to construct handmade knives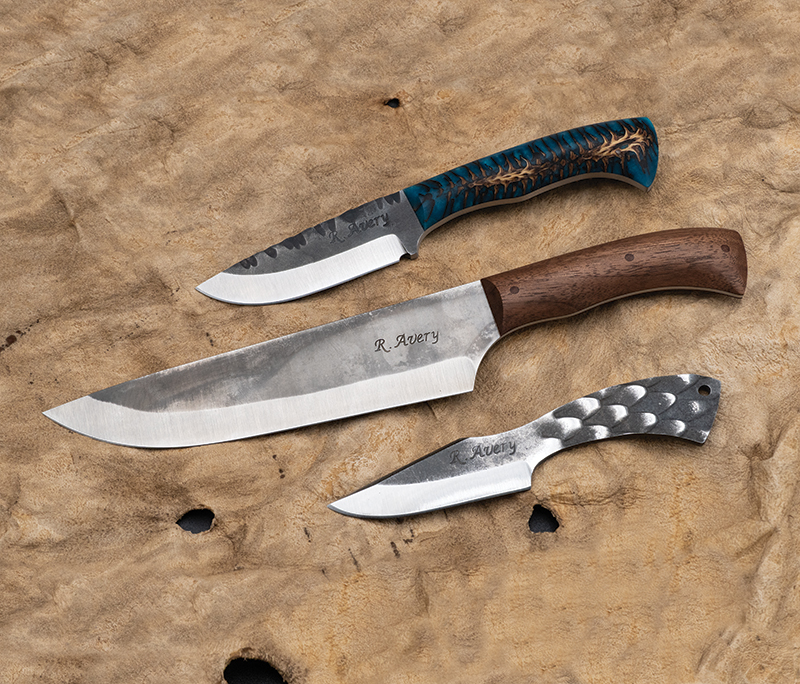 Three popular options are shown here: the 4" hunter knife with a maple handle (top), the 6.5" chef's knife with a leapard wood handle (center), and a 3" steel pack knife (bottom).
If you're a fan of the rugged reality television show Mountain Men, you might recognize local forger, twenty-three-year-old Raleigh Avery, who appeared on the show in 2020. Avery is the owner and maker behind Avery Knifeworks, based in Banner Elk. Their fixed-blade knives offer both function and beauty, as each is durably handmade. 
When Avery was fifteen, he attended a summer camp outside of Boone that offered blacksmithing classes taught by a knife-maker, which quickly piqued his interest. "I was a fifteen-year-old getting to play with fire and sharp things, so that was great!" he jokes. But his fascination only grew, and eventually, he began making them professionally. He built himself a forge and began making knives as gifts. "I started making knives to sell so I could buy better tools. I'd buy better tools, make better knives, sell those, buy better tools . . . and I'm still kind of doing that these days," he laughs.
ONE OF A KIND - Mass-produced knives are typically stamped from a single sheet of metal, but Raleigh Avery forges each knife by shaping a heated bar of steel into a blade; (Right) Avery, Massey, their cat Boomhauer and dog Jace. 
In 2020, Avery Knifeworks was promoted from side hustle to a full-time business for Avery. Malea Massey, showroom manager and Avery's girlfriend, began working with him around this time. They now co-run the business, with Avery on the forge and Massey behind the counter (and occasionally stepping in to assist in production as needed). She and Avery both grew up in Morganton. 
Each knife is hand-forged by Avery in his shop, and comes with a lifetime guarantee, free sharpenings, and repairs. "I knew I had a passion for what I was doing. I had a market, and I had a small following already—it made sense," Avery explains. "I'm making a great product that people love as a gift, as a piece of functional art, or even as a tool that they may use every day." 
The end result of Avery's artistry comes from a mixture of planned schematics and in-the-moment shaping and testing. "You can design something that theoretically is going to work really well, but it's not until you get it in your hand and start manipulating it in a physical sense and then use it. I've made several changes to models we've used for years now, and they're in a wonderful place and will just continue to get better," he points out. 
(Left to right) Hunter knives with maple handles; 4" Hunter Knife; 3.5" Survivor knives.
Avery Knifeworks offers a variety of knives for sale online and in person at their showroom. They offer three types: kitchen, hunting and camping, and everyday carry. Currently, Avery is working on new designs for a cleaver, a filet knife, a bread knife, a true paring knife, and even a hatchet, expected to come in the fall.
Avery Knifeworks will be attending several events this fall, including Sugar Mountain Resort Oktoberfest in Sugar Mountain, the Woolley Worm Festival in Banner Elk, and Beech Mountain's Holiday Market in November. 
Avery Knifeworks
2780 Tynecastle Hwy., Banner Elk
Monday-Saturday, noon-5 p.m. Sunday, 10 a.m.-3 p.m.
(828) 742-6810
averyknifeworks.com