A Forest Feast
A Forest Feast:
Forager Alan Muskat leads a group into the woods to harvest the ingredients of a wild dinner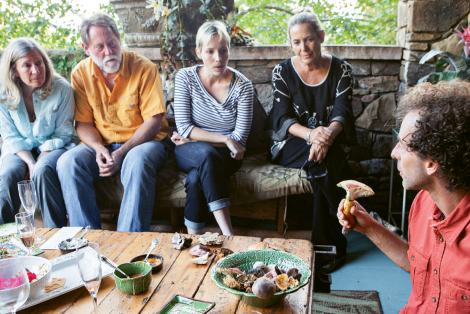 Menu
• Black Snake Salad on Crackers
• Sumac Water & Wild Oregano Cocktail
• Goat Cheese with Olive Berry Compote, Chestnut Puree & Lamb's-quarter Seed Dust
• Soft Pita dusted with Sumac Za'atar
• Stinging Nettle & Chestnut Soup with Pickled Greenbriar, Rose of Sharon & Cattail Pollen
• Snapping Turtle Three Ways— Confit, Bog & Seared Loin—with Wilted Lamb's-quarter & Ramps
• Black Bear Wellington with Sorrel, Persillade, Lobster Mushroom Duxelle, Crushed Wisteria, and Kousa Dogwood Gastrique
• Sarsaparilla, Black Cherry & Black Birch Digestif
Abroad, blue September sky unfolds above us as we gather on the porch of the main house at the sprawling Laughing Frog Estate near Marshall. I am among a small group of excited pickers who have amassed to learn the art of foraging with wild food guru Alan Muskat. Searching for and harvesting ingredients from the forest, bog, trail, and field is the newest blend of adventure dining and sustainable living, and Muskat is at the forefront of the movement.
Through his business, No Taste Like Home, the Princeton-educated naturalist leads groups to collect everything from chanterelles and mayapples to sarsaparilla and mulberries, and even edible insects. Scores have joined his hunts, including film crews from the Travel and History channels, PBS, and HGTV. Today, it's our turn to find a host of tasty items that will go into an elaborate dinner back at the house, the reward for our work in the wild.
 
Hunting & Gathering
On this excursion, our harvesting territory encompasses 285 bucolic acres owned by Kelley and Stephen Wilkinson. The land is crisscrossed by trails that branch off in every direction, leading to hidden coves, forested glens, a lily pad-covered pond, and fields of tall grasses.
Our search party is made up of passionate foragers and first-time seekers. Muskat preps us for the trek with an introduction to edible mushroom species, including what properties we should be looking for in each fungi.
We needn't go far to find something worth harvesting. As the group fans out along the trail, Muskat directs the foragers to look along the path. A gorgeous flowering of beautyberry, a leafy bush with bright green leaves and vibrant purple, BB-size berries, catches his eye. He plucks a handful from the top of the bush and pops them in his mouth.
Around the bases of trees, we spot flat, orangey-beige growths. These chicken of the woods mushrooms bear a mild poultry flavor. We're here just before the height of mushroom season, so we don't find as many as hoped, but Muskat has carried more varieties in for tonight's meal.
Next, we scramble up a bank to taste the pink fruit of a kousa dogwood. This Asiatic tree, with blossoms that look similar to native dogwood, produces a pinkish spiked fruit on a stem. Its peach-colored flesh will be blended into a gastrique that will be paired with the bear Wellington at dinner.
 Muskat's mantra is registering with us all: We can forage for food anywhere. One just has to look and be able to identify the edible treasures. "Learn one edible plant in your yard each month," he suggests.
Seeding & Sorting
Back at the house, chef Mike McGirr is ready to transform today's finds into a menu that reads like culinary poetry. He has already unloaded baskets, boxes, and jars containing mushrooms, wild meats, berries, and what look like potions and magical fairy dust. (Those would be cattail pollen and lamb's-quarter seed dust.)
He gives lightning-fast instructions to his helpers while sharing insights with guests on how to prepare bear Wellington and the down-home turtle bog, or stew. This genre of cooking is second nature to him. He grew up on an Ohio farm, where planting, picking, and raising one's own food were a part of daily life, and later worked as a private chef in California.
 Scattered about him and stashed in little baskets and bowls are pin cherries, wild grapes, tiny air potatoes no larger than radishes, paw paws, kousas, and wild oregano. An assistant has been deboning the black snake for at least an hour. The meat has been poached in a tarragon bouillion and white wine. This will figure into the black snake salad, an  herb-flecked spread served on crackers as an appetizer. Additional helpers shell chestnuts for a nettle soup.
Tasting the Bounty
The foragers reconvene on the porch for appetizers that are beautifully composed on handmade pottery. Along with the black snake salad, which intrigues everyone, there is local goat cheese, olive berry compote, and chestnut puree, all sprinkled with lamb's-quarter seed dust and served on soft pita bread seasoned with fresh sumac za'atar. The flavors are unusual, a bit tart, a bit bitter with each bite. We wash it all down with a lightly floral cocktail of sumac water, wild oregano, and white wine.
As the sun sets over a dozen ridges, we enjoy the delicate stinging nettle-chestnut soup. After plunging the nettles into boiling water to destroy the stinging properties, McGirr blended them with nuts into a rich velvety consistency.
The snapping turtle, prepared as confit, seared loin, and bog, proves to be a slightly gamey meat. Chicken is an easy substitute in the bog, which is accented with wilted lamb's-quarter and ramps.
 The black bear Wellington tops the evening in elegance. The golden pastry holds a bounty of mushrooms, crushed wisteria, and sorrel persillade.
The meal has lasted well into the evening, and foregoing dessert, we sip on a digestif of Troy & Sons Moonshine steeped with sarsaparilla root, black cherry, and black birch.
As the night sounds swell around us, Muskat waxes poetic, "What feeds you most you'll never put in your mouth," he says. "It's the sense of home, of feeling safe, provided for, and surrounded by friends and family."
And we, having helped prepare a fine meal from the earth's bounty, have to agree.