Fireside Chat
Fireside Chat:
Toast a classic cocktail with a modern twist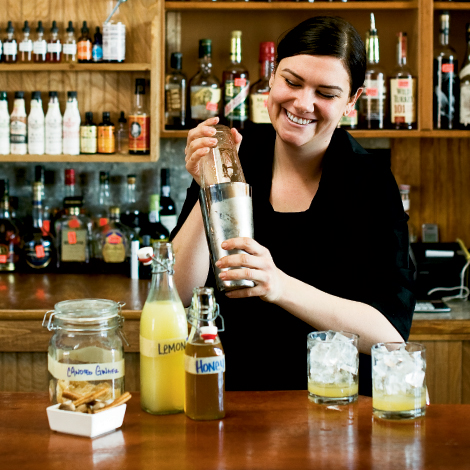 Spirits. Check. A cozy den with access to rooftop views of surrounding mountains. Check. Friendly, colorful barflies. Check. Top of the Monk, a new speakeasy-style hideaway above the Thirsty Monk beer bar in downtown Asheville, has all this, and innovative cocktails, to boot. The Fireside, by bartender Kala Brooks, blends ginger, honey, and bourbon with lemon juice, cider, and bitters. Although it's served on ice, there is fire in the finish.
"Our focus," says Monk's entrepreneurial project manager Chall Gray, "is split between the classic and the modern, with a selection of late 1800s and early 1900s cocktails balanced out by a fresh twist on old recipes."
Top of the Monk will soon be adding exterior heaters on its patio, and look for distilled winter warmers like mulled ciders, hot toddies, and hot buttered rums as the menu changes weekly. Or, pop in for a flight on Whiskey Wednesdays. Another special touch: With each drink purchase, you receive a key to a bank of vintage post office boxes that contain a selection of house-prepared accompaniments—just take your pick. Try the applewood-smoked bacon bites with maple, chipotle, and black-pepper baste to set off the Fireside. Or, enjoy the concoction at home with this recipe.         
Top of the Monk
92 Patton Ave., Asheville
(828) 254-5470
www.monkpub.com