Fig Bistro
Fig Bistro :
With many loyal fans, Fig holds tight to its recipe for success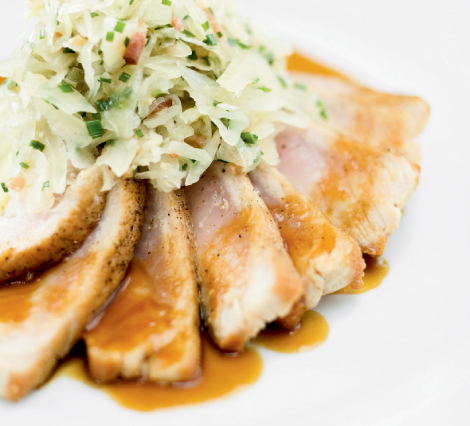 The scene remains the same—sage-colored walls, a small bar tucked in a corner, tables set close together, and a din characteristic of any busy urban bistro. Fig is as popular now as when it opened at the edge of Biltmore Village five years ago. And longtime Asheville culinary entrepreneurs Traci and Treavis Taylor continue to entice diners with modern, French-inflected cuisine.
Constantly engaged, Traci runs a catering business by day and works in the restaurant at night, and Treavis welcomes guests as the maitre d' and assists in the kitchen. Meanwhile, Executive Chef William Klein uses his cosmopolitan background to influence the menu. He honed his skills in France for a year after graduating from the New England Culinary Institute, then moved to San Francisco before arriving in Asheville.
His training and travels have served his cooking well. A mushroom terrine starter is finely seasoned and holds a touch of requisite earthiness. It's served atop a bed of arugula with crisp, grilled crostini. The chef transforms meatloaf into a dish closer in flavor to rich Italian sausage than mom's homey best. The risotto is creamy perfection, laced with tangy lemon zest and Parmesan, punctuated by plump shrimp. A drizzle of pesto-infused olive oil mellows the sharper profiles in the dish. In keeping with the Taylors' concept of treating wholesome ingredients beautifully, an entrée of pork loin over a Vidalia onion and fig puff-pastry tart with a port jus balances the savory aspect of the dish with sweet nuances.
"Attention to detail is what keeps our regulars coming back, because we listen to what they say," remarks Traci, who notes that several core items will never leave the menu. Those favorites include deviled eggs, which are surprisingly tasty with cocktails, and macaroni gratin with applewood bacon.
The desserts are delicate, ranging from a light panna cotta to a chocolate pot de crème. The milk-chocolate mousse with candied pistachios is a sought-after treat and is served as a manageable portion.
"Think of how they do it in Europe," says Traci, "less is more."
Fig bistro
Asheville
18 Brooke St.
(828) 277-0889
www.figbistro.com
$$$