Felt Expression
Felt Expression:
Lisa Klakulak sculpts accessories out of the woolliest of mediums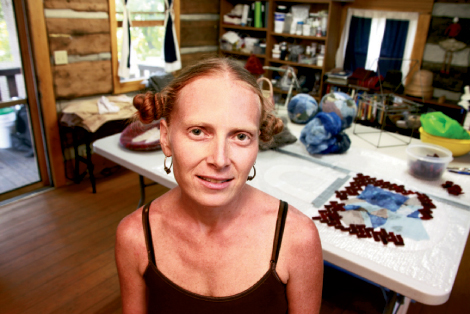 I'm surprised when lisa klakulak tells me she used to sell her handmade jewelry in the parking lot at Grateful Dead shows and wore her hair in dreadlocks for 15 years. The 35-year-old's free-spirited backstory is hardly what I expected of this highly skilled felt artist, whose work and knowledge is widely in demand; she teaches sold-out workshops across the country, and her intricate handbags and accessories sell for hundreds of dollars. But it turns out dreaded hair isn't such a stretch; felting, like dreading, is merely a knotting process, though hardly a simple one.
Making felt involves changing the pH of wool fleece and agitating the fibers while wet and soapy so that they bond. "The more you felt, the denser it gets, and the more integrity the form has," Klakulak explains. At her home studio in Asheville, she sculpts the material, and her natural plant dying process further stiffens and strengthens it, thus her business' moniker Strong Felt.
Klakulak's seamless handbags come in small sizes and funky shapes, and are infused with exotic designs and detailed embellishments, including embroidery, hand stitching, and bits of silk. Edgy scarves, gloves, hats, and jewelry—each a work of art almost too precious for its intended use—uphold an aesthetic that draws from African and Indian influences. Though she's traveled to numerous countries to glean inspiration from time-honored textiles, Klakulak's formal training came stateside.
She graduated with a fiber arts degree from the University of Colorado at Fort Collins, and learned about natural dyes while living in Taos, New Mexico, but it was during a two-year program at Penland School of Crafts in 2001 that she began felting. "When I came to Penland, I had the aesthetics, but I found my form of expression," she says. She went on to earn a teaching certification in visual arts from Tennessee Technical University, and spent three years as an artist-in-residence at the Appalachian Center for Craft, where she began exploring the history and science of felting. "You have to understand the material before you can have a relationship with it," she says.
For the past five years, Klakulak has been sharing her knowledge through workshops. "I'm a Leo, so I like to tell people what to do," she jokes. This month, she's thrilled about a trip to Holland to teach. And she'll be traveling to Russia for a glimpse of the oldest unearthed felt in the world, found in Siberian ice caves. It's a long way from those Dead shows , and certainly an inspirational advancement in her artistic endeavors.
Learn More
Klakulak's next local workshop is this spring at Penland School of Crafts. www.strongfelt.com