Farm to Your Table
Farm to Your Table:
Connecting with a local CSA has never been easier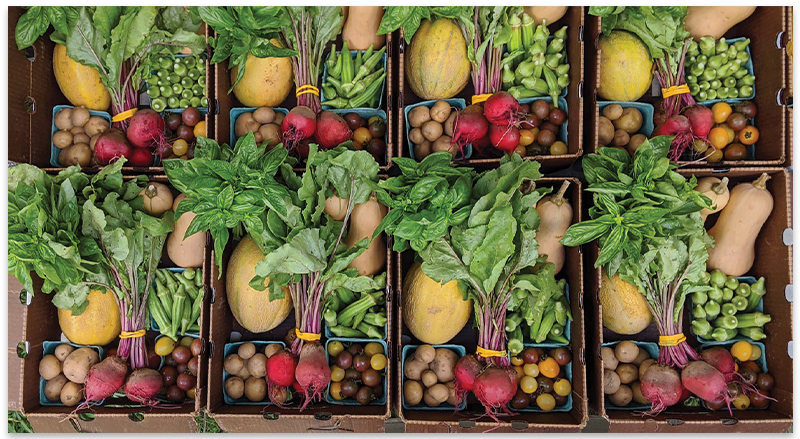 Food is like medicine, and there's no better way to nourish your body than a heaping serving of fresh food and herbs from your local farm-acy. As community supported agriculture (CSA) options have grown, Appalachian Sustainable Agriculture Project has supported them to the hilt, and now the Asheville-based nonprofit has published a new guide to area opportunities for subscribing to local produce. CSA members purchase a "share" of crops in advance and receive a box chock full of organic produce and other locally sourced goods on a regular basis, usually each week.
The complimentary guide, Full Share, can be found at area farmers markets and online at asapconnections.org. It surveys some 60 local CSA options, which vary widely in their offerings. "While most customers associate CSAs with produce, our region is rich in variety," ASAP notes. "Look at CSA options for pasture-raised meats or fresh-cut flowers. Some farms also offer add-ons, such as eggs, cheese, bread, or honey, that customers can purchase for an extra cost." Keep an eye out for this cool option: workplace CSAs, wherein a group of employees can split a delivery at their office.
Whatever approach looks good to you, be sure book your CSA as early in spring as possible, as many will sell out of their shares. A prime signup opportunity is ASAP's Asheville CSA Fair on March 11, where local farmers will be on hand to answer questions and help get their harvests into your hands.
Asheville CSA Fair
March 11, 4-7 p.m.; free
YWCA of Asheville
185 S. French Broad Ave.
asapconnections.org