Fantastic Forms
Fantastic Forms:
Jenny Lou Sherburne's Seussian-style pottery delights through color and shape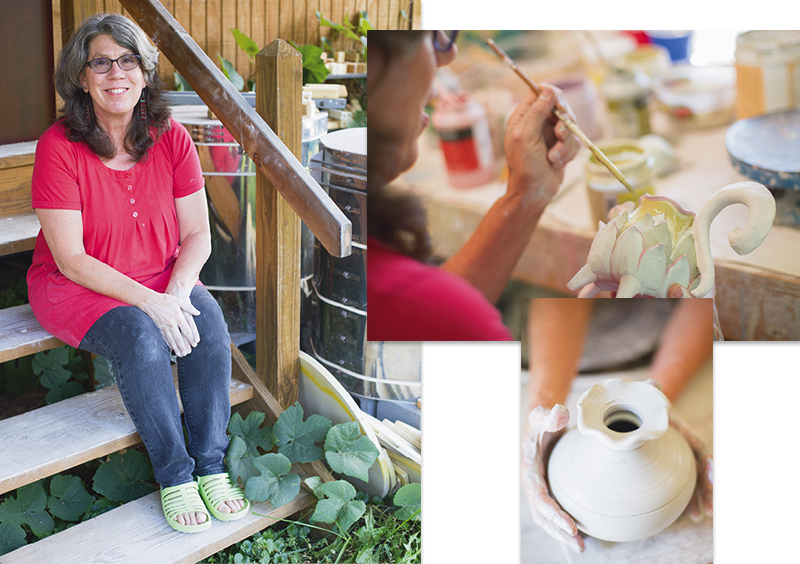 Sherburne creates from her home studio in Bakersville, where she makes, glazes, and electric kiln fires her wares.
You'd be forgiven if you mistook the whimsical pieces of potter Jenny Lou Sherburne for dishes from a tea party with the Lorax. The Bakersville artist, who moved to the area 12 years ago, decided early in her career to have a love affair with forms. Drawing inspiration from Dr. Seuss, Henri Matisse, and Antoni Gaudí, Sherburne expresses "growth, joy, and animation" in her work. "I want each piece to be a collaboration between me and the clay," she says.
It didn't take long for bright pigments to envelop her pots, which she throws on a wheel and then pinches into fanciful shapes. "I needed color bad," she laughs. Sherburne picked—or made—glazes in stunning hues, including watermelon pinks, azure blues, and sunny yellows, to embellish her teapots, mugs, and dishes. At first, her embrace of bold hues drew criticism from more traditional potters. "There's an idea that color distracts from the form," Sherburne says. "But to me it's like music, or maybe like spices, like Indian food. I love harmony, and I think there's some correlation with pottery there."
Sherburne's aesthetic education began in childhood, when she was raised in a Chicago house designed by modernist architect Louis Sullivan. The stained glass and wrought-iron features provided fodder for creative musings. A move to rural Kentucky instilled a love of nature evident in her work, which includes boxes designed to look like beetles and pitchers that call seed pods to mind. Sherburne enrolled in the clay department at Berea College, studying under Silvie Granatelli. "It was love at first touch!" she exclaims.
After college, Sherburne moved back to Chicago, "where I waited tables and supported my clay habit," she laughs. Five years later, she entered an MFA program at Louisiana State University in Baton Rouge. "I think I preferred the South," she remembers. "I'd never been in a place that tropical, either. Things are so lush and beautiful there. There are birds, like egrets, that seem like they could have walked out of Dr. Seuss."
Sherburne settled in St. Petersburg, Florida, but eventually, the mountains called, and her family moved to WNC. "We felt the draw of being in a beautiful rural area, but we didn't want to be completely isolated," she says. "There are so many artists and like-minded people in the area, and that sold it."
A new community brought opportunity. Besides sometimes teaching at Penland School of Crafts, Sherburne is part of the Mica Gallery collective in Bakersville, and she's involved with the annual Spruce Pine Potters Market, which happens in October. Lately, she's been hearing the siren song of new work. "I just found a piece of dragon fruit at Ingles," she says. Inspired, she made a teapot, the form of which is still shifting. "I let creativity happen as I'm making," she says. "I like it when things take me somewhere unexpected."
RESOURCES:
Photographs (teapots) by tom mills; (other pottery) by Tim Barnwell