Family Reunion
Family Reunion:
Busy Hartzog just couldn't forget her aunt's circa-1920s playhouse, so she brought it home from South Carolina and restored it with love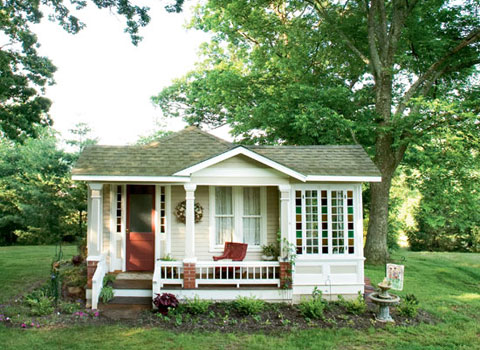 Stepping inside Anna's house is like walking into a scene from Alice in Wonderland. It bears all the markings of a real home—six furnished rooms, electricity, running water, central air and heat—but at 300 square feet, the house and everything in it (with the exception of seven-foot ceilings) are three-quarter scale.
Standing at five-foot-nine, I tower over a cozy embroidered sofa, an easy chair, and two Bentwood seats that stand roughly two feet high in the living room. The bed is just right for a four-year-old, and even the claw-foot tub and toilet (yes, it works) are miniature. In the dining room, a crystal-strung chandelier hangs over a little table and chairs, which, today, is set for a tea party. And a knee-high tea cart is laden with finger sandwiches, scones, petifores, and other treats that have been prepared in the tiny, cast-iron electric stove. This elaborate playhouse in Mills River is any girl's dream.
Built to Last
An attractive, gray-haired woman in her mid-50s, Lizabeth "Busy" Hartzog has had a connection with this circa-1920s playhouse for as long as she can remember. And she's spent the last six years lovingly restoring this family heirloom that once belonged to her favorite aunt.
H.D. Wheat, the owner of a successful textile mill in Gaffney, South Carolina, built the bungalow for his granddaughter, Anna Wheat Richardson, around 1922. It was a darling complement to the family's home next door and had electricity, running water, and steam heat that was pumped in from the mill two miles away.
"It's pretty much the same as it was then except for the back porch addition, a new roof, and a few modifications in the kitchen," Busy says as she makes her way around the table pouring tea. "The stained-glass windows, bed, brass sconces, molding, sinks and faucets, stove, tiled-walls in the bathroom, and sections of the floor are all original."
But rehabbing the playhouse hasn't been easy. Anna sold the home to a neighbor, Mrs. Poole, in the mid-1950s. "Anna had no children, so really, she had no use for it," explains Busy's father, Nat Maddux, who remembers visiting the house as a toddler.
"I always thought how wonderful it would be to have it back in the family," recalls Busy, who lived with her aunt as a teenager. In the late 70s, not long after marrying her husband, Bobby, the couple approached Mrs. Poole to see if she'd sell it. "She was asking $5,000. At the time, that was like $5 million."
And so the little house deteriorated—ransacked by Mrs. Poole's four boys—while Busy and Bobby went about their lives. Today, he works as a general contractor, Busy as his office manager, and together, they've raised four sons, who are all now grown and starting families of their own. In 2002, with an empty nest and in need of a creative project, Busy went back to Mrs. Poole with an offer.
"The house was in really bad shape," says Busy. "Everything had rotted, the paint was peeling, gutters were gone, the tin roof was leaking, and a fire had charred the ceiling in the dining room. But the bones were still good. You could tell it had been built really well. I could see that it still had a lot of potential."
Busy had no idea what she would do with the playhouse other than restore it. "It's kind of like my little memorial to my Aunt Anna," she says. Luckily, the house didn't appreciate like most. She paid $500 for the structure, an additional sum for the original furniture, and much more for the renovation projects. "I've helped keep so many local artisans and antique stores in business," she says with a laugh.
The Homecoming
Moving the playhouse to her eldest son's property in Mills River was the first of many hurdles. Busy sought help from her husband and his cousin who works in construction. The house had to be cut in half, transported from Gaffney on flatbed trucks, and a crane was required to lower the two halves onto the new foundation. "My husband thought I was crazy, but he was very supportive and knew it meant a lot to me," she says. "I immediately wanted to start working on it, but Bobby persuaded me to do it in stages. I had to take it slow because of finances."
A year later, she began by securing the foundation, then moved on to the roof. "I couldn't go entirely original because custom-cut tin shingles were very expensive," she explains. Instead, she hired several craftsmen who renovated the front porch, rebuilt two of the Bentwood chairs out of what was left of the original four, installed custom kitchen cabinets, and refurbished the electric stove, brass sconces, and bed. "I had it all rewired, replumbed, and insulated. I even installed a heat pump," she says. "That's when my husband said, 'OK, that's enough.'"
Busy did much of the work herself; cleaning 192 panes of stained glass, painting each room, and adding many artistic touches, like shadow boxes of dried flowers behind the doors and fancy paper appliqués adorning the wall. "It was hard to stay motivated," she says. "I'd walk in and wonder what I was doing. But every little bit of progress would thrill me."
Shopping for furnishings was another challenge, but one Busy enjoyed. "I went into a lot of antique stores," she says. "I always had the scale in mind." The dining room buffet, chandelier, and many of the teacups and dishes are all from local antique dealers. The coffee table is as well, though Busy had a craftsman shorten the legs. The refrigerator is meant for a college dorm, and the tiny commode is like those found in preschools.
And just like in any home, some items have a deeper meaning. "There are many things in here that friends have given me," Busy says, pointing out a Victorian mirror. "And the little wooden angel above the bed used to be Anna's."
Once the work was complete, Busy knew what she wanted to do with the house. In February, she began hosting tea parties for girls. The hallway closet holds a slew of princess gowns, crowns, slippers, and other dress-up apparel. Busy prepares and serves raspberry tea, scones with mock Devonshire cream and jam, and other goodies, and teaches manners and etiquette. Anna's Playhouse is an enchanting place, one that, according to Busy, "is just too precious not to share."