Family First
Family First:
Three couples who shifted their careers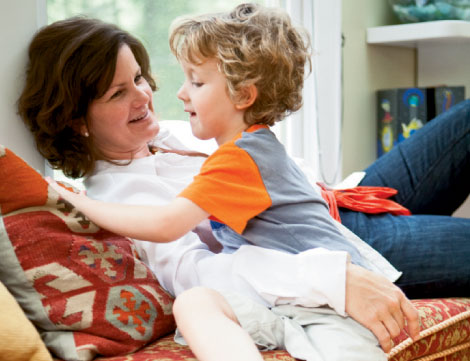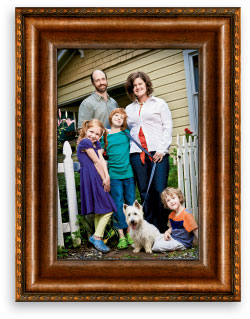 DESIGNING WOMAN In 2001, Cate Scales was living on a postcard-perfect tropical island with her husband, Ben, and their young daughters, Georgia and Emeline. She had a corporate job in human resources for a large hotel. Ben was clerking for a federal judge in Saipan. To the outside observer, Cate's promising career amid palm trees and beaches was just about as close to paradise as one could imagine. "As beautiful and idyllic as it was, it just wasn't home," she says. For Cate, the choice to move to Asheville not only felt right, it offered the dual benefits of being available for her daughters and return to her first professional love—working as an interior designer. She and Ben, who began his career as an industrial engineer before getting his law degree, have committed to putting their children at the center of their lives. The result is both Cate and Ben, who now works in entertainment law from home, greet each day with a sort of parental carpé diem. "We've found there's no guarantee about what sort of workday it's going to be," says Cate. "You have to be flexible," she adds, noting the two "pass the ball a lot" when one or the other has specific work demands. "It's a wonderful way to live. Ben and I can get things done after the kids go to school or to bed. We just work it out," says Cate. "You have to give up a little bit to live this way. But you get so much back. It's very liberating." Cate works mostly with clients and contractors on new construction projects, remodels, redesigns, and staging. "Recently, I've been doing some internet-based design services that I find very interesting. The work allows me to spend less time away from home," she says. Client send me photos, floor plans, and an idea of what they're looking for. "Then I pull together a design concept for them to follow." The result is that Cate is pursuing work that is fulfilling and, at the same time, is always there for her family. And Ben, who "would love to be a full-time musician," says Cate, gets to help Georgia learn to play guitar, assist Emeline with her violin, all while creating a life that beats palm trees and Pacific Ocean Breezes.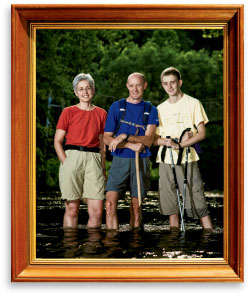 PAGE TURNERS When you imagine what a successful publisher looks like, certain sitcom-inspired clichés come to mind: usually an overpaid, overdressed, fast-talking urbanite with an assistant constantly in tow. That may be the caricature, but it doesn't fit Mary Ellen Hammond and Jim Parham. The couple owns Milestone Press in Swain County—a small company that's been creating outdoors guidebooks for the Western North Carolina area since 1993—and measures success less in dollars, but rather how well their work life complements family life. Mountain biking took off in the late '80s and early '90s. "People were coming to ride in Western North Carolina, but there wasn't much information available on where to go," says Parham, an avid outdoorsman who had spent many years as a whitewater guide in the Nantahala Gorge. So the couple decided to create a local biking guidebook as a side venture. Neither of them had published a book before, but Parham had extensive technical and local outdoors knowledge, and many years in marketing gave Hammond experience designing and editing promotional materials. That book sold well, so they soon started planning other titles. By 1995, the couple decided to go full-time with their publishing venture, because it would allow them to be home with their newborn son, Sidney. Their son has gone from diapers to high school, but Milestone Press is still the same size: two employees and one room. "Expand? Why would we want to do that?" says Parham. "A lot of ourselves goes into every book, and we don't want that to change." Between printing about five books per year, distributing them, and handling the finances and public relations, it's a rigorous workload. But the couple feels confident they've let their lives shape the job, not the other way around. "At the end of the day, we close the door to the office, and it stays closed," says Hammond. "Our work life is a completely different world, and we don't want it spilling into our living room." And since their books have to be available before the tourist season, most of the heavy work falls along the same schedule as their son's schooling. That allows for plenty of family time during the summer months. In fact, father and Son just got back from summer camp—Sidney as a camper and Parham as a cycling instructor. Sure, the family probably doesn't earn the Manhattan publisher's salary, but they'll tell you the benefits can't be matched.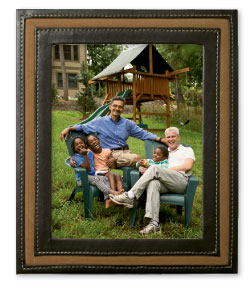 TAILOR MADE Along one wall of the open studio, there's a rack of clothing holding summery dresses, a used motorcycle jacket, and a superhero costume. On the other side is a sitting area with a floor-to-ceiling drape that creates a small changing room. And in the middle of the workspace, an elegant bridal gown hangs from the ceiling over a wide cutting table. If it weren't for the big bay doors, you'd never know that Lupe Perez's tailoring shop is housed in a residential two-car garage. "I learned how to sew a little from my mom when I was a kid," he says, sitting inside the workspace, "but I never thought I'd make a living at it." After leaving military service in the early 1990s, Perez moved to the Asheville area where he started working as a costume assistant at Mars Hill College's Southern Repertory Theater. Over the next many years, he acted, danced, directed, and taught drama across the state for a number of theater groups and schools before deciding to settle back in Asheville and work in the mortgage and banking industry. When Perez and his partner of 20 years, Monroe Moore, started their family, Perez took paternity leave after they adopted each of their three children as infants—now ages three, five, and seven—but quickly realized the difficulty of juggling the needs of their children and a hectic career. "Over the years, Monroe and I always figured that if anyone stayed home, it would be me," he says. "We both grew up in families where our mothers were home full-time, but this is more in my nature." So the nontraditional family made a very traditional move: In 2007, Perez quit his job to focus on raising Maria, Bea, and Oliver. "It was around then that I started sewing some things for friends," he says. In his spare time, Perez repaired torn clothing, made original outfits or Halloween costumes for his children, and helped with pieces for the occasional school play. "The challenge of working through these different projects brought me a lot of joy." He started getting more and more clothes to work on due to word of mouth, and soon Perez decided to print business cards, which he left at fabric stores around town. About a year ago, wedding coordinators started sending him clients. "That's when I had to make sure this garage looked comfortable enough for a bride and her mother to come over." Since he doesn't have a storefront to pay for, Perez enjoys the luxury of taking only the amount of work he can handle. The hours are flexible enough that he can just walk away if a child—like Oliver who was napping off a cold during this interview—needs his attention or has to be shuttled to school activities. "If I were working in an office," he says. "I wouldn't be able to be there for them with the freedom I have now." It's a sentiment you'll hear from any parent who's decided that bringing their work home isn't such a bad idea.