Fall Forward
Fall Forward:
Three Asheville-based acts serve up fresh sounds for the season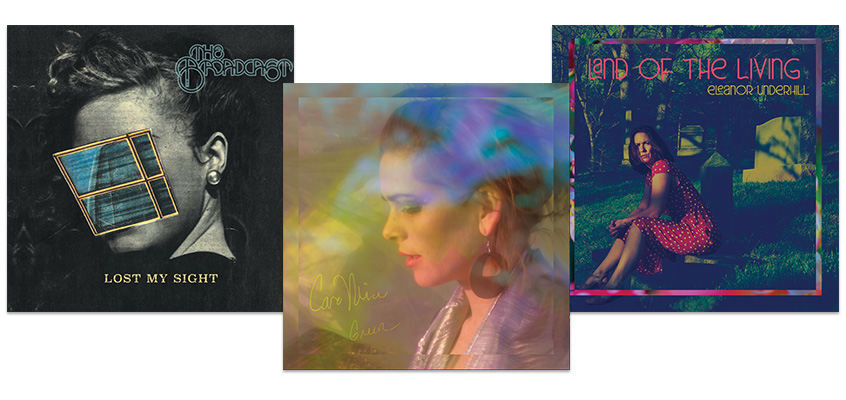 The Broadcast — Lost My Sight
From the first lick of their first record, The Broadcast has made it quite clear what they're all about: psychedelic rock and roll that anchors itself in classic sounds while Caitlin Krisko's powerhouse vocals blast through the fray. It's a sound that has garnered them stage time with some of the biggest names in rock and blues. When Tim Lefebvre (David Bowie) and Tyler "Falcon" Greenwell (Tedeschi Trucks Band) approached the band about producing their third release, Lost My Sight was born.
Ebbing between ballads like "Too Far Gone," psychedelic disco-ragers like "Hard Way," and rockers like "Fighting the Feeling," this proves to be The Broadcast's most dynamic and densely produced offering yet.
CaroMia — Green
A staple of the Asheville music scene, from her acts Siamese Sound Club and Goldie & the Screamers, the tenacious performer and dynamic vocalist CaroMia marks a rare solo release with Green. Recorded in her bedroom studio while tip-toeing around roommates, the singer's delivery on much of the album is stunningly dulcet, opting for texture, emotion, and intricate arrangements rather than raw power.
"Horseshoes" is a mesmerizing psychedelic wash of verbed-out harmonies over dusty, warped, and slowed down Motown grooves, synths, and guitars. Poppy offerings like "Lucky Star" lend a deeper, darker lyrical depth than suggested by their first impressions, and the Radiohead-esque "Cracks in the Pavement" is packed with melodies that twist into surprise turns. Green is a headphones record: it was clearly made in them, and in a lot of ways, is best listened to that way. Personal, self-conscious, and strangely introverted, most of all this album is simply gorgeous.
Eleanor Underhill — Land of the Living
It would be easy to call Land of the Living a departure for Underhill. But having cut her teeth fronting the Americana group Underhill Rose, the folksinger has always hinted at some deep rhythm and blues influences. And while her second solo release does blur lines between synth-pop and R&B, the mark of roots music is still evident in her work. She's a banjo player by trade, but you wouldn't know that from this self-produced record; in fact, it takes until the fifth track to prominently hear the old familiar plunk of her steel strings, arpeggiating beneath the sway of mellotronned-out synths on the Nillson-esque "Taking My Time."
Those roots seep out through a subtle Appalachian melody here and there, or the way her voice lilts at times. But the tremolo surf-rock guitars and spooky harmonies of the clearly Bowie-influenced "March On" and similar tracks show a concerted effort to move beyond Underhill's traditions, hinting that this may not be so much a departure as an evolution.