Exchange Program
Exchange Program:
An historic exhibit details the lengths taken to harbor peace during the last years of the Colonial era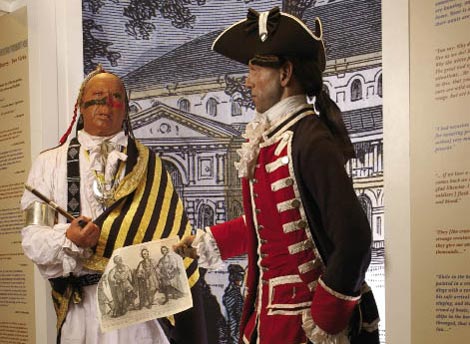 War can make for uncommon allies, and throughout the 1700s, the Southeast was a landscape plagued by upheaval between colonial powers, Indian nations, and settlers—all trying to solidify a hold on their territories. In the middle of this strife, a fateful allegiance was struck when a delegation of Cherokee traveled to England to meet King George III. The complexity of that relationship is often treated as an abridged history, but an exhibit at the North Carolina Arboretum in Asheville aims to give visitors a greater understanding of this intriguing exchange.
The traveling exhibit, titled "Emissaries of Peace," is based on the memoirs of Lt. Henry Timberlake, a British officer who volunteered to live with the Cherokee for three months in 1762 as the two nations attempted to strengthen a tenuous treaty. The story is told through more than 300 panels, graphic displays, and artifacts, including weapons, tools, and period attire.
"The exhibit illustrates the 18th century Cherokee and reveals a tipping point of their culture, politics, gender roles, and international relations," says John Bubany, the Arboretum curator.
The collection follows Timberlake as he accompanied the three-man Cherokee delegation, led by Chief Ostenaco, on a voyage to London. There, they secured a treaty from the king that would protect their borders from the encroachment of settlers—an agreement that encouraged the Cherokee to side with the Loyalists when the Revolutionary War opened.
The exhibit's overarching theme of mutual exchange is tinged with culture shock for both sides. According to Bubany, visitors will gain "a realization that these individuals made great efforts to work for peace, justice, and self-preservation."