En Vogue Vino
En Vogue Vino:
Raise a glass to vegan-friendly wines this fall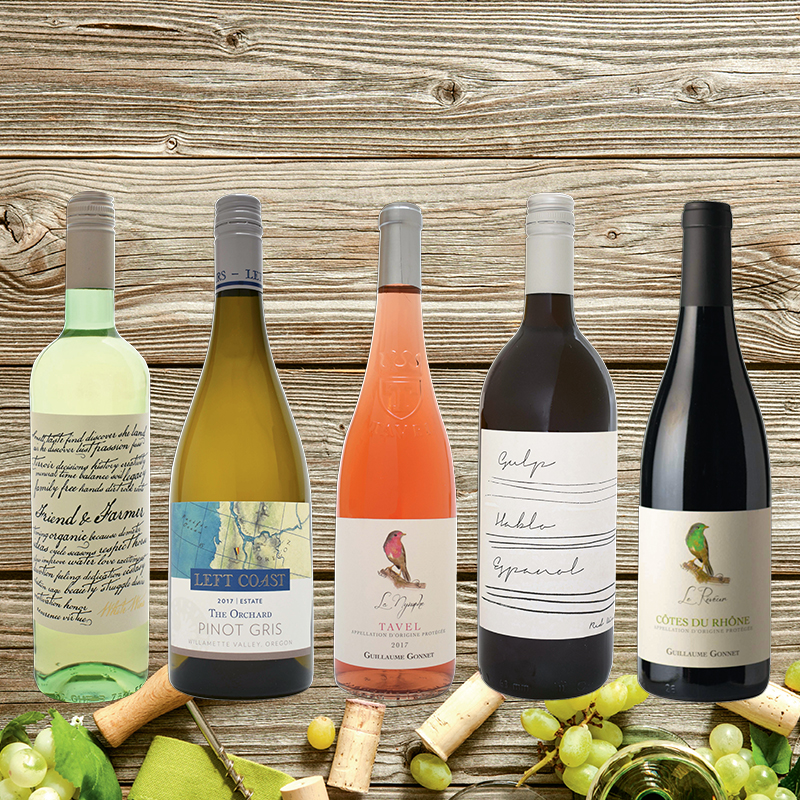 "Since it's just grapes and yeast, you'd think that all wines would be vegan," says Robert Walters. "But a lot of producers filter, or fine, their wines using animal-based agents like milk or fish proteins." The general manager of Asheville Wine Market, Walters has over 20 years of experience in the wine industry, and notes that vegan wines are a growing trend. He also works with Jason Sellers, owner and chef at Plant, on the animal-free eatery's weekly wine pairings. "Vegan wines pair beautifully with all types of food, vegan or not," he says. No matter your dietary preferences, savor Walters' picks for wines that elevate the earthy flavors of the season.
Friend & Farmer Verdejo Castilla La Mancha, Spain » $16
This stainless-steel, barrel-fermented verdejo from central Spain has a "soft mouthfeel with tons of peach, orchard fruit, and citrus aromas." Pair it with creamy herbed chèvre or a veggie-dense pasta primavera.
Left Coast The Orchard Willamette Valley, Oregon » $19
This robust, delicately-hued pinot gris has an incredible minerality and acidity, as well as a nose of green apple, pineapple, kiwi, and honeydew. It's great with vinaigrette salads, fish tacos, and seared scallops
Guillaume Gonnet La Nymphe Tavel, France » $22
Grown in France's Rhone Valley, this rosé is a blend of grenache, cinsault, and syrah varieties, making it "fuller and more structured than most other rosés." It works beautifully with roasted turkey, grilled salmon, and hearty bouillabaisse.
Friend & Farmer Gulp Hablo Espanol La Mancha, Spain » $16
This blend of 16 different grapes (nine red and seven white) brings a "delightful array of fresh fruit flavors framed by incredibly supple structure." Pair it with pasta carbonara or vegetable and/or seafood paella.
Guillaume Gonnet Le Rêveur Côtes du Rhône, France » $16
A garnet colored blend of grenache and syrah, this wine reveals juicy, red berry fruit flavors and the aroma of pepper and savory spices. Try it with bold flavors, such as grilled pork, lamb, or a classic French cassoulet.
RESOURCES:
Photographs (4) by Sydney Conrad; courtesy of Asheville Wine Market