El Dorado Latin Grill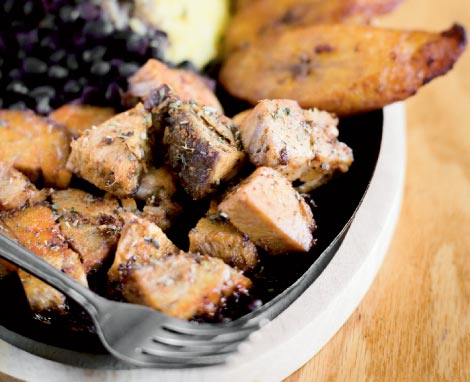 When Steve Alley and Chef Jose Garcia opened El Dorado on Main Street in Mars Hill two years ago, they set out to create an authentic cantina. Their recipe for a casual eatery where people can enjoy true Latin cuisine hit the spot.
Paintings of colorful barnyard scenes share space on the cheery yellow walls with flags representing Latin American countries. The aroma of mingling spices and herbs—garlic, oregano, and cilantro—and grilling meats, transport a hungry diner to the neighborhood parillas (grill cafés) of South America, in this case, Medellin, Columbia. Garcia, whose mother taught him to cook, worked for a small café in that metropolis, before emigrating to the United States in 1986. Alley, worked his way up in the hospitality industry in the Carolinas and Atlanta, carrying with him a desire to create a neighborhood tavern.
And that they have, with pints of local microbrews heading out to tables as fast as baskets of thick, yet airy, house-made tortilla chips. The restaurant draws Madison County locals, students from the nearby college, and foodies from Asheville.
"We wanted an atmosphere as close as possible to a typical cantina in the Colombian countryside," Alley says. "There's always an enticing aroma inside and music playing—it creates a boisterous, fun environment."
During our visit, simple ivory plates arrived stacked with lamb chops and chicken stewed in a tangy mojo criollo marinade made with garlic, onions, orange, and lemon. The chuletas de cordero, lamb chops encrusted with fragrant rosemary and garlic, were seared to a perfect medium. We passed up the enchilada Columbiana (pan-seared skirt steak and onions) for the smaller portioned tacos al pastore, chopped pork with onions and cilantro tossed with guajillo sweet pepper sauce. The dish packs surprising heat cloaked by a sweet mango essence.
Customers are invited to pair the entrées with sides dishes, including yucca, fried plantains, beans and rice, Cuban toast, roasted potatoes, or salad. Try the yucca; it's a starch lighter than potatoes, and comes accented with a punch of sofrito (chopped and cooked onions, garlic, tomato, and cilantro). Sunday brunch offers hearty pairings of steak rubbed with Latin spices, eggs, and beans, served inside the homey storefront that melds small town South with South America.
El Dorado Latin Grill
Mars Hill
14 S. Main St.
(828) 689-9704
eldoradolatingrill.com
$$